A house can easily become dirty and cluttered day by day. For keeping your abode immaculate, germ-free, and comfortable, just call on one of the best maid services in San Antonio!
The maids are not just maids: they are professionally trained to give your house the cleaning it deserves. From bathrooms to bedrooms, you can leave all the work to them as you relax with a soda.
But before we present our top recommendations, we'll tackle the average cost of maid cleaning services in San Antonio. This will help you know which maid provider is the best one to call for your cleaning job.
The Average Cost of Maid Services in San Antonio
San Antonio maid services vary widely in price between different providers. According to Home Advisor, you'd typically have to spend around $110 to $225 for house cleaning.
The price depends on several factors mainly the location and size of your home, as well as how you choose to pay: by the hour or square footage of your home.
Hourly costs for maid services range from $40 to $80, while the square footage house cleaning costs fall within the $50 to $600+ range.
To make the square foot price range more specific, please refer to the table below:
| | |
| --- | --- |
| Square footage | Price range |
| <1,000 | $50 – $200 |
| 1,001-2,000 | $75 – $300 |
| 2,001-3,000 | $140 – $450 |
| 3,001+ | $210 – $600+ |
If you have custom work for the cleaners to do, the price you're going to pay will be different. To know this, kindly get your free estimate by contacting the cleaner by phone or filling up the quote form online.
For this, bear in mind that the price can also vary whether you choose one-time, monthly, biweekly, or weekly cleaning.
Only a handful of companies reveal their rates for maid cleaning services. Below we have acquired the price ranges for two providers in the city.
| | |
| --- | --- |
| Maid service provider | Price range |
| Lupe's House Cleaning | $90 – $694 |
| King of Maids | $109 – $289 |
At any rate, don't forget to avail of coupon discounts to sweeten up the deal. It can be $20 off for each of 5 weekly or biweekly cleanings or pay $120 each for 10 weekly or biweekly cleanings.
The Best Maid Services in San Antonio
With a clear idea of the price, you're now ready to see our top options for the best maid services in San Antonio!
1) Maids on a Mission

SERVICES/SCOPE
Top-to-bottom deluxe house cleaning
Spring cleaning
Recurring service
Sanitization service
Move-in/move-out cleaning
Office cleaning service
PRICING
Kindly get your quote here
WEBSITE
https://www.maidsonamissionus.com
ADDRESS
401 East Sonterra, Boulevard Suite 375, San Antonio, TX 78258, USA
CONTACT
(210) 988-0288


[email protected]

PAYMENT
Please call their hotline for more details
Maids on a Mission is proudly a veteran and woman-owned cleaning service covering San Antonio, Texas. It provides a great range of services that will leave your investment home squeaky clean.
The team is highly trained and offers deep-spring cleans, top-to-bottom house cleaning, disinfection cleaning, recurring service, move-in or -out cleaning, and also office cleaning.
They are an award-winning company with numerous positive reviews from clients. Their cleaning method of organic, non-toxic chemicals keep you, your family, and pets safe and relaxed.
If you are a disabled veteran or have cancer, Maids on a Mission, in partnership with non-profit organizations, can clean your house for you as a way of helping or giving back to the community for free.
One of the best maid services in San Antonio, they provide exceptional cleaning to your house, freeing you of any work on your hands and giving you more family bonding time.
The only drawback is that they don't show their standard rates online or suggest anything about them. However, this is very minor and you can just get a free cleaning estimate from them.
Also, they offer gift certificates, which you can buy to give someone who you think is too busy to give his house a full cleaning to be spotless inside and out!
Uses non-toxic, organic cleaning chemicals
Industry-certified cleaners (ARCSI)
Gives free house cleaning for disabled veterans and cancer patients
Guaranteed service
Rates aren't indicated online
Customer Reviews
Maids on a Mission racked up a 5-star average score on Google. Many clients said they arrived on time, cleaned thoroughly down to the small details, and were courteous and friendly.
One client named Amanda said this:
"Taylor and Autumn are awesome. The house looked great. They arrive exactly on time and no details are overlooked. We love this service."
Furthermore, Zachary said:
"Taylor Gonzales and Arlene Parrish were very friendly and did a great job! I am extremely picky when it comes to cleaning and they gave me a run for my money! Highly recommend! I was a little hesitant to hire a cleaning service due to past experiences with cleaning companies, but Maids on a Mission did an amazing job! I decided to sign up for their biweekly cleaning service."
2) The Maids

SERVICES/SCOPE
One-time cleaning
Spring or fall cleaning
Move-in or -out cleaning
Additional services
Recurring cleaning
Small business cleaning
Holiday cleaning
Apartment cleaning
PRICING
Kindly get your quote here
WEBSITE
https://www.maids.com/
ADDRESS
903 E Nakoma Dr #103, San Antonio, TX 78216, USA
CONTACT
210-822-2526


[email protected]

PAYMENT
They accept cash, checks, and credit cards
See Mr. Clean posing beside the maids on their website? It's no gimmick, as they really are partnered with the cleaning giant, and that gives a hint of what their service quality is like.
The Maids is a San Antonio-based cleaning provider specializing in residential and light commercial cleaning services. They can fit into your hectic schedule as well as give custom cleaning and additional services like carrying the box up the attic or something like that.
Following a 22-step cleaning process, it's certain that your home will be cleaner and shinier than Mr. Clean's bald head. No germs and allergens will live through the day after the service.
That's because they use fresh and clean cloths, commercial-grade disinfectants, and sanitized cleaning tools for each property they work in. They also follow social distancing and reduced-contact policies, especially in today's pandemic situation.
Their maids are licensed, bonded, and insured for your peace of mind. If an unlikely accident is to happen as they clean, they will pay for the injury or damage costs incurred.
Furthermore, their work is 100% guaranteed so if they happen to miss a spot or leave a grimed window in the basement, call them and they'll complete the work within 24 hours at no charge!
With the reasons given above, we believe they offer some of the best maid services in San Antonio. If you want a same-day house cleaning service conducted by proficient maids, pick this company.
Same-day cleaning service offered
Licensed, bonded, and insured cleaners
Eco-friendly cleaning products
100% satisfaction guarantee
Closed on Saturdays and Sundays
Complaints about expensive rates
Customer Reviews
There were more than a few people that felt ripped off by this company. And while the majority also found The Maid's service pricey, they said the cleaning value and quality were top-notch!
On top of that, some clients said the maids were always friendly, prompt, and efficient over the years they've used their services.
A user named LuLaroeMarissaNolan stated this:
"The Maids always find ways to amaze me over and over again. I am so thankful for all the hard work and consistently they show during each cleaning. Thank You!!"
Moreover, another satisfied client named Samanda wrote:
"I am one of the newest patrons of The Maids and a raving fan! I found The Maids after my previous cleaning service couldn't accommodate a change in my schedule. What I intended to be a one-time clean until I could return to my previous cleaning service turned into a recurring service, and I will remain with them moving forward. Monica is kind, professional, responsive and reliable. The cleaning teams are friendly, prompt, and very thorough. Initially I was hesitant about paying more money, but you pay for what you get. There was a remarkable difference in The Maids and my previous cleaning service! I value quality and consistency, and I'm willing to pay for it. If you're looking for an exceptional cleaning service, start with The Maids!"
3) Lupe's House Cleaning
SERVICES/SCOPE
One-time general cleaning
Deep cleaning
Move-in/out
Recurring cleaning
Make-ready (initial clean)
Office cleaning
PRICING
Click here to view their cleaning prices
WEBSITE
https://mylupeshousecleaning.co
ADDRESS
311 Maryland St, San Antonio, TX 78203, USA
CONTACT
(210) 942-7242


[email protected]

PAYMENT
They accept cash, checks, and credit cards (Mastercard, Visa, Amex, Discover, and JCB).
If you want a flexible maid service—wherein you can choose the cleaning to be by the number of rooms, square footage, or weekly, biweekly, or monthly—look no further than Lupe's House Cleaning!
Not only will you have control of what areas in your home you like cleaned, but also the price. Thus, it's a lot easier to work with this company than the others that strictly offer house cleaning packages, which you'll have no choice but to stick to.
Lupe's House Cleaning brings in 3 maids—all bonded and insured—to clean all the nooks and crannies in your house. They can help out with one-off general cleaning, deep cleaning, ready-for-home cleaning, move-in or -out cleaning, recurring cleaning, and office cleaning.
That said, the only service they're missing is disinfection cleaning, which is very important to a healthy and clean home nowadays.
Apart from that, you can pay the invoice by cash or check after they're done with the job. Or you can make a payment online by using a Mastercard, Visa, Amex, JCB, or Discover credit card.
Flexible service offerings & price
Bonded & insured staff
Online payment available
Accepts Visa, Amex, Mastercard, Discover, and JCB credit card payments
Customer Reviews
So far, clients are satisfied with the cleaning service offered by Lupe's House Cleaning. They mentioned that their team was prompt and professional and it was easy to schedule with them.
Check out this feedback from Whitney:
"Wow! I hired Lupe's House Cleaning for a move out clean of my apartment. The company was responsive and flexible when scheduling. The cleaning professionals showed up on time and ready to work. My apartment looks like it did when I first moved in! They really paid attention to detail!
I highly recommend."
What's more, Kim said:
"After loosing my prior housekeeper who had been with me for over 5 years, I was very concerned about hiring a new company. Lupes House Cleaning not meet every expectation, they exceeded my expectations. My home was immaculate and many little details that are important to me were done. I am looking forward to a long relationship with Lupes."
4) MiMi's Maid Service LLC

SERVICES/SCOPE
One-time house cleaning
Move-in cleaning
Recurring cleaning
Weekly cleaning
Deep cleaning
PRICING
Please get a quote here
WEBSITE
https://mimismaidservice.business.site
ADDRESS
San Antonio 78250, TX, USA
CONTACT
(210) 997-0367


[email protected]

PAYMENT
The cleaner accepts cash and credit cards.
MiMi's Maid Service LLC has trained and dedicated house cleaners. With over 2 decades of experience, they are known for their thorough cleaning and keen eye for detail.
They bring along their cleaning equipment and follow safety measures to clean your house from top to bottom. Dirty bathroom walls, baseboards, window blinds, and furniture—they'll make them clean and sparkle for you.
What's great about them is that you get the personal treatment of a small business. For example, they will try to squeeze into your schedule, though it may be inconvenient for them.
Also, their rates are less expensive than more established maid cleaning companies. Every now and then, they also offer discounts on Facebook so keep your eyes peeled for those.
They offer weekly cleaning, move-in cleaning, deep cleaning, recurring cleaning, and others. Their con is that they don't offer commercial cleaning services.
MiMi's Maid service is open from Mondays to Fridays and can take cash and credit card payments. You can get a quote from them by calling their hotline or dropping them a line.
Licensed & insured cleaners
Free on-site consultation
Closed on Saturdays and Sundays
Doesn't offer office cleaning
Customer Reviews
Clients are raving about this company on Google. Most people said that they cleaned their house thoroughly and impressively and had cost-effective rates too.
One client named Holly wrote this feedback:
"Deborah and her crew were amazing to work with! Due to the Texas Winter storm, our email correspondence got lost in the mix. But once we link up via phone, she honored her word and got a crew to come out on a day that they don't usually work! From the top to the bottom of our rental they spent nearly 7 hours cleaning. Our rental property didn't even look that great when we moved in! Our blinds were hand cleaned, base boards scrubbed, shower walls are crystal clear! Amazing work! 10 out of 10 I would recommend!!!"
And let's see Will's review of the maid cleaners:
"I highly recommend Mimi's Maid Service! I just bought a house and hired them to do a deep clean. Not only were they polite and professional, they also did phenomenal work. The rates are fair and the value far exceeds the cost. Plus, they are a local small business and I'm a proponent of supporting local. I definitely encourage booking a cleaning with them."
5) The White Glove Maid Service

SERVICES/SCOPE
Maintenance cleaning
Spring cleaning
Move-in and -out cleaning
Special projects
Carpet cleaning
Tile & grout cleaning
PRICING
Please get a quote here
WEBSITE
http://www.thewhiteglove.biz
ADDRESS
11107 Wurzbach Rd, San Antonio, TX 78230, USA
CONTACT
+1 210-342-3878


[email protected]

PAYMENT
Please call their hotline for more details
Since 1982, The White Glove Maid Service has been a trusted maid cleaning company offering a wide range of services including spring, move in and out, tile & grout, and disinfection cleaning.
Their disinfection cleaning is specially designed to combat the COVID-19 spread. Their maids use an effective disinfectant that will remove 99.99% of bacteria lingering in your precious home.
If you need your place cleaned ASAP, they also offer same-day cleaning services. The company comprises bonded and insured maids who underwent extensive training and screening before they can clean houses.
No house cleaning is ever the same for them—the maids will tailor their cleaning solution to your needs and lifestyle. They aim to make your house sparkling clean on all areas and floors.
Furthermore, you get to decide how often they will come to your house to clear away the dirt, dust, and allergens. Weekly, biweekly, monthly, or custom options are available with them.
Best of all, we added The White Glove Maid Service as one of the best maid services in San Antonio because of their affordable rates. As such, you'll never exhaust your budget whenever you call them in!
Same-day maid service available
Bonded & insured team
Security-vetted personnel
A+ BBB rating (means they always resolve their clients' complaints)
Offers coupon discounts
Doesn't offer office cleaning services
No online payment
Customer Reviews
Although most clients gave this cleaner positive feedback, some criticized the quality of their cleaning, saying that it wasn't worth the price they paid for it.
That said, Michael didn't share their views as he wrote:
"Jazmin did a PHENOMENAL job! I have to admit, before I moved from my apartment it got pretty messy. I was worried they were going to have to charge me more. I was not only shocked when I saw the job she'd done, I was shocked when they didn't charge me extra. This was well worth the investment and I'll definitely be using them for regular service in my new house."
Also, another client left this review:
"I called for a cleaning at the very last minute & they were able to accommodate us. The price was competitive, the work was done well & the people were friendly! I also love that they are local & family run, I will definitely hire them again!"
6) Maid with Care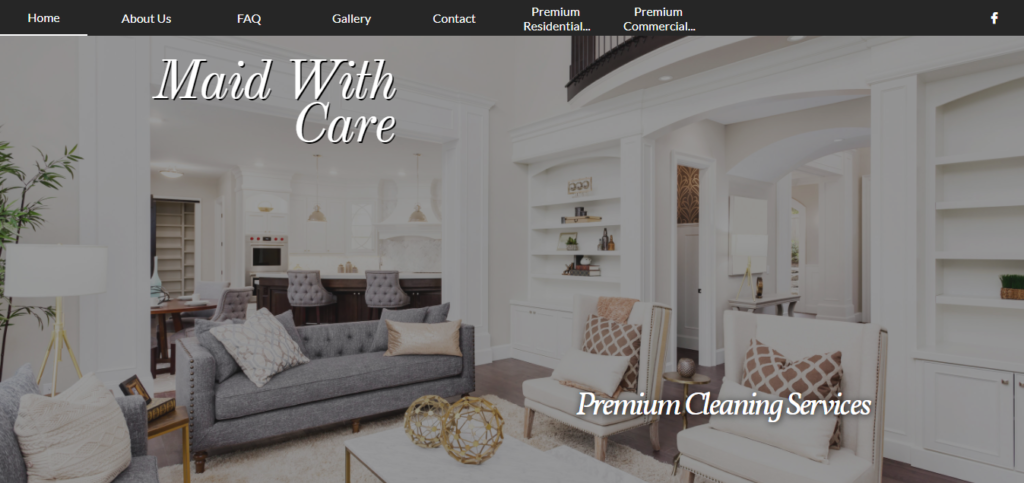 SERVICES/SCOPE
Premium Residential Cleaning Services
Commercial Cleaning Services
PRICING
Apartments:
1 Bedroom 1 Bathroom $80 -$140
2 Bedroom 2 Bathroom $100-180
3 Bedroom 2.5 Bathroom $160-$200

Houses:
Less then 2,000 Square feet $120-$200
More then 2,000 Square feet $160-$240
Deep Clean Less then 2,000 Square feet $200-$300
Deep Clean More then 2,000 Square feet $299- TBD

WEBSITE
https://www.maidwithcareofficial.com/
ADDRESS
San Antonio, Texas
CONTACT

[email protected]


+(210) 404-4720
PAYMENT
Cash, Credit/Debit, PayPal, Venmo, and CashApp
Maid with Care is a locally owned cleaning company in San Antonio, Texas. Their team is dedicated to giving their clients the best quality cleaning service that can surpass their expectations.
In comparison to other companies, with them, before the cleaning starts, one of their experienced and professional cleaners will perform a walkthrough of the home of the client and discuss what needs to be done and some recommendations.
With them, residential cleanings can be customized. No matter what service the client needs, they can meet it.
Another factor why people love them is their care packages. Client's can either choose from standard cleaning, deep cleaning, or move-in/move-out cleaning.
Custom Cleaning
Cleaners wear scrubs
Offer discounted rates to Military, First Responders, and Students
Offer daily, weekly, monthly, quarterly, or yearly commercial cleaning services
Do not accept checks
Deposit is non-refundable without a 24-hour cancellation notice
Customer Reviews
Here's what some people think about them:
"Cassie does an amazing job! Quick to respond and get scheduled and now we have someone we can trust and count on to take care our busy family and home. Thanks Maid with Care!"
"Cassandra always shows up on time and does impeccable work! She is flexible and my kids even like her! I would definitely recommend her to anyone looking for a cleaning service!"
FAQs about the Top Maid Services in San Antonio
---
And that concludes our top options for maid services in San Antonio. For sure, they will work hard to make your house habitable again, clean and fresh.
If you have any questions or suggestions, feel free to send us a message and we'll get back to you or see if we can add your preferred maid agency to this list!
Also, you might want to see our other maid service series. For example, we have the best options for maid services in Dallas on our website known for making properties spick and span.