Featured Image Source from The Road to Domestication
Cleaning homes takes huge slices of our time and energy. Thankfully, you don't have to do it yourself, since we've found you the best options for maid service in Seattle here.
But before you call them, it can be helpful to know the average cost of these services. By doing so, you'll be able to find the right cleaner that will give you a service worth what you pay for.
If you're ready, then let's go!
How Much Does Maid Services Cost in Seattle?
Typically, maid cleaning services in Seattle costs $40 to $65 each hour depending on your address, according to Thumbtack.
The average cost of cleaning a three-bedroom, 2,000 square-foot house is $150 to $250, whereas the rate is $80 to $110 for a one-bedroom apartment.
Specialty cleaning will also add to the total price. These include carpet cleaning, oven interior cleaning, fridge interior cleaning, and changing bed linens.
Maid service companies can base their cost on your home's square footage or labor per hour. Here are tables below that detail them for your reference.
| | | |
| --- | --- | --- |
| House Square Feet | Regular Cleaning Cost | Deep Cleaning Cost |
| 1,000 | $80 | $125 |
| 2,000 | $100 | $200 |
| 3,000 | $150 | $300 |
| | | |
| --- | --- | --- |
| Bedroom | Bathroom | Regular Cleaning Cost |
| 1 | 1 | $100 |
| 1 | 2 | $120 |
| 2 | 1 | $110 |
| 2 | 2 | $130 |
| 2 | 3 | $150 |
If you get a maid to clean your house more frequently, say weekly compared to monthly, you may get a special discount of $5 to $10 each time. So that can be a great deal for you to keep your home clean.
The Best Options for Maid Service in Seattle
Now that you know about the average cost of maid cleaning, let's move on to the best options for maid service in Seattle!
1) Molly Maid of Northwest Seattle

SERVICES/SCOPE
Regular cleaning service
Occasional cleaning service
Move-in cleaning
Move-out cleaning
Apartment cleaning
Special event cleaning
Housekeeping services
Refrigerator cleaning
Oven cleaning
PRICING
Please contact the company for rates
WEBSITE
https://www.mollymaid.com/northwest-seattle/
ADDRESS
10031 Holman Rd NW, Ste A Seattle, WA 98177, USA
CONTACT DETAILS
+1 206-363-2222


[email protected]

PAYMENT
Cash, check, and credit cards
Molly Maid of Northwest Seattle is a franchise maid cleaning company based in Holman Road. This branch has been operating for over 5 years with heaps of positive feedback among clients.
It offers one-off and regular cleaning house cleaning services. These include housekeeping, oven cleaning, refrigerator cleaning, carpet cleaning, linen replacement, and more.
However, they don't offer cleaning for commercial properties, which would've been great. That said, this doesn't affect them as one of the best options for maid service in Seattle!
Their maids have been background-checked by the company. Also, they are insured and bonded and can cover repair costs in case your property was damaged during their work.
Amid the pandemic, they work carefully to keep clients and their homes safe and spotless. They use cleaners that meet EPA standards and take preventative measures that conform to the guidelines set forth by the American Government and Center for Disease Control (CDC).
Furthermore, they can use green cleaning solutions if you prefer. These are environmentally safe, as well as are child- and pet-friendly.
As a Neighborly member, they offer a 24-hour warranty whereby they will clean any areas that were missed or done wrongly.
Molly Maid of Northwest Seattle serves clients throughout Seattle and Shoreline. However, they are only available from Monday to Friday.
And, they also have a foundation that supports women victims of domestic violence. Hence, by using their cleaning service, you can help these people too.
Uses EPA-standard cleaners that combat COVID-19
Insured and bonded maid cleaners
Green cleaning solutions are available
Gives a satisfaction guarantee
Closed on Saturdays and Sundays
Doesn't specialize in commercial cleaning
No coupon deals offered
Complaints about price and work quality
Customer Reviews
Molly Maid bagged a 4.9/5 star score from many clients. The cleaning had been immaculate and thorough, while the service was prompt and professional, according to them.
One client named Lynda shared this on Facebook:
"We had Team 7 work hard to clean our messy house. We have a busy life and cleaning never seems to happen. Now it's clean and neat thanks to our Clean Team from Molly Maid of Seattle."
Moreover, here's what Madison wrote of the maid cleaner:
"Our team (Calalina & Sandra) were absolutely FANTASTIC! They were timely, professional, and left our house spotless. We couldn't be happier with their services and will be recommending molly maid to anyone we know looking for cleaning services."
2) THA House Cleaning
SERVICES/SCOPE
Residential cleaning
Office cleaning
Move-in/move-out cleaning
PRICING
Please contact the company for rates
WEBSITE
https://thacleaning.com
ADDRESS
4043 55th Ave SW, Seattle, WA 98116, USA
CONTACT DETAILS
(425) 289-9310


[email protected]

PAYMENT
Credit cards
If you're searching for a flexible maid cleaning provider, you're looking at it. THA House Cleaning works to your schedule, preferred cleaning frequency, and cleaning detergents.
By being open from Monday to Sunday, they are already a cut above the rest. So you won't have to wait after the weekends for them to be able to deep-clean your house or office.
Next, you can choose how often they clean your house. It can be weekly, biweekly, monthly, or just once—it's up to you to take advantage of this convenience, especially if you're busy.
You can also opt for their eco-cleaning products. If you want your place to be sanitized to be safe and hygienic for everyone, they can help out as well.
The maids have undergone training before working in the field. They have been background vetted and insured for peace of mind when they clean around your house.
They strive to be accommodating all the time to give you a tailored house cleaning solution. Of course, they guarantee all their services to ensure that you are happy with their cleaning service.
One drawback we found with this company is their business hours aren't updated online. Another is that they received complaints regarding their customer service.
Other than that, their cleaning work had been very efficient, complete, and timely, as clients can attest to. Thus, we chose them to be on our top list for maid services in Seattle.
Cleans homes and offices
Insured and screened maids
Uses safe and green cleaners
Guarantees all work
Open 7 days a week
Offers a refer-a-friend discount
Business hours aren't updated on their website
Complaints about customer service
Customer Reviews
On Google, most customers wrote that scheduling was very easy, their houses were made spotless, and prices were reasonable with THA House Cleaning.
Take a look at what Yelice said of the cleaning company:
"What can I say about the company…fast and very friendly. My experience with THA House Cleaning was great as usual. I had no problems with booking. And it is very easy to make changes if you need. They help me to keep my place fresh and clean. I am more than happy with their services! This company really cares about their customers. It is always a pleasure to work with THA House Cleaning! Five star for sure!"
And Lazarus mentioned this:
"We have been with THA Cleaners for a while. They have the most professional staff. We have a lot of special things and they are careful when cleaning. Tanya, the owner, hires the best. They work off a checklist so everything gets thoroughly cleaned. A great company to work with!"
3) Merry Maids of Seattle

SERVICES/SCOPE
Weekly, bi-weekly and monthly cleanings
Specific room cleaning
Holiday cleaning
Maid services
Move-in and move-out cleaning
Specialty cleaning
PRICING
Please contact the company for rates
WEBSITE
https://www.merrymaids.com/seattle/
ADDRESS
8613 Roosevelt Way NE, Seattle, WA 98115, USA
CONTACT DETAILS
(206) 673-9998


[email protected]

PAYMENT
Credit cards
Want your house areas and rooms completely cleaned for you to stay, lounge, work, and sleep comfortably in? Well, for this, you can try the multi-award-winning Merry Maids of Seattle.
Having won the Women's Choice Award (from 2014 to 2019) and ranked #1 in Entrepreneur's Franchise 500, it is undoubtedly one of the best options for maid service in Seattle.
All their maids are certified, insured, and bonded so you can leave the work to them. They currently have a special offer of $100 off for the first 5 cleanings you let them do.
Some of their services are move-in and move-out cleaning, fridge interior cleaning, oven interior cleaning, wall washing, and window washing. Deep cleans and spring cleans are also offered.
They will ask about your requirements first and come up with a custom house cleaning solution. Here, you can point out your furniture that requires extra care or special cleaning you want them to do.
What sets them apart from others is they conduct a comprehensive cleaning process for every area in your house. These will make it look neat, inviting, and healthy to live in.
Offering a satisfaction guarantee, they will redo any area or spot that they missed before at no additional charge.
Though they are open Monday through Friday, they can't assist you on the weekends. But if you are home at that time, then they can do the cleaning work for you.
So if you want a super-thorough and guaranteed house cleaning by an award-winning team, Merry Maids of Seattle is an awesome choice!
Award-winning maid cleaning company
Extensive cleaning process
Trained, bonded, and insured team
Special offers available
Guarantees all work
Doesn't offer commercial maid services
Closed on the weekends
Customer Reviews
There have been a couple of complaints about their cleaning quality. However, most clients were satisfied with their work, responsiveness, and ability to listen to what was required and did it.
One client, Judith, stated this on the website:
"Merry Maids has done an excellent job responding to the Covid-19 health crisis."
Also, Kyle described his experience with them:
"ABSOLUTELY WONDERFUL! My first time with Merry Maids was a few days ago. The lovely crew was on-time and they made my apartment sparkle. I really needed my oven cleaned and it looks brand new. The best part of walking into my bathroom and it had that "hotel bathroom" clean smell. The entire process from booking to payment was great. I don't have a consistent cleaning need but when I do, I'll be calling again!"
4) Susan's Green Cleaning

SERVICES/SCOPE
Move-in or move-out cleaning
One-off cleaning
Recurring house cleaning
Blind cleaning
Electrostatic spraying
Tancs EPA approved disinfection
PRICING
Get your instant price estimate here
WEBSITE
https://susansgreencleaning.com
ADDRESS
11742 15th Ave NE, Seattle, WA 98125, USA
CONTACT DETAILS
(206) 348-1971


[email protected]

PAYMENT
Amex, Discover, Mastercard, and Visa
Susan's Green Cleaning is a premier maid cleaning specialist known for using safe and natural ingredients to spruce up homes in Seattle and the neighboring areas.
They have a proficient team that went through a 120-hour training program to acquire the necessary skills and techniques As a result, this enables them to give clients a high standard of cleaning every time.
Furthermore, they are bonded and insured so you don't have to worry about your house. As an IICRC member, the locally owned business offers some of the best and unique maid services in Seattle.
As well as frequent cleanups, move-in and -out cleaning, and blind cleaning, they offer electrostatic spraying and Tancs vapor disinfection to eliminate contagious bacteria and viruses at your home.
With an online price estimator, you'll know how much you need to spend without even picking up the phone. However, it's quite tedious to get a quote from them as you have to input a lot of information.
What's more, they give clients a satisfaction guarantee. But remember to call them within 24 hours after the job if you notice anything wrong with their work.
Susan's Green Cleaning is open 5 days a week from Monday to Friday. You can call or email them or visit their office to book an appointment with them.
IICRC accredited maid service provider
Uses eco-friendly cleaning agents
BBB accredited business
Licensed, bonded, insured maids
Guarantees all work
Closed on the weekends
Complaint about customer service
Tedious quoting system
Customer Reviews
They achieved a score of 4.8/5 stars on Google. Most clients said that the cleaning results were wonderful and the team was extremely professional and friendly.
One client named Swati had this to say of them:
"Susan's Green Cleaning provide excellent services and I recommend them with utmost enthusiasm. The cleaning technicians Crystal and Erica, arrived on time, were thoroughly professional and excellent at their job. My town home looked gorgeous after they were done! Special mention for Susan, the owner. She was as professional, polite and made sure I knew what was going on at all times. Again, highly recommend!"
Additionally, Ken wrote this comment:
"I would definitely recommend Susan's Green Cleaning to anyone looking for a great, professional cleaning service. I have used them for around two years and they have always done a terrific job. Some days I would come home and my house would be sparkling. During quarantine they were always very responsive and cautious and it was great to get the house cleaned regularly during these cautious times."
5) Divine Maids

Wish your home was as clean and cozy as a classy hotel suite? Well, this is what the company aims for whenever they conduct their cleaning services.
Divine Maids has maids that have the qualifications and certifications to do the job right. Of course, they are insured and bonded and also provide a 100% satisfaction guarantee.
Their cleaning involves using pet-friendly agents that are safe for your canine companion or meowing critter. These are also effective in removing all the nasty dirt and grime in your house, as many clients can agree.
The team makes themselves available for their clients. It can be through call, email, chat, or SMS, whichever you prefer. With regard to communication, they surely deliver as one of the best maid services in Seattle.
They accept all major credit cards particularly Amex, Visa, Mastercard, and Discover. As their online payment processor is Stripe, paying them over the web is safe and secure.
The only flaw is their site is packed with information on one page, which is good in a way. However, this can also take a bit longer for a reader to scroll down to the very bottom.
Another is they're closed on Sundays but, then again, most companies are only open from Monday to Friday, so this is acceptable.
Whether you want simple cleaning work or move-out deep cleaning so you can sell the house, Divine Maids has you covered!
Uses pet-friendly cleaning products
Licensed, bonded, and insured maids
Safe online transactions through Stripe
100% cleaning satisfaction
Simple, promptable quote system
On-call client support
Closed on a Sunday
Long one-pager website
Customer Reviews
Divine Maids garnered a perfect score on Google with most people noting their outstanding work, professionalism, and budget-friendly rates.
Check out Daniel's feedback on Google Business:
"Everything perfectly cleaned with no problems. Reliable. Convenient. No complaints."
And Leah left this review as well:
"I used Divine Maids when I moved from my last apartment. The staff were friendly, on time, and did an excellent job – because of their work, I got my entire security deposit back! Worth every penny (although it was very budget friendly). I can't recommend them enough!"
6. Seatown Cleaners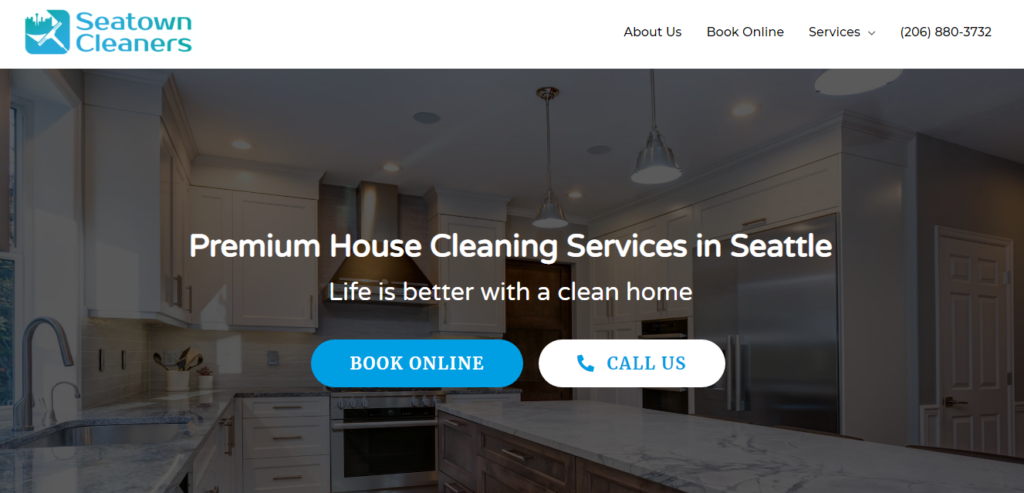 SERVICES/SCOPE
Standard house cleaning services, Deep room cleaning, Move in and move out cleaning
PRICING
Standard Cleaning – $150+
Deep Cleaning – $200+
Move-In and Move-Out – $300+
WEBSITE
https://www.seatowncleaners.com/
ADDRESS
Seattle, WA
CONTACT DETAILS
(206) 880-3732 /

[email protected]

PAYMENT
Online payment, Credit Card
Seatown Cleaners is a business that provides house cleaning services of any level in the greater Seattle Area such as Auburn, Bellevue, Bothell, Edmonds, Kenmore, Kent, Lake Forest Park, Lynnwood, Mercer Island, Newcastle, Redmond, Renton, Seattle, Shoreline, Tukwila, and West Seattle.
The business offers a hassle-free way of booking an appointment by using online means to do so and assures that each client is thoroughly satisfied with their services. They also have a 100% money back or a free re-cleaning if the client is not satisfied with their services.
Among others, the company also offers additional services such as interior window cleaning, oven cleaning, or an upgrade to the deep cleaning tier. The company also assures clients that all cleaners to be sent have adequate experience of at least a year and has been thoroughly background-checked for safety purposes as well before they are sent to cleaning jobs.
Their customer service and accommodations are prompt, responsive, and responsible as once the booking is done online, a team will be sure to work closely with the client for the appointment and the nature of the cleaning job as well.
Striving to give each client a happier life, the Seatown Cleaners are driven to go the extra mile both on the cleaning job and on accommodating each client's scheduling requests with extremely responsive feedback upon booking. This is recommended for clients looking for an excellent professional cleaning job with easy booking procedures at affordable flat-rate pricing.
Reliable and trustworthy cleaners
Responsive and prompt feedback
Accommodates special requests on cleaning and appointments
Customer satisfaction guaranteed policies
Serves only areas around Seattle
Customer Reviews
Here are some reviews from their clients:
"They handled my mess. Totally worth it when I saw how clean my place could be. They wore masks and brought their own supplies. The service was great and I just got out of the way. They were very friendly and kind to my animals." –  Sean R.
"They never disappoint and exceed our expectation with each of their visits. Their scheduling team is extremely responsive and go the extra mile to accommodate my scheduling requests. I absolutely recommend using them for all of your house cleaning needs." – Paula W.
FAQs about the Premier Maid Services in Seattle
---
And there you have it for the leading maid services in Seattle. If you don't have time to clean your house, then these choices are 'maid' for you.
Have you used any of these maid companies before? If you do, you can share with us your experience by messaging us and we'll check them out.
Also, you might be interested in the best dry cleaners in Seattle too. They can effectively clean and take care of your expensive garments that will be ready for you to pick up soon.