With a full schedule, you might not have the time to finish all the laundry at home. Thankfully, you can depend on the best laundry services in Toronto, which we listed here for you.
At this point, you may be wondering how much services like these cost. As such, we included a cost section below along with some tips and information to help you pick the ideal shop from our choices!
How Much Does Laundry Services Cost in Toronto?
Laundry services charge differently according to the type and quantity of your garments. You will most likely pay more if you need them to wash more delicate or stained fabrics.
Prices should fall within the range of $1.10 to $1.99 per pound of clothing, whether you are going for a self-service or wash and fold service that is performed by a highly trained attendant.
Note that there's often a minimum pound or value you have to reach to use their service and get your money's worth.
This means that if your clothes or spending is below that, then you would still have to pay the standard rate. So, it's best to gather your laundry for the week rather than wash only a few clothes at once.
So, here's a table showing the rates of some go-to laundromats in Toronto. As you can see below, opting for a pickup and delivery service can incur you an extra price of about $7 to $9.99.
| | | |
| --- | --- | --- |
| Laundry Service Provider | Laundry Prices | Additional Delivery Fee |
| Do My Laundry | From $12 – $135 | N/A |
| Leslieville Laundry Room | $1.10/lb | $7 |
| Quick Clean Laundry Centre | From $1.45/lb | N/A |
| LaundrEZ | $1.99 – $54.99 | N/A |
| LaundryToGo | $1.49/lb | $9.99 |
If you're trying to save up, it may be best to just drop off the laundry yourself for the staff to clean or just do it yourself. By the way, some shops only sell large bags of powdered soap, so you could bring your own fabric detergent and softener.
Also, look for available discounts because this can give you more bang for your buck. This can come in different forms like birthday, anniversary, or loyalty discounts, or just free parking!
The Best Laundry Services in Toronto
Now that you have a good idea of the laundry rates, here's our roundup of the best laundry services in Toronto!
1) Do My Laundry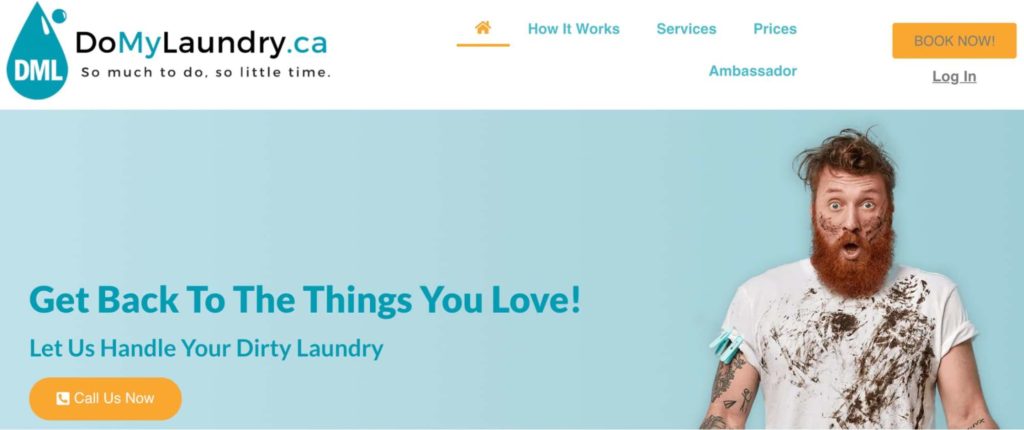 SERVICES/SCOPE
Laundry service
Dry cleaning service
PRICING
Household Wash & Fold
Standard wash & fold (1 – 20lbs): From $45.00
Additional laundry: From $2.20/lb

Iso-wash laundry (1-20lbs): From $50.00
Additional laundry: From $2.35/lb

Commercial Wash & Fold

Commercial laundry service (1 – 20lbs): From $50.00
Additional commercial laundry: From $2.35/lb
Commercial bulk towel wash (70lbs): From $135.00
Additional bulk towel wash: From $1.95/lb

*Other commercial bulk laundry services: kindly call them to discuss pricing

Blankets, Comforters, Duvets & Misc: $12 – $60

Eco-friendly Dry Cleaning Services

Shirts and blouses: $6.50 – $1
Pants and shorts (men or women): $9.50 – $17
Blankets, comforters, and duvets: $22 – $66
Skirts: $9 – $19
Dresses: $18 – $35
Suits: $15 – $29
Jackets: $12 – $42
Tie/scarf/pocket square: $6 – $7
Wedding/formal: $11 – $210
Culinary linen: $3 – $30
Coats/winter wear: $18 – $89
WEBSITE
https://domylaundry.ca/
ADDRESS
863 College St, Toronto, ON M6H 1A1 Canada
CONTACT DETAILS
647-781-8726


[email protected]

PAYMENT
Please phone the laundry shop for details
Do My Laundry is a laundry service provider based in College Street of Toronto. They aim to free your schedule by handling all of your laundries and offering a pickup and delivery service.
Their specialty is an Iso-wash laundry service wherein you can choose whether you want a fragrance-free, hypo-allergenic, or eco-friendly type of washing. As the name suggests, clothes are sorted appropriately during the wash, as you would normally do.
For a slightly less price, they have standard wash & fold services too, great for your daily outfits, corporate attires, and work uniforms. You can claim them as fast as the next day, although rush services are available.
Additionally, if you have duvets, blankets, and bedsheets, you can let their careful and knowledgeable laundry staff handle them. As for delicate and luxurious fabrics, you may want to get them dry-cleaned.
While there had been complaints on Google about their wash quality and timeliness, most customers were delighted with their services, writing that they washed and folded well and on time.
An extra assurance that they can gently clean and dry your fabrics is their satisfaction guarantee. So if you find a spot or stain that hasn't been removed, their team can re-clean the garment for you.
As DML is closed on Saturdays and Sundays, you'd need to drop off or get them to pick up your laundry earlier in the week. What's more, students can get special laundering discounts from them.
Offers laundry pickup and delivery
Eco-friendly detergents
Rush laundry service available
100% satisfaction guarantee
Offers student discounts
Closed on the weekends
Complaints about wash quality and customer service
Customer Reviews
Cleaned and pressed well and on time
"Living somewhere that doesn't have laundry on sight. Do my laundry was a life saviour. Had all my dress clothes cleaned and pressed and delivered on time with no problems. Highly recommend". -PJ Fulham
Fast turnaround and professional service
"Thank you SO MUCH for picking up and delivering my mom's laundry today! Didn't expect such a fast turnaround time (same day laundry & fold!). Special shoutout to Nicole, the driver. She was fantastic, friendly & observed all the protocols. We were so impressed." -Nicole Paradocks
2) Leslieville Laundry Room

SERVICES/SCOPE
Wash & fold service
Dry-cleaning service
Full service
PRICING
Wash & Fold Service

Wash and fold: $1.10/lb

Dry-Cleaning Service

Dress shirts: $3.25
Blouse: $3 – $5
Suit jacket: $7
Suit pants: $4
Dress: $14 – $23
Sweater: $5 – $7

Full Service

$7 delivery with a minimum of 10lbs laundry
WEBSITE
https://www.leslievillelaundryroom.com/
ADDRESS
487 Jones Ave, Toronto, ON M4J 3G7, Canada
CONTACT DETAILS
+1 416-466-5358


[email protected]

PAYMENT
Please phone the laundry shop for details
Feel like washing your garments by yourself or letting the staff do them all for you? If so, then Leslieville Laundry Room could be a great choice!
Their caring and trained staff aims to carefully wash your clothing as per the care tag, by which they can clarify whether it is machine-friendly or not. Also, they arrange each piece of clothing according to lights, darks, and whites to prevent noticeable dye stains.
Not only do they serve regular clients but commercial ones as well. Hence, if you need them to wash sports jerseys, aprons, or linens for your hotel, school, restaurant, or clinic business, they have you covered.
It's also extremely reliable to book for garment collection and delivery here, which is available every day from 10:00 AM to 4:00 PM. All you have to do is call or chat with them online to set a date and time for that.
Unfortunately, though, they only offer next-day laundry delivery at the moment. But since they are open through the week, you won't have to wait for the next business day after the washing is done.
As we have implied earlier, you can come in to wash and dry your bag of clothing here. But, just to give you a heads up, some of their machines are broken and can't give back the change, and you have to bring your own detergent, as they only sell large detergent packs.
And lastly, about their prices, we find them to be reasonable in comparison with other laundry shops. Take note that the minimum for their wash and fold service is 10lbs, so if your laundry weighs below that, you would have to pay the price equivalent to 10lbs of garments.
Self or staff-serviced laundry shop
Commercial laundering available
Open the whole week
Live chat support widget
Same-day service presently not offered
Some of their machines are broken
Don't sell single detergent packets
Customer Reviews
Fresh, neat, and folded sheets and towels
"I own a massage therapy clinic and have been using Leslieville Laundry Room's wash and fold service weekly for our linens for over a year and a half. As you might imagine, we go through a lot of sheets! The fee for the service is excellent and well worth it. Our white sheets and towels come back fresh, clean and expertly folded. Our dirty laundry is picked up and clean laundry dropped off each week, which is incredibly convenient and makes sure we always have enough linen for our patients. I would definitely recommend Leslieville Laundry Room for anyone in need of this service." -Sandra Cina
Extremely helpful owner and attendants
"Leslieville Laundry Room is an awesome upgrade from what this place once was, they put so much work into making it a beautiful space to do your laundry. The owner is extremely helpful and so are the attendants that work there!" -Ajiah Nguyen
3) Quick Clean Laundry Centre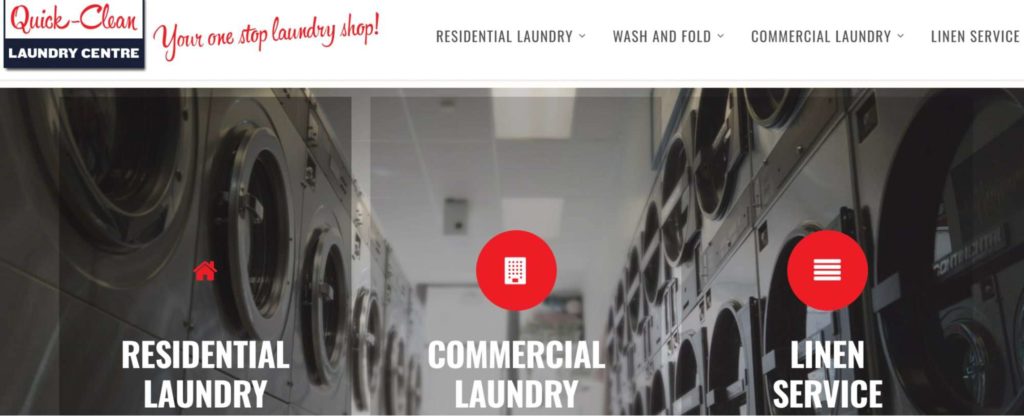 SERVICES/SCOPE
Wash & fold
Residential washing and drying
Commercial washing and drying
Alterations
PRICING
Wash & Fold Service

Regular: $1.45/lb with a minimum of $20
Delicate or heavily soiled items: $1.75/lb

*Same-day rush service: $2.50/lb
Minimum order for drop-off: $20
Minimum order (zone 1): $50
Minimum order (zone 2): $75
WEBSITE
https://quickcleanlaundry.ca/
ADDRESS
1024 Queen St E, Toronto, ON M4M 1K4, Canada
CONTACT DETAILS
+1 416-466-8984
PAYMENT
Visa, Mastercard, and cash
Opened in 1972, Quick-Clean Laundry Centre is a third-generation family business currently owned and managed by the founder's grandson.
It's a complete laundry service that offers residential and commercial laundering, linen cleaning and supply, and the first-ever washer-dryer transfer service, in which the team will handle placing your newly washed clothing into the dryer, saving you time and energy.
With many huge-capacity front-load and drying machines here, you can visit this store to do your own washing too. There are folding tables and plenty of seating here so you can work on your laptop while waiting for all your clothes to be thoroughly washed and dried.
It's up to you to choose the kind of detergent you want. The full-service laundromat has scented, scent-free, and natural soaps to match your washing needs and specifications.
Of course, you can always get an attendant to assist you with washing, drying, repairing, or altering your shirts, jeans, or dresses. Attendant services are available only from Monday to Saturday until 5:00 or 6:00 PM, but the self-service schedule extends till Sunday late at night.
Not all prices are indicated online and for their wash and fold service, the minimum price is $20 for drop-off. Some clients have criticized the expensive rates and load capacity of their washers and dryers.
But best of all, they guarantee clients the highest quality of their services. To do this, they strive to adjust to their pickup or delivery schedule, fulfil any special requests, separate their clothes according to colour; and wash, dry, fold, and package them independently for a neat and organized outcome.
Same-day services available
Offers laundry pickup and delivery
Extra-large washers
Open the whole week
Quality service guaranteed
Free parking
Offers various discounts
Expensive rates
Lofty minimum order for pickup and delivery
No live chat support
Customer Reviews
Enjoyable, spacious place and fair prices
"This place is very spacious, clean and well taken care of. Fair prices, big tables and large rolly things to transport your laundry. It's a pleasure doing my laundry here." –Jordan Fisher
Top-standard services and a helpful staff
"Management is superb, staff is helpful, services provided are above industry standard!" -Cassidy Civiero
4) LaundrEZ

SERVICES/SCOPE
Daily laundry
Shoe cleaning
Dry cleaning
Laundry packages
PRICING
Clothing: $3.99 – $54.99
Linens: $1.99 – $14.99
Wash & fold (15 lbs) – $30
WEBSITE
https://laundrez.ca/
ADDRESS
7 King St E, Toronto, ON M5C 3C5, Canada
CONTACT DETAILS
+1 647-991-4108


[email protected]

PAYMENT
Please phone the laundry shop for details
With LaundrEZ, booking a pickup and delivery for your laundry to be washed, ironed, and folded is super simple.
This company is jiving with modern times by assisting clients through their app. With it, you can also be updated on the service progress in real-time and know exactly when your clean clothes will arrive.
But, installing the app can be a hassle for some people. Let's say, for example, they don't have ample phone memory to install the app or prefer a more old-fashioned service of visiting the store to drop off their dirty clothes or do self-service.
Now, their services include washing and folding different kinds of clothes and linens, dry cleaning, and shoe cleaning. Moreover, they offer laundry packages, which are great for people that need to have their clothing washed regularly for a value price.
Compared to others, we notice their prices to be a bit higher, but they give out discounts on their Instagram page to lower your expenses.
By the way, you can find a summary of their rates in our table above, but if you want the price list of each garment, you can just visit their website.
LaundrEZ is a Canadian-owned company that covers Toronto, North York, Mississauga, Brampton, and Vaughn. If you live in one of these cities, they can certainly take care of your laundry for you.
To find their app, you can visit their site online and follow the link from there. Or, you can search and download it on the App Store or Google Play.
Easy-to-use app
Pickup and delivery service available
Provides residential & commercial services
Offers discounted laundry packages
App installation can be a bit of a hassle
Relatively higher rates
5) LaundryToGo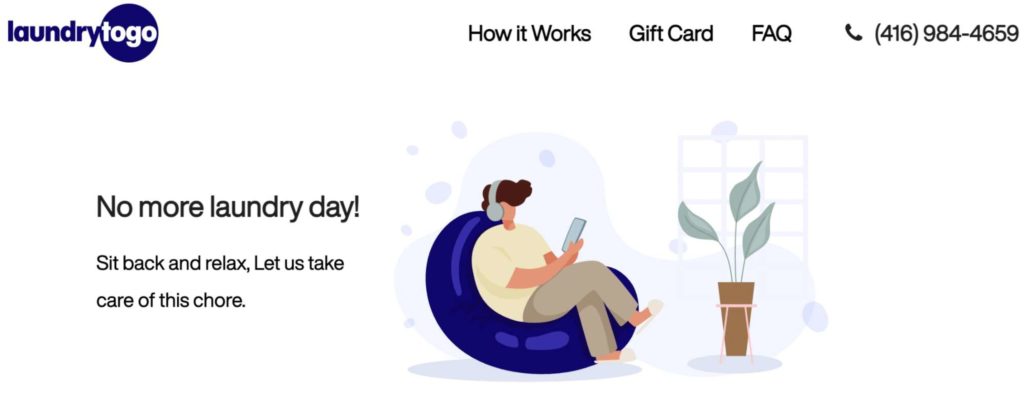 SERVICES/SCOPE
Laundry services
Pickup and delivery services
PRICING
$1.49/lb + $9.99
WEBSITE
https://laundrytogo.ca/
ADDRESS
25 Telegram Mews, Toronto, ON, M5V 3Z1 Canada
CONTACT DETAILS
(416) 984-4659


[email protected]

PAYMENT
Visa and Mastercard
With a simple business model and a strong focus on customer service, LaundryToGo has become one of the top laundry services in Toronto, as their clients can agree to.
It offers same-day pickup and delivery of your clothing and other home textiles like bed sheets, comforters, and doormats freshly and completely cleaned and folded.
Note that, their same-day delivery doesn't mean you have to wait till the end of the day, but within just four hours or less. But, of course, this is dependent on the time you call them for a pickup.
Laundering clothes is the only service they offer right now—no ironing or dry cleaning, at least for now. We like their speed, quality, and friendly and nice staff that make up for an overall great experience.
Their website is very clean, informative, and easy to use. You can schedule a fast pickup online and the driver can very soon ring your door to pick up your bags of laundry.
After they get back to base, they can calculate the costs of your laundry by weight, not by item, so you pay less. Then, the invoice is sent to your email where you can pay by using a Visa, Mastercard, or another credit card.
The delivery and service fee can be quite high, but if that means getting all your garments back, and that they look and smell fresh and clean, then all the money you have spent is worth it.
Also, feel free to tell them of your preferences such as at what temperature you'd want your clothes cleaned and/or any special care instructions you may have.
LaundryToGo is open 24 hours and 7 days a week giving great convenience. Furthermore, they serve clients around Toronto and its surrounding areas.
Same-day clean clothes delivery
Pickup and delivery service offered
Simple service process
Accepts Visa and Mastercard
Open 24/7
Higher service and delivery fee
No dry-cleaning and ironing services
Customer Reviews
Very professional laundry service
"My daughter told me about this…I tried it and it was of great help as a time consuming chore was done for me. Very professional. Loved it." -Shonu Bahsin
Outstanding customer service
"Use them for the first time absolutely awesome. These guys should teach customer service. Will use them from now on on a regular basis highly recommend them." -Dave Sullivan
FAQs about the Leading Laundry Services in Toronto
---
And with that, we conclude our list of the best laundry services in Toronto! If you've tried one of these companies before, you can send us a message and tell us your experience with them.
Also, if you have any thoughts or questions about our list, please let us know as well, and we'll get back to you promptly.
Other Articles Related to Laundry Services