With blocked gutters, a house is at risk of a lot of things with the worst being structural damage, basement leaks, and fire. Thus, it's essential to have your gutters and downpipes cleaned at least twice a year.
For that, you can depend on the top options for gutter cleaning in Sydney, which are listed for you here. We also included a cost section to make you aware of the prices for this kind of work.
How Much Does Gutter Cleaning Cost in Sydney?
Gutter cleaning in Sydney generally costs between $200 and $500, as per Vertec Roofing. Rates vary a lot from one company to another as is the service value they provide to their clients.
Affecting the price are several factors including the gutter length, volume of debris, safety, accessibility, specialised equipment, and whether you require some gutter repair.
It's obvious why these things can bring up your overall price. It's because the tradesman will need to work harder and longer, as well as more carefully to totally clear out your gutters.
It can also be summed up this way: the less debris your gutters have and/or the fewer stories your house has, the less you'll pay.
Not many gutter cleaners offer discounts but if you find one, you can mention it to them as you get a quote. With this, you can get a lower service bill, and hence more bang for your buck.
Also, below is a table of the average cost of gutter cleaning based on the number of your house stories. Note that these prices are only a rough estimate and may vary from the actual one.
| | |
| --- | --- |
| Gutter Cleaning | Average Cost |
| Single-story, 3-bedroom house | $150 to $230 |
| Single-story, 4-bedroom house | $150 to $300 |
| Double-story house | $180 to $350 |
| Double-story townhouse | $200 to $250 |
| Triple-story house | $300 to $500 |
The Best Gutter Cleaning Options in Sydney
So with that in mind, here are the best gutter cleaning options in Sydney that can assist you!
1) Mario Gutter Cleaning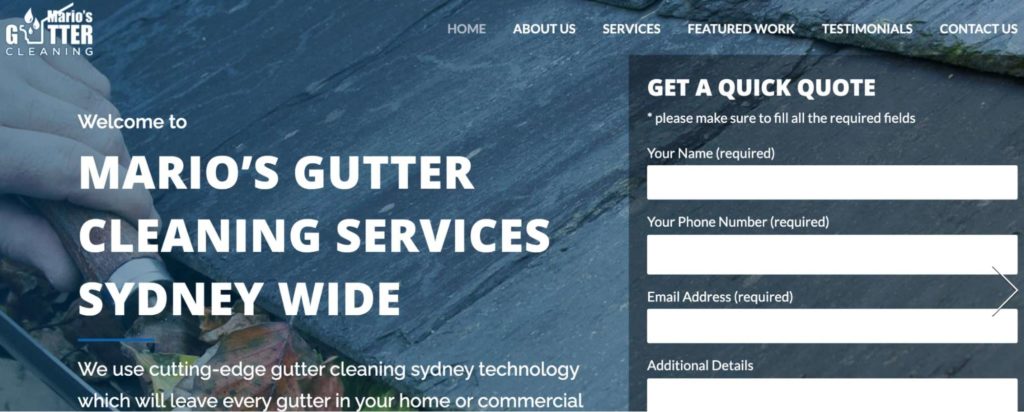 If your gutters are brimming with debris after fall or during any other season, you can get Mario Gutter Cleaning to clean everything up for you and leave your premises neat.
They have been serving clients around Sydney and the Greater West for 20 years. You can rely on their gutter cleaning specialists because they are fully licensed and insured.
Their method differs from the others in that they use a high-tech vacuum system to draw in all the gutter debris like twigs, leaves, moss, and lichen more than just picking them up by hand.
Their process begins with taking into account the nearby bushes and risks of working on or level with your roof. That allows them to work carefully and efficiently on your gutters.
The great thing about choosing this company is that they are all-around. Not only do they clean gutters and downpipes, but they can also repair their issues and install gutter guards.
Along with gutter cleaning, they give a free roof inspection to catch any issues to save you from getting another tradesman for it and from expensive roof repairs in the future.
As they're confident of their expertise and the results they provide, they offer a 100% satisfaction guarantee. If the job hasn't been done right the first time, they can come back to fix it.
While most homeowners were delighted with their workmanship and client treatment, few had issues with their professionalism.
Also, getting a quote from them is a no-brainer. You can simply click the link we have provided above, or call or email them, and without long, the team can get back to you promptly.
Finally, Mario Gutter Cleaning is available from Monday to Saturday. You don't have to be at home for them to clean out your gutters; you can just leave the front gate open for them.
Fully insured and qualified
Offers complete gutter services
Uses high-tech vacuum systems
Free onsite roof inspection
100% satisfaction guarantee
Unavailable on Sundays
Complaints about professionalism
No coupon deals available
Customer Reviews
Polite, friendly, and worked professionally
"Excellent service, the guys were polite and friendly even arriving early. Done quickly with no mess left behind and showed me pics of the work before and after.
Highly recommended!" –Laura Abrahams
High level of professionalism
"We have been a customer of Mario's Gutter Cleaning Sydney for 9 years now and have been extremely satisfied with their level of professionalism. I strongly recommend their services." -Casey Tan
2) Sydney Gutter Clean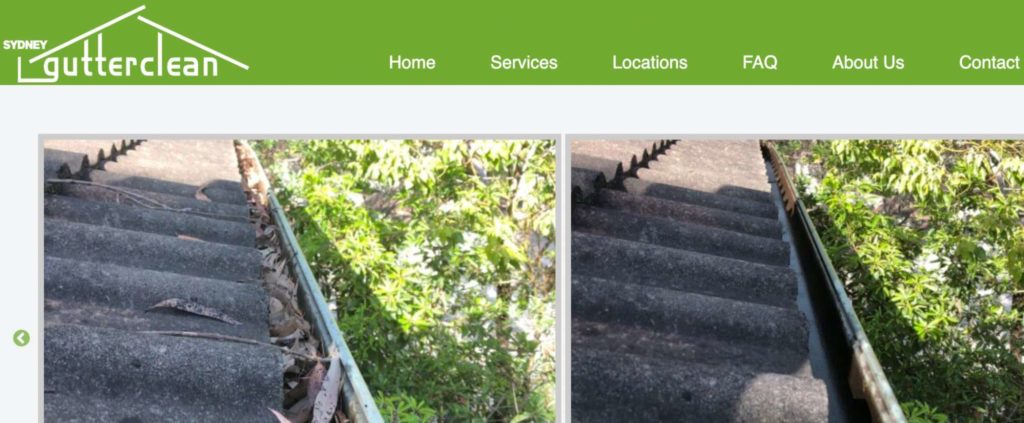 SERVICES/SCOPE
Gutter cleaning
Gutter guard installation
Bushfire season preparation
Minor roof & gutter repairs
Tiled roof ridge, pointing & bedding repairs
PRICING
Please click here to get a quote
WEBSITE
https://gutterclean.com.au/
ADDRESS
287/495 Pacific Hwy, Crows Nest NSW 2065, Australia
CONTACT DETAILS
02 8020 5777


[email protected]

PAYMENT
Visa, Mastercard, and other credit cards
Sydney Gutter Clean is a professional and insured gutter and roof service provider. It currently implements a full contactless procedure to ensure its clients and employees are safe amid the pandemic season.
They offer gutter and downpipe cleaning, minor gutter repairs, bushfire season preparation, and tiled roof repairs involving the pointing, bedding, and ridges.
As opposed to other companies, they don't carry out complete gutter system replacement and repairs. As a result, some clients would need to find another company for these services.
They prioritise safety over anything else, which is why only safety-trained gutter cleaners can work on the field. They also use anchor points and roof access systems—if you permit them to do so—in which case, they can give you a special discount.
They are focused on the little things to give clients a great experience. These include updating the client by text or email when they're coming, providing digital before-and-after photos, and guaranteeing no mess post-service.
They also give written estimates before the gutter cleaning work starts. In effect, this eliminates the chance of bait-and-switch and agreement inconsistencies between the client and company.
When you receive the invoice, you can pay them conveniently through Mastercard and Visa credit cards. The downside here is that they don't take cash and cheques.
For now, they are available only on weekdays from 8:30 AM to 3:30 PM. Given this, some clients may find it difficult to schedule with this gutter cleaner.
Sydney Gutter Clean serves a diverse range of clients, such as homeowners, business owners, government clients, and property managers, across the Greater Sydney area.
Full contactless service
Licensed and insured gutter cleaners
Adheres to safety regulations
Provides digital gutter photos
No-mess guarantee
Gives on-the-spot discounts
Only handles minor gutter and roof repairs
Does not accept cash and cheque
Closed on the weekends
Customer Reviews
Polite, thorough, and efficient team
"Jean-Marc arrived at the agreed time, was polite, thorough and efficient. He communicated all aspects of the job to us prior to commencing and again on completion, despite having to contend with an approaching storm. The before and after photos provided by him clearly show the quality of work done. We would have no hesitation in recommending this service." –Lee Lowe
First-rate job and smooth booking process
"Booking process was smooth and efficient. The tradesman who did the work was efficient and professional and the completed job was first rate. The state of the gutters before and after were shown to me and this was helpful." –John Golden
3) Gutterboy Gutter Cleaning

If you want a seamless gutter cleaning process from start to finish, then we suggest calling Gutterboy Gutter Cleaning.
In opting for this company, you can expect a quick quote response, reliable communication in-between, and an efficient, safe, and clean gutter cleaning service on the same day.
The proof is that they are industry-certified and insured in addition to conforming to the Occupational Health & Safety standards.
Their full services include gutter cleaning, repairs, and replacement. In addition, they carry out related services like window cleaning, solar PV cleaning, tree trimming, and roof repairs.
Therefore, if you need one or more of these house services, they're the ones to call. Despite this, they remain equally good with each of these works, as former and new clients can attest to.
Furthermore, should you do so, you can get a special multiple service discount so this can give you more value for your money—and it can save you more time as well!
Some of the areas they serve include the Sydney Metro, South Sydney, North Shore, Inner West, Hills District, Sutherland Shire, and others. They work from Mondays to Fridays but are closed on the weekends.
We added them to our list of the top gutter cleaning in Sydney thanks to numerous positive testimonials from clients.
Fully insured team
Same-day services available
Wide range of services
Adheres to WH&S standards
Offers a multiple service discount
Free roof inspection
Guarantees clients' satisfaction
Unavailable on the weekends
Doesn't offer commercial services
Customer Reviews
Polite and professional team and great communication
"Very pleased with this service. The team arrived on time, professionally presented, polite, communicated well on the work to be done." –Gina Cantrell
Insured and reliable gutter cleaners
"I enjoyed the peace of mind by getting cleaning services from such reliable and insured professionals. Gutter boy did the job proactively that we liked." –James Spencer
4) Forever Clean

Forever Clean's website isn't as organised as the others we've featured here. That includes their online booking system, and more so their 17-minute long video teaching how to use that.
Be that as it may, this North-Shore gutter cleaner more than makes up for that problem through their actual service. They only offer gutter cleaning and gutter guard installation services.
The gutter guard that he installs is Aluminium Leafscreen because it can effectively keep leaves, pine needles, branches, and other waste items from clogging up your gutters.
Now, the gutter technician, Adrian, received lots of positive client feedback for being punctual, thorough, and efficient in conducting the work.
He can make sure that each client approves of his workmanship by giving before-and-after photos and videos of gutter cleaning. But, since there's no mention of a satisfaction guarantee online, you can just enquire with him about it.
The service prices are not high here but reasonable for the work performed. That said, we didn't find any discounts or promos on their website.
Another highlight is that Forever Clean is on call 24/7 for gutter cleaning. They can book you a schedule and give an accurate estimate even in the wee hours of the morning, though you'd have to call them.
In short, if you want a quick response, fair pricing, and top-quality workmanship for gutter cleaning and gutter guard installation only, Forever Clean might be for you!
Insured gutter technician
Same-day services available
Provides gutter cleaning photos and videos
24/7 service availability
No gutter and roof repair services
Faulty online quote form
No mention of a satisfaction guarantee
Customer Reviews
Top-notch service and fair pricing
"Had my gutters clean by Adrian and couldn't be happier for his services. A few tiles were even repaired by him while he was up there. Very well priced and top notch service. Will call on you again for future gutter cleans. Thanks again Adrian!" -Steven Young
Fantastic experience from quoting to job completion
"Everything from initial quoting to job completion was a great experience. Adrian was great to deal with and did an excellent service at our place. Highly recommended and I would definitely use his services again." –Rajesh Nair
5) All Sydney Gutter Vacuum

SERVICES/SCOPE
Gutter & downpipe cleaning
Gutter guard installation
Pit & drain cleaning
Solar panel cleaning
Solar panel bird proofing
All-surface pressure cleaning
Gutter & roof tiles repairs
PRICING
Please click here to get a quote
WEBSITE
http://asgv.com.au/
ADDRESS
Strathfield South, Sydney NSW 2136 Australia
CONTACT DETAILS
+61 451 141 658


[email protected]

PAYMENT
Visa, Mastercard
All Sydney Gutter Vacuum is one of the leading gutter cleaning companies in Sydney. They also use a gutter vacuum capable of sucking up leaves, dirt, mud streaks, small twigs, and even liquid.
Because no leaf blower is used, the debris won't fly out from the gutters to make your home surroundings dirty, thereby making the job and clean-up faster afterwards.
Another benefit of their wet/dry vacuum system is safety. They can equip the vacuum with a wand attachment that allows them to clean the roof from a distance away or from the ground.
They can report any issues while working on your roof like with the skylight, tiles, or flashing. This comes as free and is already included with their gutter cleaning service.
Whether you need gutter cleaning and repair for your home, business, or strata property, they can do them all.
Besides that, they offer pressure cleaning, solar panel cleaning and bird-proofing, and pit and drain cleaning. So, you can have them do multiple services in one service call for convenience.
Furthermore, they are available 24/7 and busy people can schedule with them without the slightest bit of a hassle. To obtain a quote, you can complete their quote form online or call them.
Their downsides are that it isn't clear whether or not they offer a satisfaction guarantee and they don't offer any special discounts. But many clients said that their rates were decent.
Anyways, they can show you pre-and-post gutter cleaning photos once the job is done so you'll see if it has been done well. Also, they accept Visa and Mastercard payments.
Uses a gutter vacuum suction system
Full range of services
Provides before-and-after gutter cleaning photos
24/7 service availability
Free roof maintenance report
Accepts Mastercard and Visa
Satisfaction guarantee isn't explicit
No coupons and promos
Customer Reviews
Fantastic job and reasonably priced
"Marc form All Gutter Vacuum came today. He did a fantastic job. Cleaned up after and very reasonably priced. I will definitely use him again. Many thanks Marc" -Marian McCluskey
Excellent, fast, and neat service
"Excellent speedy service. Very thorough tidying up at the end of the work process. Great use of modern technology in communication processes. Well done Mark!" -David Butchers
6) JK Gutter Cleaning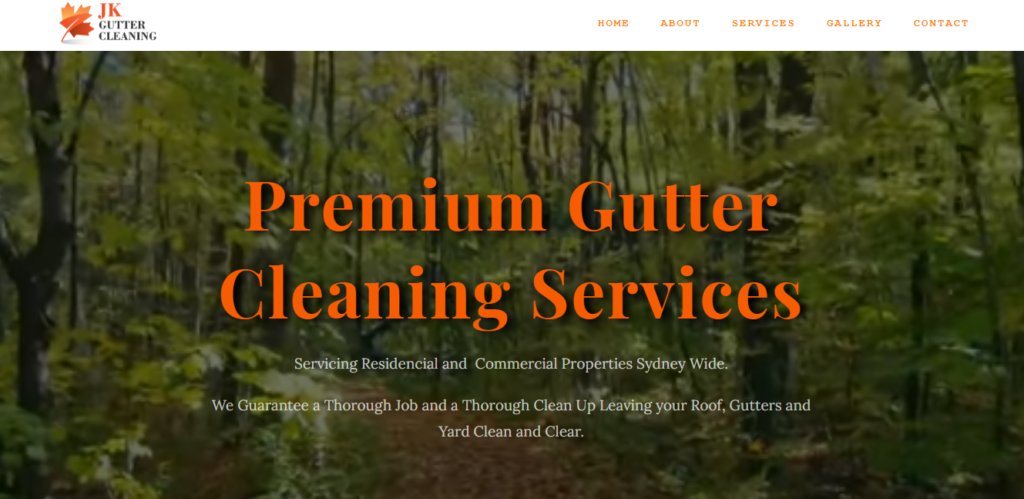 JK Gutter Cleaning is a company that provides all of your gutter cleaning needs in both residential and commercial Sydney wide. They make it to a point to be as thorough as possible when it comes to cleaning your roof, gutters, and even your yard so that you don't have to worry about cleaning it up after the second time.
Their services include a roof inspection in which they will make sure that they clear all debris they identified on the said structures and keep you updated on the clean-up status of your home or building establishment. Furthermore, they also take the initiative to give you a heads-up and report any wears in the said areas which can potentially cause any hazards.
The company also offers discounts when you avail of their group clean-up along with a neighbor or friend close by. Comprised of a highly qualified team, rest assured that they also employ public liability insurance along with the right equipment to keep their cleaners safe and secure at all times during the job.
They even provide before and after photos and a maintenance service schedule recommendation with every invoice.
We recommend this company for your gutter cleaning needs due to their experience in the field for over 10 years and their hands-on approach in all the jobs that they do and yours is not an exception to such high-quality cleaning.
Group cleaning discounts
Offers complimentary roof inspection
Employs public liabilities insurance
Offers a 100% customer satisfaction and No Mess guarantee.
Full contact free service
Accepts Mastercard, Visa, Bank transfer and PayPal
Full range of services
Free quote and service recommendations
Pricing is not readily available
7) First Choice Gutter Services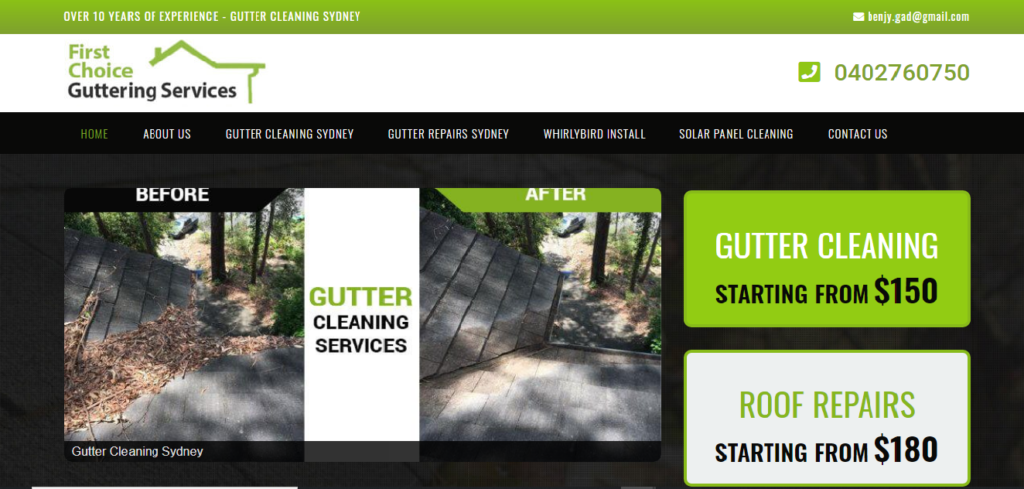 First Choice Gutter Services is the company for all of your gutter needs may it be from clearing blocked gutters to its replacement should they be rusted. They offer these services along with other roofing services in the eastern suburbs and western Sydney.
They understand your dilemma as a busy homeowner and so let them check your gutter issues off your list and prioritize more on things that matter. The company is locally owned and is sure that they are able to satisfy and even exceed your expectations for all of the gutter services that they provide you.
Well-reputed and one of the leading figures in the industry, the company and all of its personnel are insured and licensed so you can rely on them to give only the best and expert advice and services at all times. Each member of their team is a highly-skilled gutter technician who genuinely cares about the condition of your property and will do their best to fix each issue.
We recommend this company for your gutter needs due to their superior services and accommodating customer service that will ensure that you are up-to-date with all of the repairs that have been done for your job.
Full range of services
Before and after photos
Free roof inspection
Fully insured
Work at heights safety
Same day service
Free quote
Roof maintenance
Visa card
Physical address is not available
8) DX Gutter Guard and Installation Sydney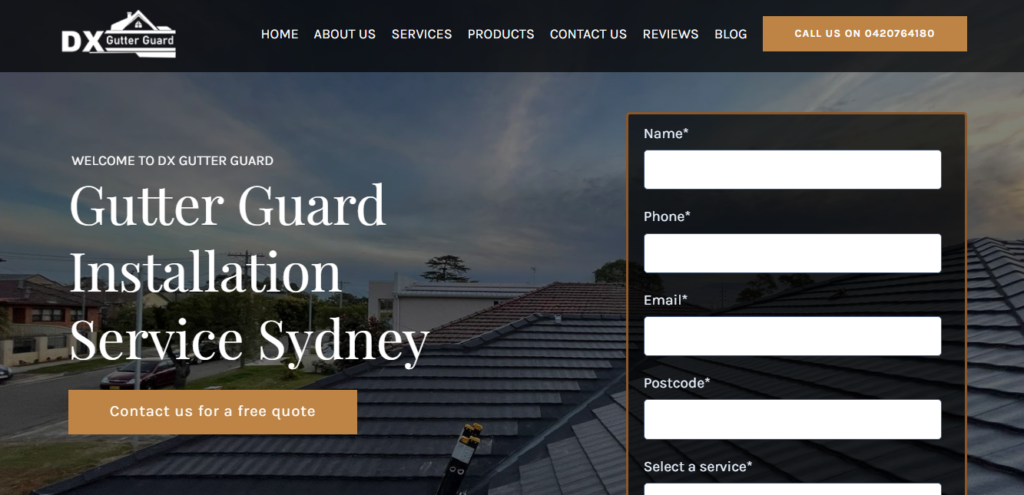 Are you struggling with maintaining your gutters and constantly worrying about your family's safety? DX Gutter Guard and Installation Sydney is the answer to all of your worries.
They have years of experience under their belt and offer you reliable all-around solutions for your gutter needs. Rest assured that they are also adequately equipped and trained for the job to make your experience easy and hassle-free.
It is important to note that their areas of service are limited but feels free to contact them should you live near the area as well. With this amazing customer service, they are sure to get back at you in a timely manner should you have any other concerns for them.
Protect your homes and your family by ensuring that your gutter is always up for the job – contact them now to experience the difference wherein your safety is the top priority.
Free Quote
Clean and tidy services
Comprehensive inspection
Customer Reviews
Here are some reviews from their clients:
" I thought they will come and directly install the gutter guard. To my surprise, they had a complete sequential process to follow. They installed the gutter guard after complete inspection was performed. They are awesome!!! " – Roger Thomas
"Diego did an incredible job cleaning out the gutters at my place. He was very professional and clean with his work. Diego was very helpful as well. We asked him to help put spikes on the roof near the front of the house because we had birds sitting and making nests there. He installed the spikes and mesh for us and did a wonderful job of it. We hope to use his service everytime and also highly recommend him. You won't be disappointed." – Mona Nadan
FAQs about the Top Gutter Cleaning Options in Sydney
---
And that's all for our top gutter cleaning options in Sydney. Before your congested gutters overflow in the rain, you have to get them to protect your biggest investment.
Have any questions or suggestions about our list? If you have any, feel free to send us a message and we'll get right back to you.
Is your home interior in need of cleaning too? Fortunately, we also curated a list of the best cleaning services in Sydney on the website!