Featured Image Source from Hipages
Leaving your gutters full of wayward leaves and rubbish can lead to house interior leaks, mould and mildew growth, and structural problems unless something is done about it.
To prevent this situation, we've listed down the best options for gutter cleaning in Melbourne. They can effectively unblock your gutters and downpipes while keeping everyone at home safe.
Don't know how much gutter cleaning services cost in the city? No worries, as we'll tackle this first before we round up our top recommendations for you.
The Average Cost of Gutter Cleaning in Melbourne
The average cost of gutter cleaning in Melbourne according to BaxClean is $375 or anywhere between $200 and $550.
Different gutter professionals have different rates but it's close to the given ballpark estimate. Basically, factors that can affect the price are house height, gutter size, and gutter condition.
Allow us to give a brief explanation of these variables.
House height – Taller houses will incur a bigger cost. The reason is that the roofers will need to be more careful and use safety gear like harnesses when cleaning gutters on higher roofs.
Gutter size – measured in linear foot or metre, the size of your gutter will affect the total cost. Expect to pay more to clean the gutters of a townhouse or mansion than a single-story house.
A linear metre costs about $4.50 on average. Multiply this by the total size of your gutters and you get the total price.
Gutter condition – If your gutters are very dirty and full, or haven't been cleaned in a long time, you will pay a higher cost. That's because the roof specialist will require more time and effort to get the task done.
Besides the ones mentioned, you will also have to spend more if your gutters are equipped with gutter guards because they need to be removed and put back again after your gutters are made clean.
The additional cost for gutters equipped with gutter guards can go from $75 to $150.
Now, below is a table showing the average cost of gutter cleaning by house type:
| | |
| --- | --- |
| House Type | Average Cost |
| Single-story, 2-bedroom house | $200 |
| Single-story, 4-bedroom house | $250 – $350 |
| Double-story townhouse | $200 – $250 |
| Double-story, 4-bedroom house | $350 – $550 |
For additional reference, here are the costs of some of the leading gutter cleaners in Melbourne:
| | | |
| --- | --- | --- |
| Gutter Cleaner | Cost for a 1-Story Home | Cost for a 2-Story Home |
| PorterVac Gutter Cleaning & Roofing | $230 – $270 | $270 – $320 |
| Grayson's Gutter Cleaning | $300 | $400 |
The Best Gutter Cleaning Options in Melbourne
Now that you know how much gutter cleaning services cost, we now present to you our very best options for gutter cleaning in Melbourne!
1) PorterVac Gutter Cleaning & Roofing

SERVICES/SCOPE
Gutter cleaning
Roof repairs
Roof restoration
Roof tilers
Solar panel cleaning
PRICING
Single-story gutter cleaning: $230 – $270
Double-story gutter cleaning: $270 – $320

*Note that these prices are only a rough estimate given no other factors will affect the time and difficulty of the task.
WEBSITE
https://www.portervac.com.au
ADDRESS
5-6 Rosemary Court, Mulgrave, VIC 3170, Australia
CONTACT DETAILS
1300 833 399


[email protected]

PAYMENT
Cash, cheque, and EFTPOS directly or by phone
PorterVac Gutter Cleaning & Roofing was born out of a desire to offer efficient, thorough, and safe gutter cleaning after owner Dave learned that many tradesmen came up short in their service quality in this area.
The company offers an essential range of roofing services including gutter cleaning, roof repair, roof restoration, roof tiling, and solar panel cleaning, making it a one-stop roof and gutter shop.
For gutter cleaning, it uses a commercial-grade vacuum powerful enough to draw in the leaves, debris, and dirt deep from your gutters and downpipes, all the while minimising waste at your home or office.
The team is fully licensed, bonded, and insured for your confidence and peace of mind. They work to the highest safety standards and keep their clients and property, and themselves safe throughout the service.
Aside from that, clients will be provided before and after photos of the gutters for them to see the results of the work. Your satisfaction is assured!
Although they have a reliable scheduling system where the team will call you back on your preferred day of the week, job slots get full quickly as many people book with them for their services.
However, we'd like to think of this as a good business sign. And to avoid inconvenience, be sure to book early with them like a week or two before at least.
You can also pay them in person or by phone through cash, cheque, or EFTPOS. Unfortunately, they don't accept credit cards at the moment.
On top of that, they respond to urgent night or out-of-hours service calls as they are available 24/7.
As you can see, those are the reasons why we picked PorterVac Gutter Cleaning and Roofing as one of our best gutter cleaning options in Melbourne!
Insured technicians
Provides before-and-after photos
Reliable scheduling system
24/7 on-call gutter cleaners
Free roof inspection with every gutter cleaning
Can be hard to contact since many people book with them
Doesn't accept credit cards
Customer Reviews
According to clients, their gutter cleaners performed an exceptional job, even conducted a full roof inspection and fixed a few minor faults like damages with the roof tile and chimney flashing.
One client named Pavala posted this comment on Google:
"Amazing service – professional, on time & thorough at reasonable prices. Thx so very much. Great work from a very experienced staff (Matt Hayes)."
What's more, Steve shared this:
"Porter Vac roofer Michael cleaned all the gutters very well, even spot a few crack tiles and replace them for me at no extra charge. I'm super impressed and thankful to him and definitely recommend him and this company for any gutter cleaning needs-recommend this to my mate in Sunshine and he booked this company straight away. Keep up your good work. Will get you guys to quote me to repair the roof valley as well."
2) Roof Gutter Cleaning Melbourne

SERVICES/SCOPE
Gutter vacuum cleaning
Roof inspection
Commercial gutter cleaning
Roof repairs
Roof restoration
Roof cleaning
Roof plumbing
Solar panel cleaning
Blocked downpipe
PRICING
Kindly get a quote here
WEBSITE
https://www.roofguttercleaningmelbourne.com.au
ADDRESS
East Melbourne, VIC 3002, Australia
CONTACT DETAILS
03 8373 9187
PAYMENT
Cash, cheque, and bank transfer
With over 27 years of experience, Roof Gutter Cleaning Melbourne has been providing safe and top-quality gutter and roof cleaning to homes, businesses, and factories in Melbourne.
The company carries prominent industry certifications to prove its skill, competence, and safety when working. Among them are accreditations with the ISO, Occupational Health and Safety, and environmental work systems.
They offer a wide range of services including gutter vacuum cleaning, roof inspection, roof repair, roof cleaning, solar panel cleaning, blocked downpipes, and gutter guard installation.
They specialise and have impressively cleaned gutters and roofs of councils, corporations, fitness clubs, and other commercial structures. If you're a business owner, this company makes for a great choice!
Before they work, they listen to the client's gutter problem and tailor a cost-effective plan to solve it efficiently and safely. One of their strengths is that they don't think of their clients as just a number.
Another is that they will pick up fallen leaves, rubbish, or debris from your roof after the work is complete. Their aim is to leave your home cleaner than its condition when they came.
Plus, their gutter and roof specialists are public-liability insured up to $10 million and they are covered by the company with regard to worker's compensation.
If you like to book with them or enquire about the price, they have a live chat support team who will respond to your message swiftly.
All is well with this company except that they don't offer any free services or discounts. And they're only available from Monday to Friday and don't offer emergency gutter cleaning services.
Specialises in commercial gutter cleaning
ISO quality-accredited business
Prioritises safety in their work
Carries public liability insurance of $10M
Has a live chat support
No special deals or offers
Doesn't offer emergency services
Customer Reviews
Some people complained about their high rates and unresponsive customer service. But the majority wrote rave reviews of the company and said that the team was polite, on time, and efficient.
Justine, a project manager of Mitchell Shire Council, wrote this review of the gutter cleaner:
"Roof Gutter Cleaning Melbourne has been providing all commercial roof and gutter cleaning services to our Council office buildings, Senior Citizens buildings, warehouses, libraries,child care & community centre's for several years and the work they perform is beyond comparison with other cleaning services I have had in the past. They are dependable, efficient and thorough. The finished product of their efforts is superb. I recommend their services with the highest rating possible."
Owner's Corporation Chairman Greg Siggers also left this review:
"We have been a customer of Roof Gutter Cleaning for 9 years now and have been extremely satisfied with their level of professionalism. I strongly recommend their services to anyone looking for a worry free answer to all their waterproofing and roof gutter needs."
3) Mr Gutter Cleaning

Mr Gutter Cleaning is a division of one of the largest franchise service companies in Australia known for its superhero theme and web design.
The company offers vacuum gutter cleaning, two-story gutter cleaning, commercial gutter cleaning, solar panel cleaning, and bird proofing.
They give a fairly simple service in which the cleaner works skilfully, uses safety equipment like a harness and lifeline, performs an outstanding job, and cleans up the premises afterwards.
Additionally, they stick with the quotes they give to their clients. And they offer a service guarantee wherein they will redo or complete the job if you aren't satisfied with it.
As their gutter cleaner works alone most of the time, he can only complete small to medium jobs. If he needs help, he will call another team member to come, which might take more time.
Fortunately, that only happened to one client, as the rest of the clients had a great experience with this company since their needs were solved. They also said that the gutter cleaner was fast, courteous, and prompt, which is why we consider them as one of the best gutter cleaning options in Melbourne.
What you can expect with them is that your clogged gutters will be cleared from one end of your house to another, as well as your rainheads and downpipes. Hence, your home or commercial property gutters will not overflow even when it rains heavily, and they will look good too.
Thanks to their affordable rates and skilled and punctual team, they are a great gutter cleaning choice for routine gutter cleaning.
Fully insured team
Fixed quote guarantee
Offers a satisfaction guarantee
Only suitable for small and mid-scale residential jobs
No roof repair services
Customer Reviews
Mr Gutter Cleaning garnered 4.7/5 stars on both Google and Facebook. Homeowners mostly said that their roofers were professional, efficient, and friendly and that they gave great prices.
Pam, one satisfied client, wrote this comment:
"Mr Gutter Cleaning kept me informed, turned up on time and did an excellent job cleaning the gutters. I was so happy with their service that I have booked a recurring 6 monthly service. No more worries about having the gutters cleaned or overflowing."
Also, Eshani gave the company 5 stars and wrote this:
"Great service and felt they were always happy to help to answer any questions and concerns I had. Affordable, convenient and valuable! Thank you."
4) Spout Suckers

SERVICES/SCOPE
Gutter cleaning
Commercial gutter cleaning
Body corporate gutter cleaning
Solar panel cleaning
Roof repair and restoration
PRICING
Kindly get a quote here
WEBSITE
https://spoutsuckers.com.au
ADDRESS
Melbourne, Victoria, Australia
CONTACT DETAILS
1300 25 33 26


[email protected]
Spout Suckers is a Melbourne-based gutter and roof contractor that gives superior customer service.
Cale, the owner, has previously worked in the corporate sector for 15 years and has learned over that time that clients appreciate a business that goes over and beyond for them.
He does this by coming on time, treating clients with courtesy and respect, working with flair and safety, cleaning up afterwards, and giving upfront and competitive prices.
He can pick out and vacuum all the gunk in your gutters that pose a danger to your house or workplace. If there are any damaged roof tiles, he will promptly notify you of them and fix them.
Additionally, you'll be provided with before and after snapshots for you to know how the work has been done for you.
It's hard to fault this company because it's perfect in all respects, which some clients admitted. But if we must look deeper, it's that they don't offer any discounts and don't have live chat support.
They also never indicate any satisfaction guarantee on their website. However, clients noted that Cale was swift to fix any issues or shortcomings in the job when needed.
For excellent customer service, reliable gutter cleaning, and competitive rates, hit up Spout Suckers, one of the best gutter cleaning pros in Melbourne.
Excellent customer service
Provides before-and-after photos
Competitive rates
Doesn't offer any discounts
No live chat support
Customer Reviews
With a perfect 5-star score on Google, Spout Suckers exceeded clients' expectations. People said that Cale always went above and beyond his line of duty and left a tidy and superb job.
David wrote this review on Google:
"Judy writes,
I am so grateful Cale was recommended to me by my neighbor. He was extremely pleasant to deal with and did an did an excellent job on a large and difficult area. David (husband) was so grateful too – he had been going to blow-vac the driveway for ages but didn't have to."
Furthermore, Wayne said of the gutter cleaner:
"Could not fault the service provided.
Arrived on time and whilst the job took longer than they anticipated the charges were within the quoted range.
Fixed some roof tiles as well.
Pre and post photos showed the exceptional job they did."
5) Gutter Wiz

SERVICES/SCOPE
Gutter cleaning
Gutter guard installation
Roof cleaning
Window cleaning
Pressure cleaning
Solar panel cleaning
PRICING
Kindly get a quote here
WEBSITE
https://www.gutterwiz.com.au
ADDRESS
PO Box 277 Hastings, VIC 3915, Australia
CONTACT DETAILS
1300 883 236


[email protected]
If you want your gutters vacuumed and rinsed thoroughly at a great price, Gutter Wiz has got you covered.
They offer a range of exterior cleaning services including gutter cleaning, roof cleaning and repair, pressure cleaning, solar panel cleaning, and window cleaning. Because they can do it all, you won't have to get a different cleaner and pay an extra price to spruce up your home from the outside.
Before they do their gutter cleaning, they will inspect the roof for any damages or flaws like broken or missing tiles, a damaged flashing, or bent gutters. They can patch up minor roof faults quickly, but if there is a major one, they will tell you about it to spare you from costly repairs in the future.
Their gutter cleaning crew is licenced, insured, safety-trained, and police-checked. As such, you can trust that the gutter cleaner will perform an admirable job, who use ute-mounted vacuums that leave behind less mess on your premises.
Of course, you will be provided with before and after photos after the work is done.
You can get a fast quote by clicking the link we provided in the table above. They say that they can get back to quote requests within 48 hours, but oftentimes they respond faster than that.
Gutter Wiz can take on both residential and commercial gutter cleaning work in and around Melbourne, including its South Eastern suburbs and the Mornington Peninsula.
Insured roof technicians
Police-checked staff
Competitive rates
Provides before-and-after photos
Slower quote response (within 48 hours)
No client satisfaction guarantee
Customer Reviews
Another perfect scorer on Google, Gutter Wiz received acclaim from clients. Many said that Jeff had great attention to detail, responded quickly, and performed the gutter cleaning job to a high standard.
Here's the comment of one client, Brendan:
"Jeff's attention to detail, work ethic and desire to always please his customers makes a very good choice if you need any roof cleaning done!"
Also, Nick posted his feedback of their service:
"Jeff and his team are highly professional and responded very quickly to my urgent request for a job. Very resonably priced. I highly recommend."
6) Gutter's And Co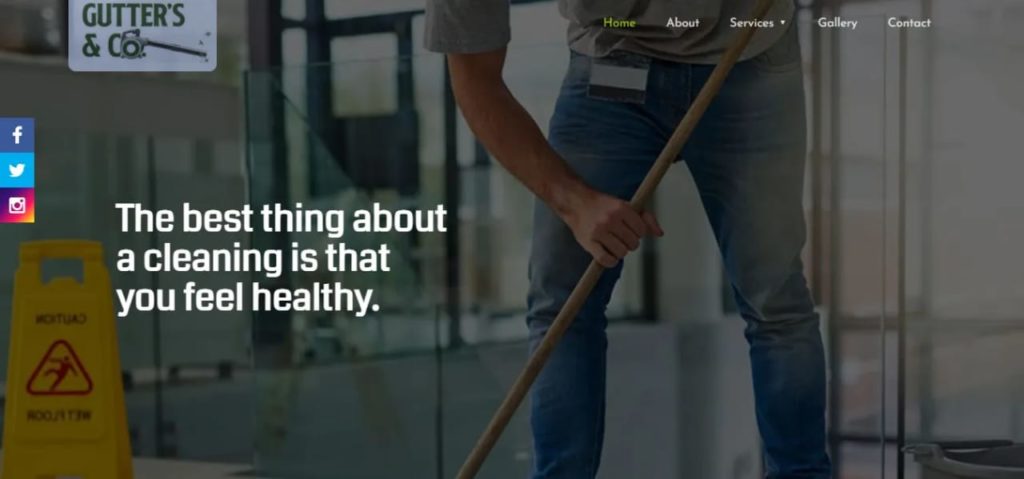 SERVICES/SCOPE
Cleaning Services
Gutte Cleaning/Protection
Pressure Cleaning
Re-pointing
Roof Materials/Repairs
Tree Triming
PRICING
Contact for more information
WEBSITE
http://www.guttersandco.com.au/
ADDRESS
PASCOE VALE VIC 3044
CONTACT DETAILS
http://www.guttersandco.com.au/contact


[email protected]


0420 555 667
Want to maintin the beuty and value of your home? Gutter's And Co. is the perfect company to call.
Gutter's And Co. is a leading commercial cleaning services company with more than 3 years of experience. They readily provide Cleaning Services, Gutter Cleaning, Gutter Protection, Pressure Cleaning, Roof Materials, Roof Repairs and other janitorial services.
People love them because they give all their best in doing the requested service of the client. Theit bare minimum is nowhere near enough other cleaners.
Another factor why people prefer them is because they always do a personal approach to every job. They take the circumstances and preferences of their clients into account before working.
Facility Maintenance
Labour only or Supply and Install service.
Background verified staff
Guaranteed quality of service
Commercial and residential works
Rates are unavailable online
7) Pro Gutter Cleaning Melbourne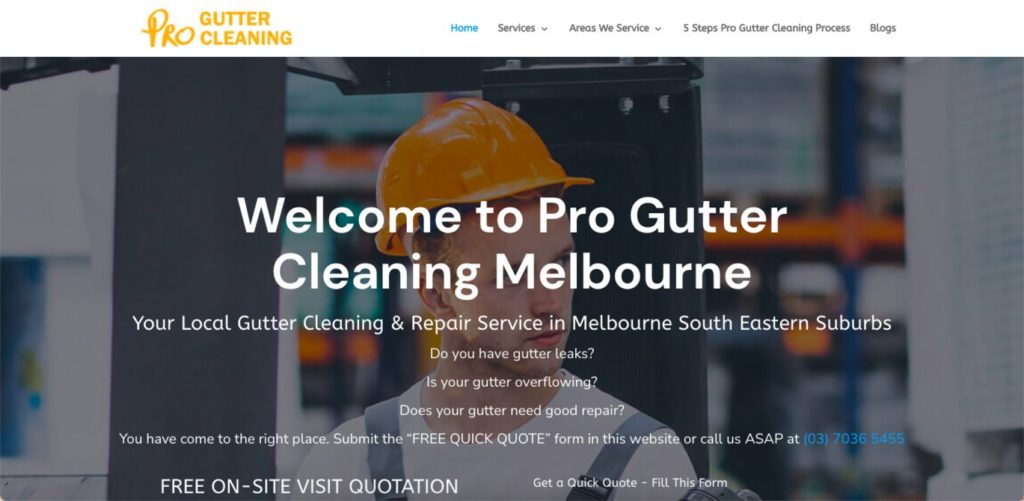 SERVICES/SCOPE
Roof repairs
Roof repointing
Roof tilers
Roof inspection
Roof bedding and pointing
Downpipe cleaning
Gutter cleaning
Gutter vacuum
PRICING
Contact for more information
WEBSITE
https://proguttercleaningmelbourne.com.au/
ADDRESS
50 Fitzgerald Rd, Hallam VIC 3803
CONTACT DETAILS
(03) 7036 5455


[email protected]
Another one in our list is Pro Gutter Cleaning Melbourne, and they're without a doubt one of your best options in the area.
They make sure they don't just get the job done. They make sure it's done well.
How do they do this? Well, they have a 5-step gutter cleaning process they pride themselves with. After this process, they'll surely leave you with spotless gutters.
These professionals promise to help you maintain your gutters and prevent potential problems to avoid extensive and expensive damage.
They make getting a quotation from them easy—you simply have to fill out a form on their website or give them a call. They also offer on-site visitation. All of which they provide for free!
What's great is that they're also open on weekends and public holidays. With all of these reasons, we think that they'll be a great choice for you if you need to have your gutters cleaned.
Employs a 5-step gutter cleaning process
Free quotation and on-site visitation
Open on weekends and public holidays
Rates are unavailable online
FAQs about the Top Gutter Cleaning Services in Melbourne
---
So that's about it for our best options for gutter cleaning in Melbourne! If you want top-notch work and service, you won't go wrong with our featured companies.
Do you have any questions or comments about this list? Feel free to drop us a line and we'll get back to you as soon as we can.
Also, if you need house cleaning, you could check out the best house cleaning in Melbourne. Their trained and hardworking teams can clean your home and belongings to a sparkly state.