If thinking about cleaning your gutters already drains your energy, then maybe it's time to ask for the help of cleaning companies that can provide the best gutter cleaning in Cincinnati. After all, gutters are some of the hardest areas to clean, so you'll need all the help you can get.
For today's article, we're taking a look at some of the most trusted cleaning companies for the best gutter cleaning in Cincinnati. We combed through the city in search for them so you don't have to.
So, without further ado, here are our picks for the options for the best gutter cleaning in Cincinnati.
1. Cincy Gutter Boys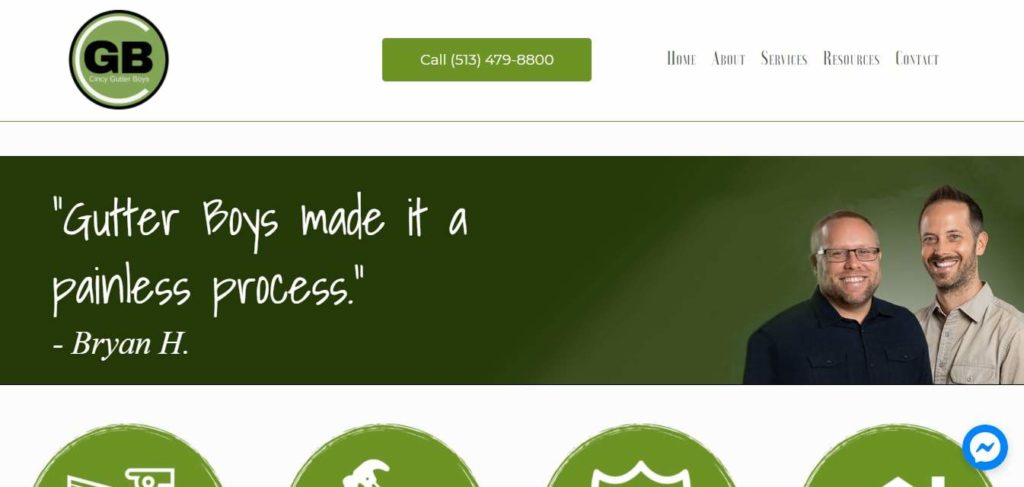 If you're looking for a cleaning company with experience, then we recommend checking out Cincy Gutter Boys. It's a BBB-accredited business that offers a wide array of gutter-related services, such as gutter installation, gutter repair, gutter guards, and of course, the best gutter repair in Cincinnati.
It's been helping Cincinnati residents deal with dirty and busted gutters by providing them with affordable and quality gutter cleaning services. It's made up of a team of skilled cleaners who can deal with any gutter issue.
On top of that, Cincy Gutter Boys is equipped with cutting-edge cleaning equipment, so rest assured that your gutter will return to its perfect shape.
2. Anderson Gutter Company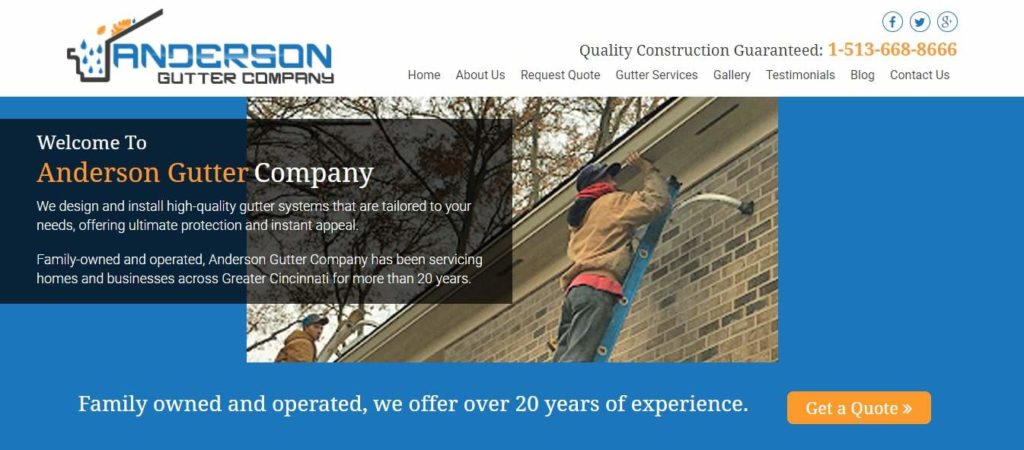 With more than 20 years of experience, the Anderson Gutter Company has cleaned thousands of gutters in Cincinnati and in many neighboring areas. It has extended its services to reach households in Ohio, Pierce, Sycamore, Symmes, and Batava, among others.
In terms of services, Anderson Gutter Company offers every gutter-related service, from cleaning down to replacement. This is why we consider it one of the top options for the best gutter cleaning in Cincinnati.
More than that, it's known for its competitive and affordable rates, allowing more households in Cincinnati to gain access to its world-class cleaning services.
3. Clean Pro Gutter Cleaning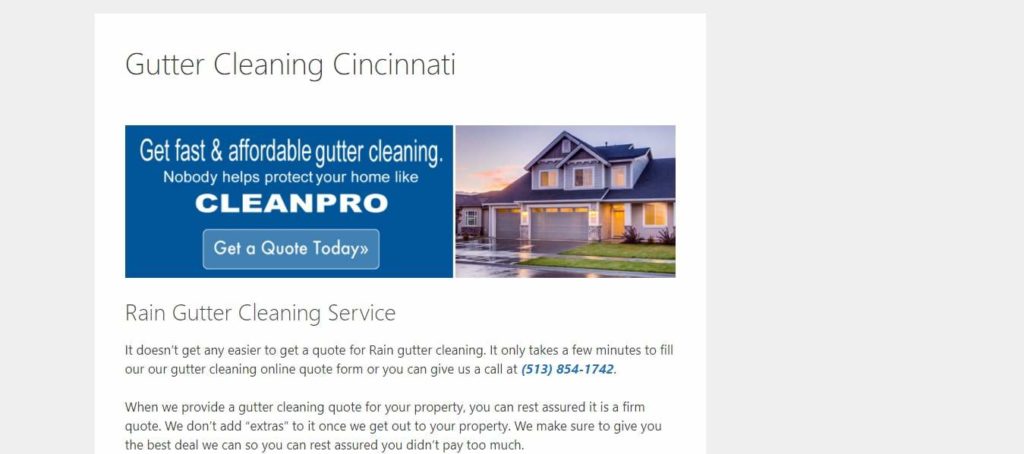 If there's one thing that makes Clean Pro Gutter Cleaning stand out, it'd have to be its affordable cleaning rates. It's the go-to cleaning company for those who are on a budget and aren't willing to hire expensive cleaners.
Its services might be cheaper compared to others, but it still guarantees that customers will be satisfied with their services and the results. If they aren't, their team of gutter cleaners will clean everything again for free.
Clean Pro Gutter Cleaning is also known as one of the most accessible cleaning companies in Cincinnati as it makes sure that customers are also updated on the status of their services.
4. NKYGutterCleaner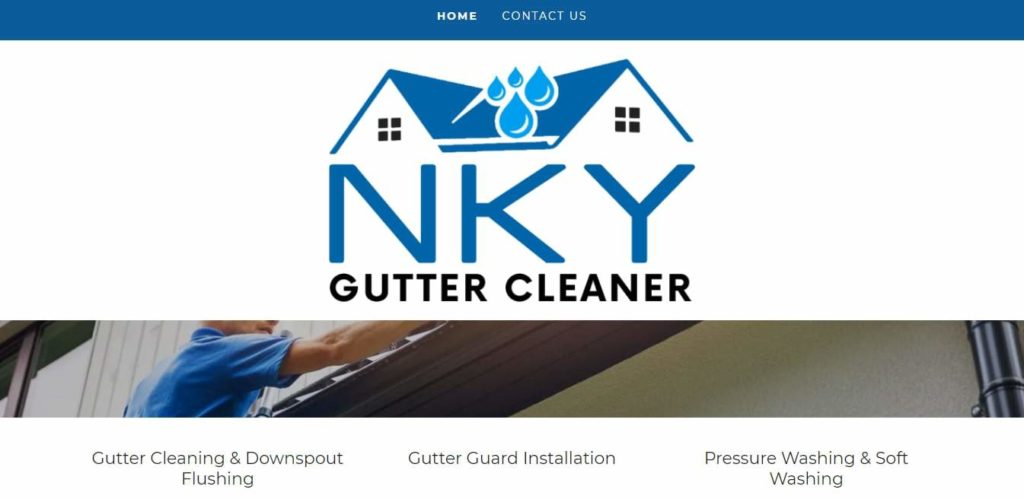 NKYGutterCleaner is a cleaning company that services Cincinnati and a few surrounding areas, offering a broad range of gutter-related services. It owns one of the most revolutionary gutter cleaning systems in the world called SkyVac, which can clean gutters up to 40 feet from the ground.
In terms of cleaners, NKYGutterCleaner houses only the top cleaners and technicians in Cincinnati, all of whom can deal with filthy and broken gutters. This is why we call it one of the top options for the best gutter cleaning in Cincinnati.
It's also worth noting that NKYGutterCleaner only uses safe and eco-friendly cleaning products to ensure that its customers will not be exposed to any potentially harmful chemicals.
If you're interested in trying out its services, don't hesitate to give them a call. NKYGutterCleaner provides free estimates!
5. Gutter Guards Direct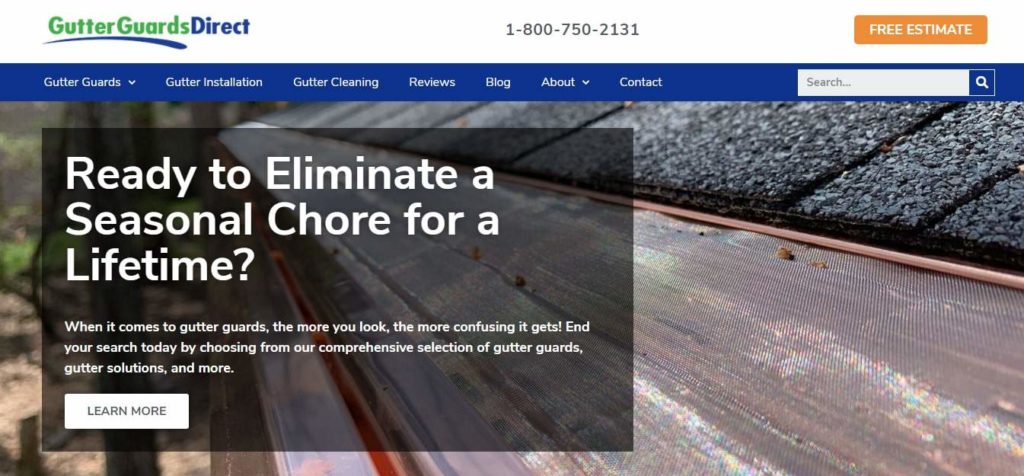 As one of the most in-demand cleaning companies in Cincinnati, Gutter Guards Direct guarantees low prices of its cleaning services. Customers won't have to worry about being overcharged.
Gutter Guards Direct's services are open for both residential and commercial clients, helping them solve their gutter, drainage, and water problems for an affordable price. It also services areas such as Pennsylvania, West Virginia, Michigan, Illinois, Indiana, Kentucky, and more.
Lastly, Gutter Guards Direct only uses state-of-the-art cleaning equipment and top brand names for replacement materials.