Carpets are largely responsible for the air quality in your home, and can, therefore, affect your health and comfort. If yours have been dingy and dusty for quite some time, you should soon call a professional carpet cleaner to refresh them.
For this article, we put together a list of the best carpet cleaning in Irvine. But before this, we'll go over the prices of these services to help you find the right company based on your budget.
How Much Does Carpet Cleaning Cost in Irvine?
According to Home Advisor, people spend $196 on average or between $128 and $263 for carpet cleaning in Irvine, California.
The price varies from one company to another but mainly depends on the carpet size and kind, the stains and spots that need to be treated, and whether you have stair carpets in your property.
You can be charged either on a per-square-foot or per-room basis. One square foot of carpet cleaning costs around $0.20 to $0.40, whereas one room roughly ranges from $25 to $75.
If you aren't sure about the size of your carpets, a carpet technician can visit your house for an accurate estimate. They'll also explain the pricing and your carpet cleaning options.
For a full comparison, kindly refer to the tables below. The first one shows the carpet cleaning rates per square footage and the second displays the rates as per the number of rooms.
| | |
| --- | --- |
| Carpet Square Footage | Price Range |
| Cost per square foot | $0.20 – $0.40 |
| 200 – 400 sq. ft. | $80 – $130 |
| 500 – 1,000 sq. ft. | $100 – $250 |
| 1,000 – 1,500 sq. ft. | $200 – $300 |
| 1,500 – 2,000 sq. ft. | $250 – $450 |
| 2,000 – 3,000 sq. ft. | $400 – $550 |
| | |
| --- | --- |
| Number of Rooms | Price Range |
| 1 | $25 – $75 |
| 2 | $50 – $150 |
| 3 | $75 – $225 |
| 4 | $100 – $300 |
| 5+ | $150 – $600 |
The Best Carpet Cleaning Options in Irvine
Now that you know about their rates, here's our roundup of the best carpet cleaning options in Irvine!
1) Zerorez Irvine Carpet Cleaning

SERVICES/SCOPE
Carpet cleaning
Upholstery cleaning
Rug cleaning
Tile and grout cleaning
Natural stone cleaning
Hardwood floor cleaning
Countertop cleaning
Pet stain and odor issues
Protectors, sealers, and coatings
Commercial services
PRICING
Kindly get your estimate here
WEBSITE
https://zerorezsocal.com/
ADDRESS
17815 Sky Park Circle, #A, Irvine, California 92614, United States
CONTACT DETAILS
949-503-9569


[email protected]

PAYMENT
Credit cards
The name 'Zerorez' is taken from the company's patented carpet cleaning technology utilizing Zr water, which leaves zero sticky residues after the cleaning, unlike steam and dry chemical cleaning.
Their unique carpet cleaning technique is certified platinum by the Carpet and Rug Institute. It has been tested and proven to work through lab experiments and clients' success stories.
More importantly, since it doesn't use harmful chemicals, it's safe for your carpets, family, pets, and the environment. Their staff members even boast that the Zr water is safe to drink but, of course, you shouldn't try that.
As far as the reviews are concerned, most of the clients' carpets were made clean and fresh with the stains completely removed. They were also impressed with their professional, courteous, and prompt team.
While their price-to-value ratio had been great for most people, some felt they didn't get their money's worth from the service.
The company also stands behind its cleaning work by giving clients a guarantee. So, if you aren't delighted, they will improve upon it very soon at a convenient time.
Besides carpet cleaning, Zerorez handles upholstery, rug, hardwood, and tile and grout cleaning. Additionally, they can apply stain protectors on your carpets to protect them against accidental spills as well as daily dirt and debris.
Zerorez Irvine Carpet Cleaning serves residential and business clients in the Greater Irvine area. They're open from Monday to Saturday and you can set an appointment with them by phone or online.
Uses Zr water that leaves no sticky residues
Safe and family-friendly cleaning solutions
Offers a satisfaction guarantee
Special deals and rewards available
Simple text-back request
Closed on a Sunday
Complaints about customer service and value
Customer Reviews
The carpet cleaner received a fantastic score of 4.9/5 stars on Google. According to clients, the team was excellent, prompt, and friendly and made their home carpets stain-free and pristine.
Donna, one client, left this review on Facebook:
"Exceptional service!! I've had the same technician for many years now (obviously a quality company to work for, to retain their employees for that length of time) He does an incredible job – professional, thorough and competent. Floors, walls and corners are always protected."
And here's another comment from Jessica:
"Technicians are always friendly and helpful. They explain the process and provide you with tips on the care of your carpet. My carpet always looks nice and clean after the cleaning. All stains removed."
2) Dr. Carpet Irvine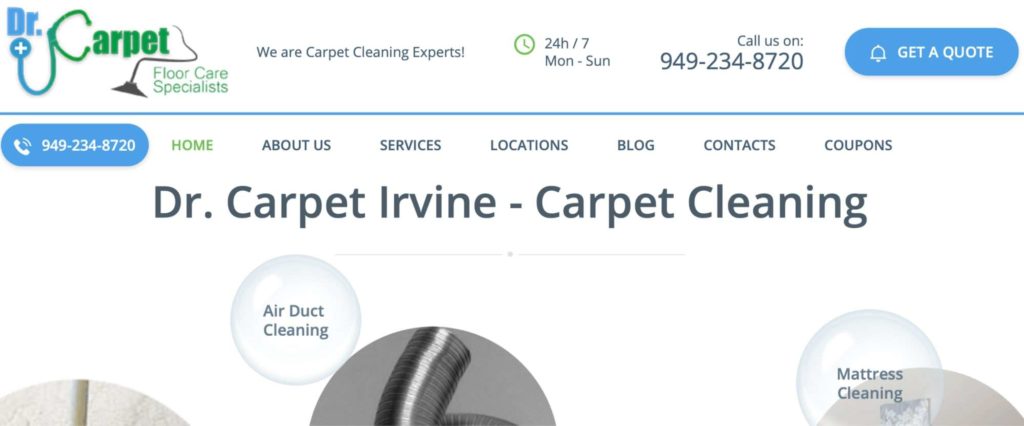 SERVICES/SCOPE
Carpet cleaning pet stains
Commercial carpet cleaning
Dryer vent cleaning
Mattress cleaning service
Upholstery cleaning
Tile and grout cleaning
Tile floor restoration
Area rug cleaning
Pressure washing
Wood floor cleaning
PRICING
Carpet Cleaning

Standard price (per sq. ft.): $0.30
Additional spotting: $0.20
Standard price (per step): $4
Studio carpet cleaning: $99
Four-bedroom carpet cleaning: $109
Four-bedroom carpet cleaning: $139
Four-bedroom carpet cleaning: $169
Four-bedroom carpet cleaning: $189
Five-bedroom carpet cleaning: $199
Six-bedroom carpet cleaning: $219

Upholstery Cleaning

Standard price (per linear foot): $15

Area Rug Cleaning

Standard price (per sq. ft.): $1
WEBSITE
http://www.drcarpetirvine.com
ADDRESS
17502 Rosa Drew Ln, Irvine, CA 92612, United States
CONTACT DETAILS
949-234-8720


[email protected]

PAYMENT
Credit cards
Formed by partners Mike and Rich in 2007, Dr. Carpet Irvine offers 24/7 home cleaning services in Orange County and Los Angeles.
Knowing that most homes in OC have carpets and pets, they chose to specialize in pet stain and odor treatment, although they can effectively remove any type of stain without damaging your carpets' fibers.
Their experienced cleaners also handle commercial carpet cleaning. Whatever time you need them, they can deep-clean your office carpets to keep your operations and employees productive.
To give you an outstanding carpet cleaning outcome, they use high-potency steam cleaners with green and non-toxic detergents that are safe for you and your family as well as pets and the planet.
The edge of this carpet cleaner over others is they show their rates online, as you can see in the table above. With this, clients won't be a victim of overpricing or a different price from what they are quoted.
They have some coupons available on their website. However, two of them have long been expired, so you'd have to ask the team what other special offers they give.
You can conveniently book and pay online if you prefer. Moreover, their system allows you to change schedules, add another cleaning service, and write notes online—putting them a notch above its competitors.
But to ascertain the price, a professional cleaner can first come on-site to assess the carpet cleaning task to be done.
Given their 24/7 availability, superb carpet cleaning, and easy booking process, we recommend Dr. Carpet Irvine as one of the top carpet cleaning companies in the city!
Specializes in pet stain and odor removal
Uses child and pet-friendly detergents
Transparent rates
Convenient scheduling system
Offers several coupon deals
24/7 service availability
Some coupons are already expired as of the time of writing
Doesn't have live chat support
Customer Reviews
Clients praised Dr. Carpet Irvine's fast response, expertise, and fair rates. This led them to earn a solid rating of 4.9 out of 5 stars on Google Business.
One client, Laura, left this feedback of the carpet cleaner:
"Talia answered my call this morning when I was desperate for help. Our dog found the one carpeted room in the house and I thought I was going to have to get new carpet. Thankfully, Richard arrived a couple of hours after I called and it's like new. I'm so relieved and happy and thankful for their professionalism and expertise. Job well done!!!"
What's more, Aviv said this:
"Very responsive, came on time as scheduled, very professional and detailed work.
we have used a few carpet cleaning services in the past, and they all seemed to rush it to move on to the next job. the Dr. Carpet guys took their time and deeply cleaned each and every spot that needed it, even staines we were sure were not removable any more.
if you are looking for a good carpet cleaning service in irvine, Dr. Carpet is your guy!
we highly recommend!"
3) Lightning Bolt Carpet & Upholstery Cleaning

SERVICES/SCOPE
Carpet cleaning
Upholstery cleaning
Fine rug cleaning
Mattress cleaning
​Auto & RV carpet cleaning
​Pet odor removal
PRICING
Kindly inquire with them for rates
WEBSITE
https://www.lightningboltcarpet.com
ADDRESS
5405 Alton Parkway, Ste A410, Irvine, CA 92604, United States
CONTACT DETAILS
(949) 282-7160


[email protected]

PAYMENT
Credit cards
Lightning Bolt Carpet & Upholstery Cleaning has been removing carpet stains, dirt, grease, and odors from college dorms to extravagant mansions in Irvine and Orange County since 2013.
They take pride in their professional, detail-oriented, and courteous team. They are fully licensed and insured meaning they can perform their work skillfully and can cover for unexpected damages.
Based on the client reviews and their before & after gallery, they consistently provide impressive carpet results—a huge difference from the pre-cleaned state of the carpets. From here, it's safe to say that they're one of the best carpet cleaning options in Irvine.
The booking process is fast and simple. Once you submit the quote form, one of their representatives will contact you shortly to set up an on-site carpet inspection.
The only thing they're missing is a satisfaction guarantee, which isn't mentioned anywhere on their website.
Another big blow is they are closed on the weekends. So for those who are only available on weekdays, you'd have to call a different carpet cleaner.
Although they don't have any coupons or discounts, their prices are more than reasonable and the same as the quote you receive.
For paying their invoice, you can use major credit cards like Visa, Mastercard, American Express, and Discover Network.
Other services they offer include fine rug, upholstery, mattress, and automobile & RV cleaning. As such, they're a one-stop solution for your domestic and commercial cleaning needs.
Licensed and insured cleaners
Easy to book with
Has live chat support
Offers honest and affordable rates
No mention of a satisfaction guarantee
Closed on the weekends
No coupons or discounts offered
Customer Reviews
They were awarded a perfect review score by almost all clients. Firstly, they felt they gave value with the spotless carpet results, and secondly, they found the team to be adept, friendly, and prompt.
Let's hear about Lindsay's review about their service:
"This company is AMAZING! It was easy to book and they did a great job. Our carpet was destroyed from kids and dogs and I cannot believe how good it looks now. They were friendly, professional and worked hard. It is also very affordable. I highly recommend using them, we will be using them again and wished we did it sooner! Thank you very much Lighting Bolt, we really appreciate it!"
Plus, Stacy said this of them:
"Mark responded to my call on Sunday and completed the job efficiently on the next day. More importantly, the final charge is exactly what Mark quoted me over the phone. It was a pleasure working with Lighning Bolt. Will definitely use Mark again in the future. Great job!"
4) Active Chem-Dry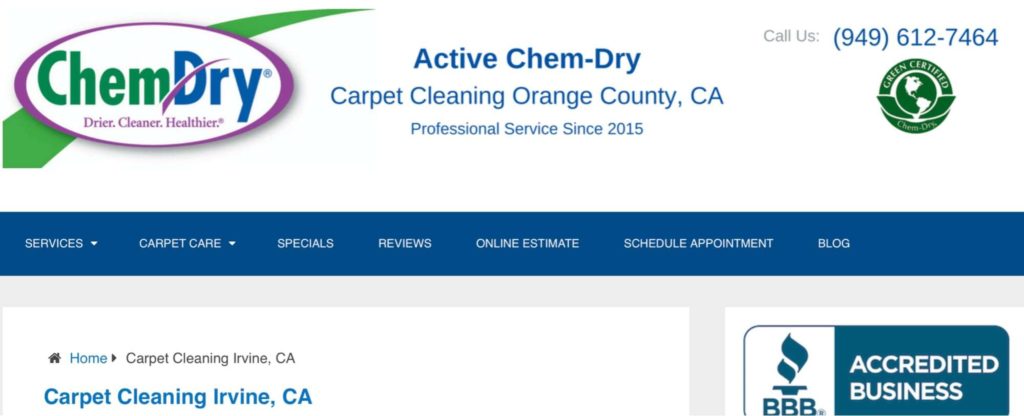 SERVICES/SCOPE
Eco/green carpet cleaning
Steam cleaning
Rug cleaning
Odor removal
Stain protection
Water extraction
Upholstery cleaning
Vehicle upholstery cleaning
Carpet repair
Stain removal
Emergency services
Mattress cleaning
Tile & grout cleaning
PRICING
Kindly inquire with them for rates
WEBSITE
https://drycarpetcleaningoc.com
ADDRESS
3943 Irvine Blvd, Irvine, CA 92602, United States
CONTACT DETAILS
+1 949-612-7464


[email protected]

PAYMENT
Credit cards
Established in 2015, Active Chem-Dry offers a whole gamut of cleaning services for residential and commercial clients in Irvine and the rest of Orange County.
Their skilled team cleans carpets, rugs, mattresses, upholstery, tiles, and grout. Apart from this, they offer stain and odor removal, and flood damage restoration, though only from Monday to Saturday.
They use hot carbonating extraction (HCE) to thoroughly clean carpets. This sends out millions of microscopic bubbles to lift dirt and allergens to the carpet's surface, which are then absorbed by the cleaning equipment.
On top of that, it uses a green and pet-friendly cleaning solution without any harsh chemicals and detergents. And because less water is used to clean your carpets, they can dry at a faster rate within just hours.
Many clients have been pleased with their carpets after the carbonated cleaning, though a few complained that the carpets didn't dry completely as expected and still had stains and grime on them.
In terms of pricing, people noted that it was decent and similar to what they were quoted. For them, the service was well worth the price since their carpets looked brand new afterward.
You can check their printable coupons and see which one you can avail of when you get them to clean your carpets.
Plus, all of their services are warranted for your utmost satisfaction. So, if you aren't happy with their carpet cleaning work, the team will correct their mistakes for you free of charge.
Considering these reasons, Active Chem-Dry deserves a spot in our best carpet cleaning in Irvine list! To schedule with them, you can call or email them, or fill out their form online.
Uses carbonated cleaning procedure
Fast-drying time
Green-certified cleaning agents
Gives a satisfaction guarantee
Printable coupons available
Closed on a Sunday
Complaints about price and service quality
Customer Reviews
Their response was quick, the service was efficient and thorough, and the staff went above and beyond, according to clients. Check out some of the client testimonials below.
Check out this review posted by one client, Lisa:
"I was given an accurate and fair price quote over the phone. There were no surprise additional costs which I have experienced with other carpet cleaning companies. The office gave me a three hour arrival window as well as a call and text 45 minutes before the the carpet cleaners arrived. The technician discussed the process with me before hand and did a great job. My technician was very professional and friendly. I had very dirty stairs and he was able to get all of the dirt out so they look like new. I will be using Active Chem- Dry from now on!"
And Mercy also stated this:
"RJ did an excellent job cleaning our carpets. I loved that he was on time, professional, and finished in the time he said he would. He was also very friendly and did not try to push services on us."
5) Carpet Cleaning Irvine

SERVICES/SCOPE
Carpet cleaning
Air duct cleaning
Commercial carpet cleaning
Upholstery cleaning
Dryer vent cleaning
PRICING
Kindly inquire with them for rates
WEBSITE
https://carpetcleaningirvine.com
ADDRESS
Irvine, California 92618, United States
CONTACT DETAILS
+1 714-409-3845


[email protected]

PAYMENT
Credit cards
Carpet Cleaning Irvine is a locally-owned and run business providing same-day services. Owner Richard is knowledgeable and experienced in cleaning different types of carpets and removing various stains.
He's efficient, prompt, and thorough when working, according to homeowners. He's equipped with steam cleaning equipment including van-mounted and handheld ones to remove dust and grime in your valuable carpets and rugs.
His other services include air duct cleaning, dryer vent cleaning, and upholstery cleaning. He can also do them commercially but since he works solo, he might not take on large-scale cleaning.
For years, Richard has cleaned carpets at UCI or The University of California Irvine. If you're a teacher or student at UCI, you can get a good discount from him.
By the way, if you want value for your money, this company is one of the best options for carpet cleaning in Irvine. Rates here are frank and reasonable unlike those of bigger companies.
You can contact this business by phone and email only since it doesn't have an online form. Nonetheless, scheduling is relatively easy with this company where Richard will get back to you promptly.
Carpet Cleaning Irvine offers carpet and rug cleaning throughout Orange County. They are available from Monday to Sunday round the clock and accept credit card payments.
Provides same-day carpet cleaning
Offers 24/7 flood damage service
Easy to schedule with
UCI student discount available
No online quote form
No other discounts available
No mention of a satisfaction guarantee
Customer Reviews
Carpet Cleaning Irvine holds a stellar 5/5 star score on Google. Most clients wrote that Richard was knowledgeable, skilled, and on time.
They also said he did a great job on their carpets making them like new and gave fair rates.
Erika shared her experience using the carpet cleaner below:
"Richard was an amazing worker he was on time and very professional he did exactly what he said he would do for me brought my carpet back to life I was really surprised with his work my mouth was wide open i'm very satisfied good job Richard keep up the amazing work."
And, here's a portion of the review from Devina:
"I was able to get a same day appointment with them which really saved me! I had guest flying in and two hard headed pups that like to leave messes around the house so the job was a hard one but Richard showed up right on time and was quick and efficient. He always does such an amazing job. When it comes to pet stains or any type of stains at that, Richard is your guy! Funny story, I used Richard once before and he did the BEST job at getting out the stains."
6)   Titan Carpet & Floor Care
SERVICES/SCOPE
Carpet
Upholstery
Tile and Grout
Commercial
PRICING
Budget Cleaning – $0.50 per Sq. Ft. 
Value Cleaning – $0.65 per Sq. Ft. 
Premium Cleaning – $0.75 per Sq. Ft. 
—
Minimum service $200.00 up to 400 Sq. Ft.

3 Rooms (minimum) – $200 up to 400 Sq. Ft.
4 Rooms – $220 up to 440 Sq. Ft
5 Rooms – $275 up to 550 Sq. Ft.
6 Rooms – $385 up to 770 Sq. Ft
7 Rooms – $440 up to 880 Sq. Ft.
Additional Room – $55 up to 110 Sq. Ft
—
Area Rug Cleaning

Budget Cleaning
Wool Rug: $1.00 Per Sq. Ft. Ft.
Synthetic Rug: $0.7 Sq.

Value Cleaning
Wool Rug: $1.50 Per Sq. Ft.
Synthetic Rug: $1.25 Per Sq. Ft.

Premium Cleaning
Wool Rug: $1.75 Per Sq. Ft.t
Synthetic Rug: $1.50 Per Sq. Ft.
WEBSITE
https://titancfc.com/
ADDRESS
Orange, County
CONTACT DETAILS
(800) 287-3401
PAYMENT
Contact for payment options
Titan Carpet & Floor Care offers same-day service for both residential and commercial clients. They can come out to the job site within 24 hours of calling them to make sure they restore your carpets and floors back to their original state as fast as possible!
Their services include carpet cleanings like pet stain removal, tile and grout, upholstery cleaning, and more! In addition to licensed carpet cleaners, they also provide an array of cleaning solutions that are low on chemicals and environmentally friendly.
What makes them stand out from the rest is the fact that each of their techs has completed a live scan background check and is professionally trained, insured, fast, and reliable.
Aside from these, we also recommend them because they offer a 30 Day Guarantee On All Cleanings. If you noticed that they missed a spot, they will absolutely come back and finish the job, with no additional cost of course!
Serves numerous areas
Can check their availability instantly on their website
Has been recognized as the best carpet cleaning company in Orange County & San Diego
Need to contact regarding their payment options
Customer Reviews
Here are a few testimonials on their website:
"Quick, professional, affordable. Richard was super nice and did a great job. Carpets were spotless, and some of them haven't been cleaned in a long while. Would recommend to anyone else." – Klye Knode
"I had the pleasure of having my carpet cleaned this morning and the job was beyond amazing! I was impressed with not only the quality of work but the professionalism and the time invested in making sure the carpet was immaculate. I called and had same day response and I was impressed with the availability as well. I would recommend this company over and over again. Thank you so much." – Tawnya Steele
FAQs about the Top Carpet Cleaning Options in Irvine
---
And that's all for the top carpet cleaning options in Irvine. They can come out the same day to make your carpets cozy and clean for you and your family!
Have you tried any of the companies we listed here? If so, share with us your experience by messaging us and we'll check it out first thing.
Find your indoor air unclean? It may be due to a dirty air duct and for that, you can book with the best options for air duct cleaning in Orange County as well!