Featured Image Source from Angie's List
Being walked on daily, carpets easily trap dirt, bacteria, and pet hair. These won't just produce noticeable stains but can also cause or worsen health conditions like asthma, coughing, and skin irritation.
Therefore, carpets should be cleaned at least once a year or more. To ensure thorough and effective carpet cleaning, you should only choose certified and well-equipped carpet cleaners.
For this, we've listed the best carpet cleaning options in Henderson, Nevada for you. But before this, we'll go over the average cost of hiring a carpet cleaner to help you select from our picks!
How Much Does Carpet Cleaning Cost in Henderson, Nevada?
In Henderson, NV, carpet cleaning costs vary widely between companies. Based on the research of HomeAdvisor, the average cost of carpet cleaning is $164, with clients usually paying around $120 to $219.
Prices depend on a few factors including the size and condition of the carpet, accessibility, and whether the carpet needs specialized stain removal. This is because a dirtier carpet is harder and takes more time to clean.
Here's a table showing the cost figures we mentioned just now:
| | |
| --- | --- |
| Cost Type | Rates |
| Average cost of carpet cleaning in Henderson | $164 |
| Usual price range | $120 – $219 |
| Minimum v. maximum | $75 – $340 |
Aside from the general factors we noted, prices are influenced by how the carpet cleaner charges you. This can be either by the carpet square footage or by the number of carpeted rooms.
Typically, one square foot of carpet cleaning costs around $0.20 to $0.40. Multiply these by the square footage of the carpets you want cleaned and you get the price estimate.
Now, below is a table showing carpet cleaning costs per square footage:
| | |
| --- | --- |
| Carpet Square Footage | Price Range |
| Cost per square foot | $0.20 – $0.40 |
| 200 – 400 sq. ft. | $80 – $130 |
| 500 – 1,000 sq. ft. | $100 – $250 |
| 1,000 – 1,500 sq. ft. | $200 – $300 |
| 1,500 – 2,000 sq. ft. | $250 – $450 |
| 2,000 – 3,000 sq. ft. | $400 – $550 |
Next, the table below lists the carpet cleaning rates based on the number of rooms. Note that some rooms have a size cap, meaning that if you exceed it, you'll pay the price of an additional room.
| | |
| --- | --- |
| Number of Rooms | Price Range |
| 1 | $25 – $75 |
| 2 | $50 – $150 |
| 3 | $75 – $225 |
| 4 | $100 – $300 |
| 5+ | $150 – $600 |
Keep your eyes peeled for coupon deals and special offers. This will allow you to save money when hiring a carpet cleaner.
Also, you have to be careful of cheap service rates as this might mean that your carpets wouldn't be thoroughly cleaned or that the staff would use subpar products that can damage your carpet.
So, it's better to opt for a cleaner with a higher rate, so long as your carpets will be spotless and germ-free after work.
The Best Carpet Cleaning Options in Henderson, Nevada
Now that we're done with the cost section, here's our lineup of the best carpet cleaning options in Henderson, Nevada!
1) Clean It To The Max LLC

SERVICES/SCOPE
Carpet cleaning
Upholstery cleaning
Tile and grout
Pet stains
PRICING
Kindly contact the company for rates
WEBSITE
https://cleanittothemax.com
ADDRESS
3201 Castle Canyon Ave, Henderson, NV 89052
CONTACT DETAILS
702-575-2825


[email protected]

PAYMENT
Credit cards
Clean It To The Max is a small professional carpet cleaning company based in Henderson, Nevada. It takes pride in providing competent, affordable, and honest services to its clients.
Owner and carpet cleaner Markus has extensive knowledge and state-of-the-art equipment to get the job done. This includes powerful steam cleaners, vacuums with HEPA filtration, rotary cleaners, and air blowers.
Unlike other cleaners, his carpet cleaning service results in a thorough, deep, and bacteria-free result. That's because he follows a 12-step cleaning process from pre-vacuuming to drying the carpets, including disinfection and deodorization.
It's worth noting that he only uses Green Seal Max certified cleaning products, which are safe for children, pets, and the environment.
After the carpet cleaning, he will inspect the carpet with you to check for any stains or imperfections. If you aren't satisfied with the work, he will either fix them for free or give you a refund.
As clients can confirm, Markus came on time and stuck with the quote he gave them. Also, he wears shoe covers throughout the service to keep your house clean and can provide you one if needed.
The cleaner mostly does residential carpet cleaning, but you can ask them if they can take light commercial jobs. And while they don't offer 24/7 emergency services, they are practically open from morning till night, and on Sundays too by appointment.
Other than carpet cleaning, the company can provide upholstery, tile & grout cleaning, and pet urine removal to keep certain areas in your house clean and comfortable.
Only uses eco-friendly cleaning agents
Holds an A+ rating from the BBB
Serves clients 7 days a week
Newsletter discounts available
Provides satisfaction guarantee
Doesn't provide commercial carpet cleaning
No 24/7 emergency water damage services
Customer Reviews
The carpet cleaning firm received stellar reviews from many clients. They shared that the carpet cleaner performed an outstanding job, arrived on time, didn't try to upsell, and gave fair rates.
One satisfied client named Asher said of the carpet cleaner:
"Markus was quick to respond to a quote request, came over to view our job and gave a fair estimate. He was on time and the results were great. Support small business! I will be a Clean It To The Max customer as long as I live in the valley."
Furthermore, Wendy posted her review on Google:
"Marcus was professional and stood by the estimate he gave us without trying to upsell. Our carpets look fabulous and smell clean and fresh! Honest and straightforward guy! Would highly recommend."
2) Pride Carpet Cleaning Services

SERVICES/SCOPE
Carpet cleaning
Tile and grout
Furniture and upholstery
PRICING
Per Room

Per area (up to 12 x 15 sq foot): $25 flat rate
Stairs (standard size): $3 per stair
small closets: $5
Large closets and halls: $15

Other Carpet Specials

Rotary scrubbing and steam cleaning: $45 per area
Area rug cleaning: call to ask

Optional Services

Scotchgard: $15 per area
Sanitizer odor removal: $15 per area
Urine stain removal: call to ask
WEBSITE
https://pridecarpetcleaninglasvegas.com
ADDRESS
Henderson, Nevada 89002, United States
CONTACT DETAILS
+1 702-541-5000


[email protected]

PAYMENT
Credit cards
Pride Carpet Cleaning Services is a leading carpet cleaner that offers carpet, tile & grout, and furniture and upholstery cleaning services in Henderson and the surrounding towns.
Clients note that they offer efficient and punctual service at decent rates. Their rates and services are available for everyone to see on their website as well as given in the above table.
Using safe and harmless chemicals and vapor steam equipment, the carpet crew can deep clean your carpets and remove their embedded dirt, stains, and particulates, which will be safe around your family and pets.
They can also add Scotchgard protectors to your carpet to protect it from soils, spills, and grime. Additionally, they offer stain and odor removal services so your carpet will be 100% hygienic and fresh.
Should the need arise, Pride Carpet Cleaning Services can take emergency calls to restore your soaked carpet due to a flood or burst pipe. Soaked carpets need instant attention as they promote the growth of bacteria that cause health problems at home.
As they are normally closed on a Sunday, calling them on this day will mean that you pay more for calling them out. They are open from Monday through Saturday from 8.00 AM to 7.00 PM.
If you want your stained or odor-laden carpet to be cleaned, you might want to consider this company. By the way, they offer a happiness guarantee for all their cleaning works for your utmost satisfaction.
Upfront and transparent prices
Uses safe and pet-friendly chemicals
Offers emergency services
Gives a happiness guarantee
Normally closed on a Sunday
Complaint about customer service
Customer Reviews
Most clients said their carpets looked brand new after the service with the stubborn stains and odors removed. They also complimented owner Joshua who was friendly and helpful to them.
One homeowner, Sharon, left this review on Facebook:
"I just had my carpets and couch cleaned!!! Wish I had a before. They did an amazing job! They were fast, efficient and of course friendly I highly recommend this company! Thank you"
Also, Louis wrote this of the carpet cleaner:
"Josh and his crew came, saw, and conquered!! He gave me a smoking deal on my move out cleaning required by the owner of the house I was renting. He got rid of tough stains from my teenage slob and made the grout look like new. If you are looking for the best service at the best price…look no further. Thanks Pride Carpet Cleaning!!!!!"
3) Stain Masters Carpet Cleaner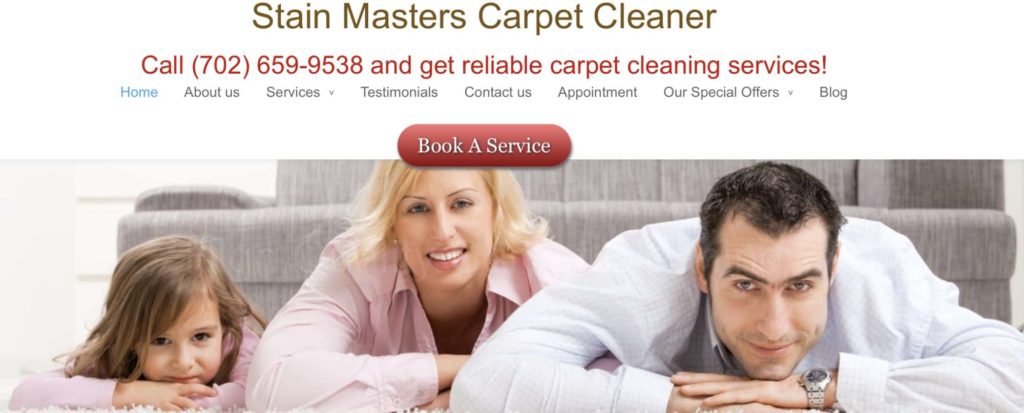 SERVICES/SCOPE
Carpet cleaning service
Rug cleaning service
Upholstery cleaning service
Stain removal
PRICING
2-room steam cleaning: $59
WEBSITE
http://smcleaners.com
ADDRESS
117 North Ocotillo Street Henderson, NV 89015, USA
CONTACT DETAILS
(702) 659-9538
PAYMENT
Visa, Mastercard, and check
Whether you need residential or commercial carpet cleaning, Stain Masters Carpet Cleaner has the manpower, tools, and resources to accomplish it. Since 2001, the carpet cleaner's services have benefitted many individuals, business owners, and real estate agents.
Certified by the IICRC, the carpet specialists use planet-friendly solutions and a steam cleaning method to make carpets clean and fresh again after many years, adding value to clients' houses.
Along with carpet cleaning, they offer rug cleaning, upholstery cleaning for homes and executive offices, and stain removal, including marks from wine spills and pet urine.
The team is available 24/7 ready to assist you during a water damage emergency. Furthermore, they accept Visa, Mastercard, and check payments when they come on-site.
Despite what we've mentioned, some clients said that they aren't upfront with their quotes, charged high rates, and failed to completely clean their carpets.
However, the great majority of clients were satisfied with the finished carpet cleaning work and especially with their personable customer service.
Also, before you enlist the carpet cleaner, you can check their website for special offers. This will help lower your expenses when getting them to clean your carpets.
You can contact the team by phone, email, or online to book an appointment. And if you're in a bit of a hurry, they offer same-day service so that your carpets can be made clean without any delay.
IICRC-certified technicians
Uses green cleaning solutions
Takes 24/7 emergency service calls
Coupon discounts available
Expensive rates
Doesn't accept Amex credit cards
Doesn't give any form of guarantee
Customer Reviews
As we noted earlier, some clients complained of their service and price. But most people would disagree as they said they did an amazing and professional job and gave reasonable quotes.
Here's what Darren has to say about the company:
"Staff was on time and very friendly. He explained everything that he was going to be doing. Customer service was excellent at explaining the pricing and procedure. Was able to get the date I needed. Overall, exceptional customer service! I highly recommend."
Furthermore, Eva wrote this comment:
"Our beige carpets were looking really dingy. We called Srain Masters after seeing how highly they were rated on map. It was a good move – They were friendly on the phone and in person, the service was fast and our carpets look brand new. I'll be using them again every time we need a cleaning!"
4) Ecodry Carpet Cleaning

Need to clean your office or hotel carpets while minimizing disruption? Luckily, Ecodry Carpet Cleaning specializes in just that.
Instead of using steam cleaning, they use the dry extraction method, which uses very little water and soap. As a result, there won't be any sticky or moist detergent residues left behind.
More importantly, the method is also proven to remove pet dander, allergens, and dust on your carpet. So this will leave your office or house carpets neat and fresh on the surface, plus it's great for the environment.
The cleaning work is performed by a competent team certified by the Host Professional Carpet Cleaners Association (HPCA). They are also insured and bonded to protect against the risk of property damage and personal injury.
Similar to our other featured cleaners, they are versatile with their services, as they also provide area rug cleaning, upholstery cleaning, and tile and grout cleaning.
This company is not listed and rated under the Better Business Bureau despite its many years of service. And, they cannot take emergency calls around the clock and only operates from Monday to Saturday.
As for the price, they charge fairly and the same as quoted as former clients can confirm. However, they don't offer coupon deals or signup discounts.
Ecodry Carpet Cleaning serves residential and business clients in Las Vegas, Henderson, and the rest of Clark County. You can get an estimate from them online or by phone or email.
Serves residential and business clients
Eco-conscious business
Uses the dry-extraction cleaning method
Insured and bonded carpet technicians
Not accredited by the BBB
Closed on a Sunday
No special discounts offered
Customer Reviews
The carpet cleaner received a score of 4.6/5 stars on Google. Many people said that Austin the owner was polite, knowledgeable, punctual, and provided outstanding carpet cleaning results.
One user wrote a comment as can be seen on the website:
"He was a very nice guy, he came in and greeted me with the upmost respect. My parents weren't home when he came, only I was, and he was still such a cool guy. He didn't try to raise the price on the job or get one over on me, and he works great. Came out perfect I recommend it."
What's more, Elishua wrote of the carpet cleaning service:
"He was very respectful, he came and he looked at what I wanted him to do, he gave me my total and started working. He was very quiet, nice, and helpful. I 100% recommend!"
5) Tough Carpet & Rug Cleaning

SERVICES/SCOPE
Carpet, rug & tile cleaning
Air duct cleaning
Upholstery, mattress & drapery cleaning
Water damage restoration
PRICING
Kindly contact the company for rates
WEBSITE
http://www.toughcarpetcleaning.com
ADDRESS
Las Vegas, NV 89145
CONTACT DETAILS
(702) 660-9800
PAYMENT
Credit cards
Tough Carpet & Rug Cleaning is a preferred domestic and commercial cleaner of carpets, rugs, air ducts, upholstery, furniture, mattress, drapery, and flooring.
It is based in Las Vegas but covers the wider metro area including Henderson, North Las Vegas, and Summerlin. As a consequence, there may be a higher trip fee although this is very slight.
The carpet technicians are licensed, insured, and bonded inspiring trust and confidence. They possess a reliable steam cleaning apparatus to deep-clean your carpet and eliminate stains, mold, and bacteria living in it.
They will subject your carpets to a CRI industry standard to restore their former beauty. This will include stain pre-treatment, hot water extraction, rinsing, furniture moving, and drying.
Their perfect customer review score speaks for itself. Almost all clients said that they were able to transform their old dingy carpets into a like-new state—a big reason why we picked them as one of the best carpet cleaning options in Henderson, NV.
Plus, the company guarantees all its workmanship. If ever you aren't happy with their service, just let them know, and they'll promptly redo the work for you at no extra cost.
Since their inception in 2006, they have been known to charge reasonable rates. And, they have a whole page of coupons on their website, which you can avail of to get more value for money.
And bonus: Tough Carpet & Rug Cleaning is open 24 hours and 7 days of the week. For a water damage restoration emergency, hit them up and they will arrive at your store or house very soon.
Residential and commercial carpet cleaning firm
Licensed and insured carpet cleaners
Takes 24/7 emergency service calls
Offers a lot of coupon deals
Guarantees clients' satisfaction
Possibly higher trip fees due to being based in Las Vegas
No newsletter to update you of their services and special deals
Customer Reviews
Clients were very satisfied with the service provided by Tough Carpet & Rug Cleaning. They noted the amazing carpet cleaning results, its amiable and knowledgeable staff, and great prices.
Find out what Raymundo wrote of the carpet cleaner:
"Mark was exceptional in his knowledge and support. He made sure till the end that I was satisfied with the work he did which I definitely was. He was just great. Will definitely hire him again!"
And Darrel was very impressed with this company. He said:
"Mark did an excellent job on our stairs, high traffic areas and bedrooms. Our carpet hasn't looked this good since it was installed! Great experience! Super friendly and explained everything! Definitely will use again for move out clean! Great prices as well. Thank you."
FAQs about the Top Options for Carpet Cleaning in Henderson, Nevada
---
And that finishes our top options for carpet cleaning in Henderson, NV! Giving outstanding cleaning results and rates, these carpet cleaners are a superb choice!
Do you have any questions or comments about our list? If you have one, please send us a message and we'll get back to you in a jiffy.
At any rate, if you need to get your house or workplace interior sparkly clean, you can also check out the best options for maid cleaning services in Las Vegas!