Situated outside like a roof and its gutters, a gazebo faces a lot of conditions that can damage it or affect the household's health. Stormy weather, mold and mildew, and wasp infestation are some examples of them.
Therefore, caring for your gazebo is paramount to keep it looking great and make it last for many years. Now, we wrote this basic guide to gazebo care here to help you achieve that.
Let's begin!
How to Maintain a Gazebo Based On Its Type
Maintaining a gazebo largely depends on its material. Usually, it won't need a lot of work but you would have to keep an eye on it regularly.
Anyway, scroll down to know how to keep yours clean and beautiful all the time based on its type.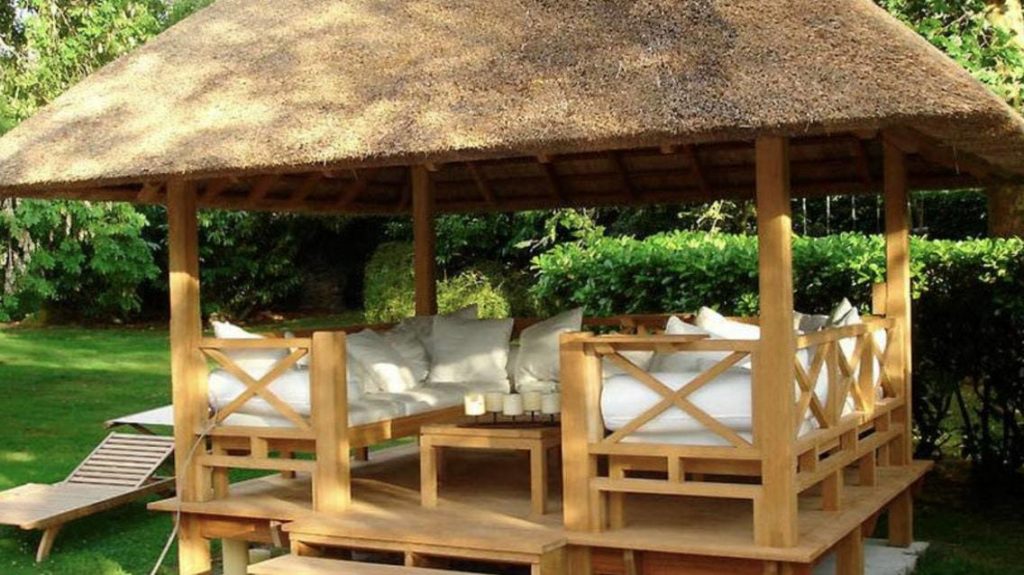 Wood gazebos are prone to moisture that encourages spore-releasing fungus growth. This will cause or worsen allergies and asthma in people.
To keep moisture out, keep the gazebo interior well-ventilated by trimming down the trees and shrubs around it. Simply ensure that they don't overlap to the inside.
Also, get a ladder and sweep away the debris and leaves brought on by the rain for a clean appearance.
Homeowners prefer metal gazebos because they are simple to maintain. You merely have to wipe the dirt off the frames with warm water and soap and brush the dirt buildup on the screens.
Moreover, you can apply a protective coating on the metal components to prevent them from rusting. If possible, we also recommend dismantling and storing your metal gazebo if the weather won't be good.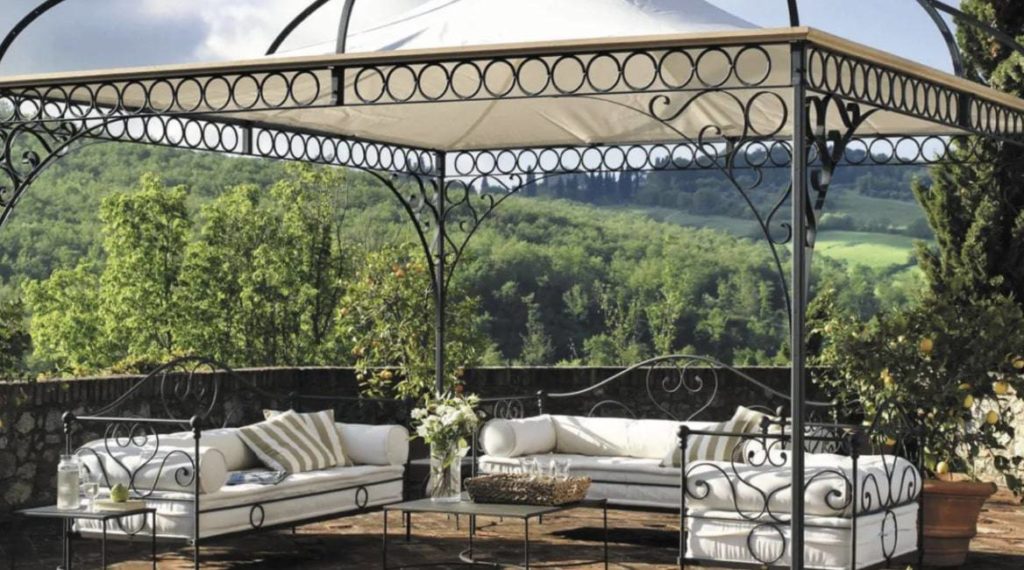 An elegant wrought-iron gazebo is very easy to care for too. One only needs to occasionally clean its parts with gentle soap and water to make it shiny and eye-catching once again.
Aside from that, you can coat it using great-quality polyurethane every year to maintain its beauty.
Of all the types we mentioned, vinyl gazebos are the easiest to clean. Just get a garden hose and spray at the beams, railings, and roof every month.
You can also swipe away the leaves and debris on top of the roof. However, don't get up on the roof because this can damage the roof structure of the gazebo.
Tips for General Maintenance
It's important to inspect your gazebo regularly for cracks or splits resulting from daily use, or strong rains and winds. These have to be fixed immediately to keep them from getting bigger, which can cause leaks on the roof.
Insects or birds can stay in the gazebo due to the season or for shelter. You can often remove them using a long-handled brush, but a wasp nest needs a more careful and specific approach.
For this, eliminate all the present wasps in the area with the use of a pesticide before taking out the nest. However, they can act aggressively and you may just want to call a pest control specialist to handle the work.
For maintaining the interior, you have to clean it to get rid of the dust, branches, and other waste. If mold or fungus has already developed, we suggest getting it professionally treated to effectively reduce the area's moisture level and prevent them in the future.
---
And that's all you have to do to maintain your gazebo.
By following our basic guide, your gazebo should look beautiful and safe and last a long time. Also, your house should go up in value thanks to your well-cared-for gazebo.
And so, you'll be able to go inside it whenever you feel like being alone with your thoughts or chatting with a friend while enjoying the pleasant garden view and weather.
Other Related Articles