A clean house is a happy house. Unfortunately, due to demanding work schedules, not everyone has the time or the energy to clean their houses. Good thing there are house cleaning services that are available in just one click!
We've compiled the best house cleaning services in Brisbane that are efficient, organized, and trustworthy. You just have to contact them via their email or hotline to book a service. You can even ask for a quotation first before you schedule them to go to your house. Check out our list below and see which service provider you'll like.
1.Family Clean
BEST FOR
100% happiness guaranteed, eco-friendly cleaning methods, on-the-day payments, fully-insured services, handpicked cleaners, 25 years of experience, recurring services available
SERVICES/SCOPE
Regular cleaning and housekeeping, once-off general cleaning, detailed spring cleaning
PRICING
Starts at $66/2 hours of regular cleaning. Request for an instant quote online.
WEBSITE
https://familyclean.com.au/
ADDRESS
3/768 Brunswick Street, New Farm,

Queensland, 4005

CONTACT
(07) 3254 2400
PAYMENT
Cash or bank transfer
 Family Clean has been in the home cleaning business for 25 years already. Their boutique agency is an extended family of cleaners and housekeepers across Brisbane who respects your home, family, and fur-babies as much as you do. In their words, they are the kind of people who will fill the dog's water bowl when it's empty, place your keepsakes back exactly as you like them and use eco-friendly products to protect your health. Booking only takes a couple of minutes, and gives you back hours of quality time.
For Family Clean, the goal is to cean homes that spark joy. Choose how often you need a cleaner and what jobs need to be taken care of because their flexible service is all about you. Once we match you with a cleaner, you pay them the same flat hourly rate regardless of what's on your wish list. So, if you need the oven cleaned one week and the linen cupboard rearranged the next, all you need to do is ask. Your cleaner meets you before your first clean to run through ongoing tasks and learn the little details such as how you like your cushions arranged and the cutlery put away. Together you set a schedule that works for you – because this is your clean, your way. The flexibility and stellar services offered by Family Cleaned has garnered them hundreds of 5-star reviews online so if you ever want to book fool-proof cleaning services, Family Clean is for you.
2. Maid2Match
| | |
| --- | --- |
| BEST FOR | Comprehensive 73-point cleaning checklist, registered NDIS provider for house cleaning, 100% satisfaction guaranteed, insured and trained cleaners, children and pet-safe cleaning solutions, 5-star reviews online |
| SERVICES/SCOPE | Regular house cleaning, deep clean, bond clean, commercial clean |
| PRICING | Starts at $114/one-time regular cleaning. Request for an instant quote online. |
| WEBSITE | https://www.maid2match.com.au/ |
| ADDRESS | 323 Sumners Rd, Riverhills QLD 4074, Australia |
| CONTACT | (07) 3053 8661 |
| PAYMENT | Credit and debit cards |
 Admit it, cleaning your house is one of the hardest chores. It takes a lot of time to do and it covers a lot of grounds. That's why Maid2Match is here to make house cleaning more convenient. They offer services like regular clean, deep clean, bond clean, and commercial clean. They also offer extra services like cleaning the inside of your cabinet, fridge, and oven, washing the dishes, and loading your laundry, all for an additional fee! Their cleaning method covers all the rooms and areas including the bathrooms and kitchen.
With Maid2Match, now you don't have to worry if friends or family drop unannounced because they're here to make your house clean and presentable every day!
3. Absolute Domestics
| | |
| --- | --- |
| BEST FOR | 23 years of experience, police-checked and fully insured cleaners, satisfaction guarantee, 5-star reviews online, on-the-day payments |
| SERVICES/SCOPE | Weekly/fortnightly cleaning, once-off general cleaning, move-in/out cleaning, end of lease cleaning, spring cleaning |
| PRICING | Starts at $64/2 hours of weekly cleaning. Request for an instant quote online. |
| WEBSITE | https://www.absolutedomestics.com.au/ |
| ADDRESS | Brisbane City QLD 4000, Australia |
| CONTACT | 1300 156 655 |
| PAYMENT | Cash or bank transfer |
Absolute Domestics is here to relieve you of your chores so you can spend your time on activities you truly enjoy. They have over 25 years of experience and their cleaners are very passionate and trained about housework. This is your key to having a clean home with enough spare time for your family.
It's not easy to welcome a stranger into your home to clean and trust them with your property. But you don't have to worry about that with Absolute Domestic because their staff is all police-checked. If you're still not convinced, you can read some of their clients' reviews and let them convince you. They cover services like dusting, vacuuming, mopping, linen changing, fridge cleaning, bathroom cleaning, and even laundry. With Absolute Domestics, you're one step closer to reclaiming your weekends and having more "me time".
4. NEST Home Services
| | |
| --- | --- |
| BEST FOR | 100% satisfaction guaranteed, locally-owned and family-run business, personalized cleaning checklist, recurring cleaning packages available, personal cleaners for every home |
| SERVICES/SCOPE | Spring cleaning, carpet cleaning, renovation cleaning, pre-sale cleaning, regular cleaning, bond and rental cleaning |
| PRICING | Request for a quote online. |
| WEBSITE | https://nesthomeservices.com.au/ |
| ADDRESS | Morningside QLD 4170, Australia |
| CONTACT | 0438 079 996 |
| PAYMENT | Call the hotline for inquiries. |
 Nest Home Services is your one-stop-shop for all your house cleaning needs. They offer a variety of services ranging from regular cleaning to renovation cleaning. Their team is experienced, insured, and police-checked, so you can be assured that you're in good hands.
Not only do they cover the rooms, but they also clean the inside of your fridge and oven. They tailor their services to align with your needs by asking you to outline your cleaning priorities. If you need help with any household chore, all you have to do is ask them and they'll be happy to help you. They also offer carpet cleaning, leather cleaning, and mattress cleaning. Book their services by filling out their form and wait for them to call you. You can even avail of their gift certificates for your friends and relatives. It's like giving them the gift of time!
5. First Call Home Service
BEST FOR
Police-checked and insured cleaners, 25-point cleaning checklist, NDIS-registered provider, personal cleaners for every home, rectification guaranteed, over 3500 homes cleaned and 56000 cleaning hours completed
SERVICES/SCOPE
Regular home cleaning, bond cleaning, handyman and home maintenance, yard and garden maintenance, carpet cleaning and pest control, NDIS services
PRICING
Starts at $42/hour for regular cleaning. See complete pricing online.
WEBSITE
https://firstcallhomeservices.com.au/
ADDRESS
37 Sinnathamby Blvd, Springfield Central QLD 4300, Australia
CONTACT
[email protected]

(07) 3708 1060

PAYMENT
VISA, Mastercard, or bank transfer
 From regular cleaning and yard maintenance through to bond cleaning & NDIS services, First Call Home Services has got you covered. They're fully insured, their team is background-checked, and they have flexible payment methods. They value your trust that's why you'll be assigned with the same cleaner every time you book a service with them. This allows your cleaner to be more familiar with your home and be more specific with your needs.
Their services also include carpet cleaning, pest control, and yard maintenance. They have completed hundreds of end of lease cleans, so they fully understand what is expected and how to achieve a great clean that will leave your property manager smiling. Got any painting, plastering, or fence repairs? First Call Home Services should be the guys you call first! They offer internal and external handyman services for your minor damage repairs. Plus, they employ locals and give back to the community! Check out their website to ask for a free quote.
6. Star Bond Cleaning
| | |
| --- | --- |
| BEST FOR | 100% satisfaction guarantee, 7-days availability, no extra weekend charges, 43-point cleaning checklist, 5-star services, |
| SERVICES/SCOPE | Pest control, exit cleaning, carpet cleaning, end of lease cleaning, bond cleaning |
| PRICING | Request for a quote online. |
| WEBSITE | https://www.starbondcleaning.net.au/ |
| ADDRESS | 102 Kedron Park Rd, Wooloowin QLD 4030 |
| CONTACT | 0450546266 |
| PAYMENT | Call the hotline for inquiries. |
 From stained floors and grimy walls to oily stoves and ovens, Star Bond Cleaning is your go-to! They specialize in providing quality cleaning services for residences, apartments, business units, and domestic areas, and maintain the standards while delivering satisfactory results. They're a team of professional cleaners who cover all of Brisbane. They have a comprehensive cleaning checklist to make sure they cover all the areas of your house. Aside from basic residential cleaning, they also offer pest control services, bond cleaning, and exit cleaning. You can check out their website for a full list of services.
They strive to make a mark among their clients and they guarantee a 100% customer satisfaction. In the case of a negative scenario, they know how to rectify the issues, free of charge! They understand the importance of having a clean home, so they do a good job of it. Check out more on their customers' testimonials to get a good feel of their service.
7. TidyMe
| | |
| --- | --- |
| BEST FOR | 100% happiness guaranteed, fully verified and background checked cleaners, every clean insured up to $1M, on-the-day payment, online ticketing system, 360-degree feedback rating system, 24/7 online support, over 112,000 cleaning jobs completed, eco-friendly methods and products, |
| SERVICES/SCOPE | Regular cleaning service |
| PRICING | Starts at $69/1 bedroom and 1-bathroom cleaning. Request for a quote online. |
| WEBSITE | https://www.tidyme.com.au/ |
| ADDRESS | Level 7/120 Sussex St, Sydney NSW 2000, Australia |
| CONTACT | [email protected] |
| PAYMENT | Major credit cards |
 With a 4.6-rating on Google, TidyMe is really one of the best home cleaners in Brisbane. They match you with their crew who's in your area and they'll be your regular cleaners. This allows them to they'll be familiar with the ins and out of your home. Being assigned with a cleaner near you helps them on their campaign to be eco-friendly. Because this allows their crew to simply walk or take public transport to go to your house. Plus, they use organic products to transform your house to a speck-free one.
After TidyMe touches your house, you'll get all surfaces wiped and dusted, linens changed, bed made, clothes folded, and basically, everything just sparkling clean. Take a step towards making your house into a comfy home and to having more time with your with family. Ask for a quote for free and avail of their service by booking online!
8. Brisbane House Cleaners
| | |
| --- | --- |
| BEST FOR | 12 years of experience, personalized cleaning checklist available, 100% satisfaction guaranteed, insured and police checked cleaners, over 21,000 homes cleaned, |
| SERVICES/SCOPE | Regular cleaning, once-off cleaning, end-of-lease cleaning, pre- and post-sale cleaning, and window cleaning, oven cleaning, carpet cleaning, tile & grout cleaning, office cleaning, initial cleaning & any other requested job |
| PRICING | $75-95* for regular cleaning. See complete pricing online. |
| WEBSITE | https://www.brisbanehousecleaners.net.au/ |
| ADDRESS | Services areas within a 20Km radius of Brisbane CBD |
| CONTACT | (07) 3423 – 0582 |
| PAYMENT | Direct Debit, Bank Check, Cash in Hand |
 Brisbane House Cleaners get their "hands dirty" to give you a clean and fresh house. They treat your house with the highest respect. They're reliable, efficient, and they have good manners. They have experienced Korean cleaning teams who are professional and honest. Their work is consistent in quality and their prices are very reasonable. They have an extensive list of cleaning procedures and services that hits every mark all the time.
So, if you're in need of a service provider to give your house a much needed deep clean, call Brisbane House Cleaners and they'll be right with you. Think of it as a way of saying "thank you" to your house for protecting you every day. Plus you and your family will have a clean and healthy home. Book your cleaning services with them by visiting their website.
9. Provide Another Mother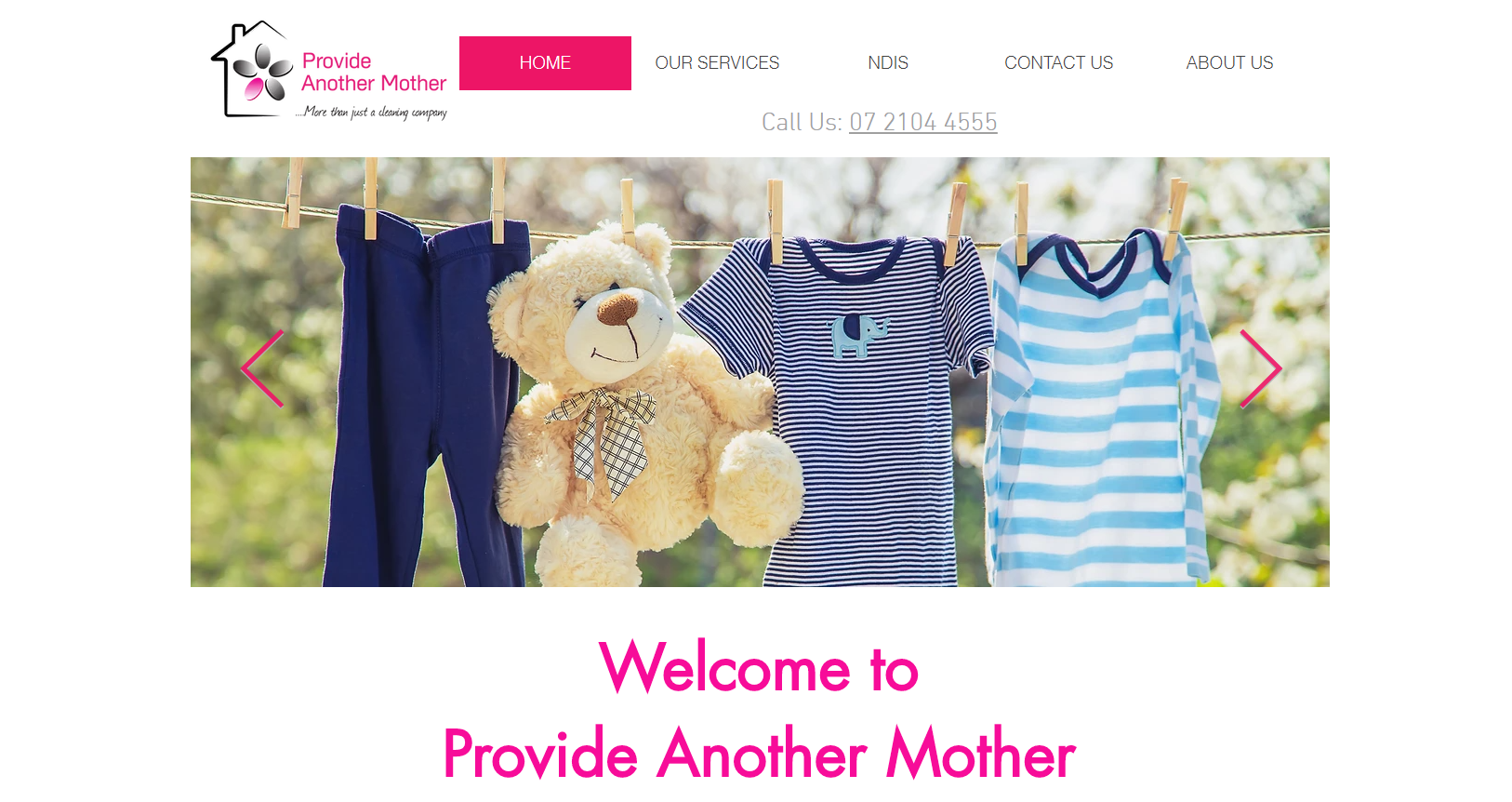 BEST FOR
All their talented PAMS have yellow cards and hold all relevant training certificates. Provide Another Mother is a proud NDIS service provider. PAM works together with the participants to tailor make a cleaning schedule that works best for you.
SERVICES/SCOPE

Day to day house cleaning, Spring Cleaning, NDIS Assisted Living Specialists

PRICING

Contact them for more details

WEBSITE
https://www.provideanothermother.com.au/
ADDRESS

8/137-151 Bloomfield Street

Cleveland QLD 4163

CONTACT

Office Phone: 07 2104 4555

Email: [email protected]

Office Email: [email protected]

PAYMENT
Contact for more details
Provide Another Mother (PAM) is a professional, Brisbane-based cleaning service that offers reliable and quality housekeeping to NDIS participants, domestic, and commercial clients. Provide Another Mother has been cleaning Brisbane homes since 2012 and they pride themselves on their reputation for offering the highest quality and suitability-based service to all their clients and enjoy a high volume of repeat business as a result.
Their specially trained team can also cater for the everyday cleaning and support duties required by participants of the NDIS program. Provide Another Mother offers a personalised, one on one, no obligation consultation where they assess your requirements and tailor a package to suit your individual needs.
Their friendly office team are always happy to talk to you and help you start your journey to a cleaner, happier home today so give them a call or jump on to their website. Their fully trained PAMS cannot wait to start cleaning in your home."
10. ECO Cleaning Brisbane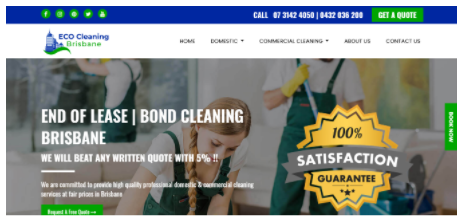 | | |
| --- | --- |
| BEST FOR | Domestic and Commercial Cleaning |
| SERVICES/SCOPE | Bond Cleaning, Carpet Cleaning, Window Cleaning, Pest Control Bisbane, Industrial Cleaning, Builders Cleaning, Office Cleaning, Hotel Cleaning Brisbane |
| PRICING | Contact for details |
| WEBSITE | https://www.ecocleaningbrisbane.com.au/ |
| ADDRESS | Griffin, Brisbane, 4503 |
| CONTACT | 07 3142 4050 | 04 3203 6200 |
| PAYMENT | Contact for details |
Like its name, ECO Cleaning Brisbane offers cleaning services in Brisbane. In only 50 seconds, a client can book a cleaner and has the option to pay after the services. 
All their cleaners are guaranteed to be five star, being friendly and reliable at all times. Indeed, with them, 100% customer satisfaction is always achieved.
11. Optima Cleaners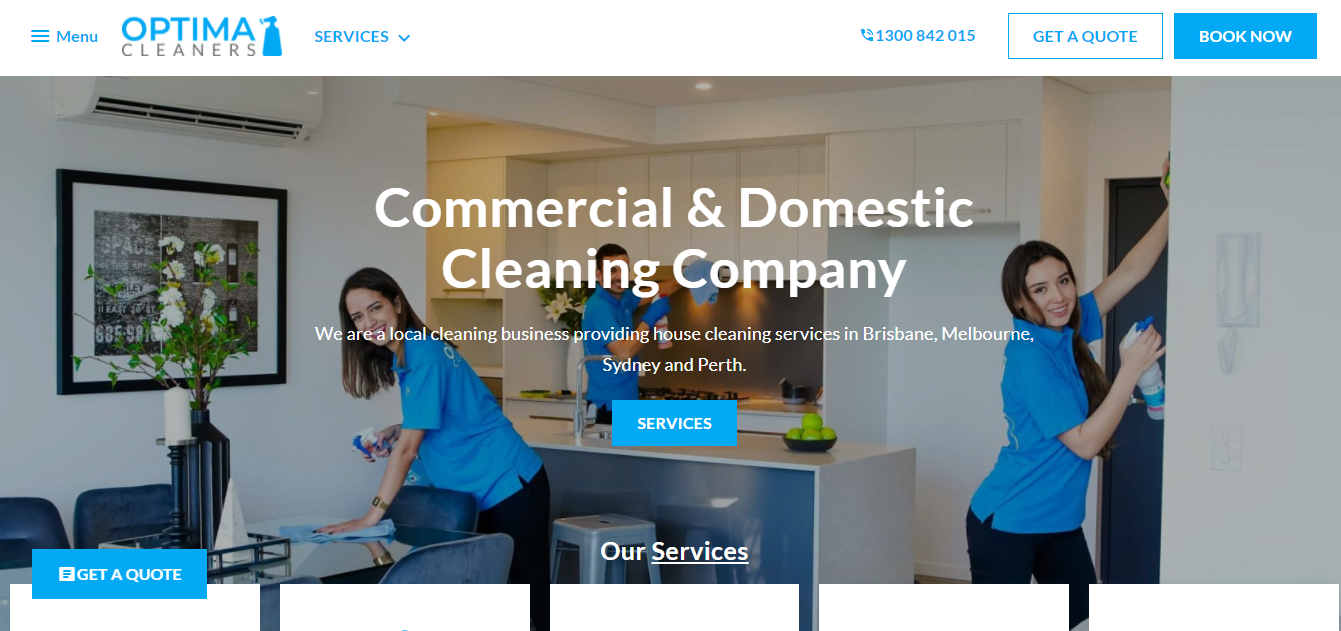 BEST FOR

Commercial and Domestic Cleaning

SERVICES/SCOPE
Home Cleaning
Carpet and Rug Cleaning
End of Lease Cleaning
Office Cleaning
After Builders Cleaning
AntiVirus Sanitizing and Disinfection
Oven and BBQ Cleaning
Professional Mattress Cleaning
Spring Cleaning
Tile and Grout Cleaning
Upholstery Cleaning
Window Cleaning
PRICING

Prices

WEBSITE
https://optimacleaners.com.au/
ADDRESS
 Brisbane
5/505 Boundary street, Springhill 4000Sydney
101/26 Marion St, Parramatta NSW 2150

Melbourne
267R Spring St, Reservoir VIC 3073

Perth
35 Somerton Rd, Karrinyup WA 6018

CONTACT
Brisbane
07 3226 1825Sydney
02 9100 0855

Melbourne
03 9000 0553

Perth
08 6206 8175

PAYMENT

Contact for details
Hiring professional cleaners for your home can highly benefit you, especially in times like this. With Optima Cleaners, you will be thrilled to see the results that they can deliver in a short amount of time.
We think they are great because they only use commercial-grade equipment and effective cleaning products. If you need a one-stop shop for all your cleaning needs, consider them as number one on your list.
Aside from this, we recommend them because all or their cleaners are licensed and insured. Plus they can work on weekends, even on public holidays!
Need emergency cleaning? No problem. With their local and flexible cleaners, they can perform same-day services.