Cape Town may be a picturesque city, but it also has its fair share of dust, dirt, grime, and even sand brought home from its beaches. If you are a homeowner with a family, you may want to spend more time with your loved ones rather than focus on getting rid of dirt. Fortunately, there are cleaning services in the city that you can call to help you keep your space spick and span.
Need cleaning for your office and industrial space instead? There are also companies that specialize in those areas so you can keep a hygienic working environment.
1. SweepSouth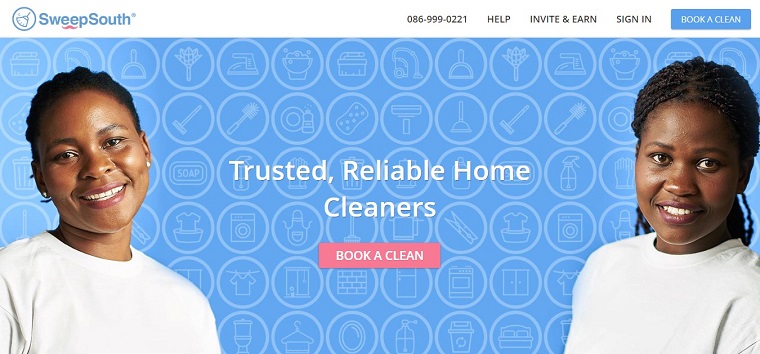 BEST FOR
Easy to find and book a cleaner; experienced, insured, and trained cleaners
SERVICES/SCOPE
Home Cleaning, Office Cleaning, Specialty Cleaning
PRICING
Request a quote online
WEBSITE
https://sweepsouth.com/
ADDRESS

29 Wessels Road

Rivonia, Johannesburg

CONTACT
+27 86-999-0221 | [email protected]
PAYMENT
Online payment via credit card, cheque payment, EFT (iPay), SnapScan
SweepSouth has done more than 4 million hours of cleaning since they set up shop. And no wonder, because many of their customers are greatly satisfied with them, making them one of the best 6 options for cleaning services in Cape Town. They offer both residential and office cleaning and can clean on demand as well. More than that, they can help you maintain the spotless shine of your Airbnb to make them ready to receive your next guests.
One more thing that sets SweepSouth apart from other cleaning companies is their simplified booking process. You only have to download their app on your Android or iOS device so you can create your personalized cleaning plan. The app then matches you with your SweepStar or the cleaner who meets your needs best. And in case you need to make changes to your plan, you can still do so on the app before your scheduled cleaning.
As for their pricing, you can find it in the SweepSouth app after you have built your tailored cleaning plan. This way, you know that you are paying for the services you asked for.
2. Chelsea Cleaning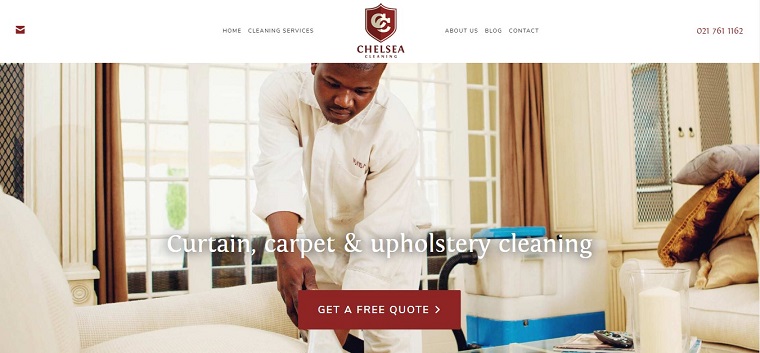 BEST FOR
Thorough cleaning out of dirt, grime, and stains
SERVICES/SCOPE
Fitted Carpet Cleaning, Curtain Cleaning, Loose Rug Cleaning, Upholstery Cleaning, Roman Blinds Cleaning, Mattress Cleaning
PRICING
Request an estimate online
WEBSITE
https://www.chelseacleaning.co.za/
ADDRESS

Unit 5 Witkin Building

C/O York & Lester Roads

Wynberg, Cape Town

CONTACT
+27 21-761-1162 |
PAYMENT
Payment via credit card or cheque
Chelsea Cleaning may be different from other cleaning services in this list but they certainly are one of the most sought-after cleaners in Cape Town. Their focus on upholstery, mattresses, and curtains gives you a renewed interior because their professionally trained cleaners are thorough in removing the deep-seated dust and grime from them. More than that, they make the effort to get rid of any stains on any of your upholstered furniture.
Chelsea Cleaning's services are not limited to home service too. In fact, if any of your carpets need special care and attention that cannot be done on-site, they take this back to their premises. There, the company uses specialized equipment and supplies to wash and dry your carpets and rugs thoroughly.
When talking about their price, previous customers have noted on their affordability. You can also find out for yourself by giving Chelsea Cleaning a call, by contacting them via WhatsApp, or by sending your contact and service request details through their web form.
3. Complete Cleaning Services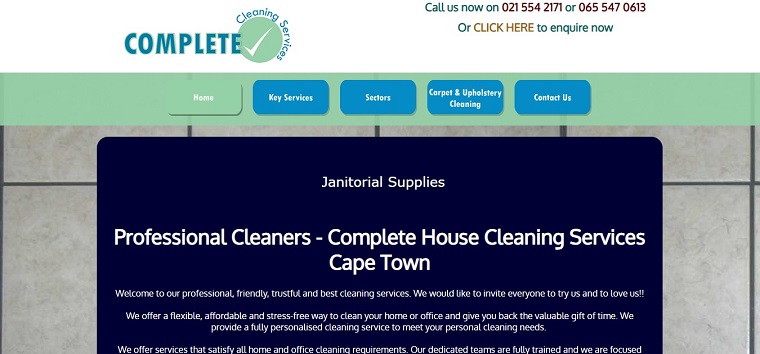 BEST FOR
Thorough top-down cleaning with a personalized touch
SERVICES/SCOPE
Office and Commercial Cleaning, Moving In Cleaning, Post-construction Cleaning, Deep Cleaning, Janitorial Supplies, Floor Maintenance, Window Cleaning, Carpet and Upholstery Cleaning, Specialist Cleaning, Kitchen Deep Cleaning, Washroom Deep Cleaning
PRICING
Enquire online or by phone
WEBSITE
http://www.completecleaningservices.co.za/
ADDRESS

31 Dorcestor Drive

Parklands, Cape Town 7441

CONTACT
+27 21-554-2171
PAYMENT
Credit card payment or cheque
Complete Cleaning Services is a company that truly lives up to its name. They have a wide cleaning scope that ranges from home and apartment cleaning to office and industrial cleaning. Regardless of the space you ask them to reinvigorate, they deliver a washing, scrubbing, and mopping that is tailored to your personal cleaning needs.
With Complete Cleaning Services, you can also be assured of the excellence of their service providers. The company trains their teams so they only deliver service that meets their lofty cleaning standards. As such, you can be happy with their housework and focus on your rest and leisure.
When it comes to their pricing, you can expect to get the best scrubbing for your budget. Because they tailor their service depending on your needs, you can control how much you have to spend for your next schedule cleaning.
4. SUPERCHAR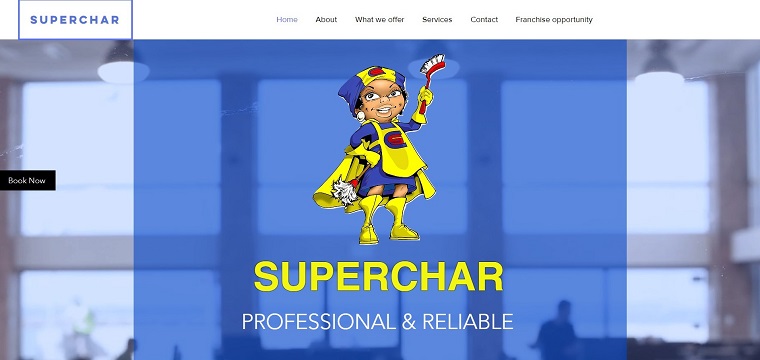 BEST FOR
Domestic cleaning
SERVICES/SCOPE
Residential, Commercial, Pre- and Post-Move, Pre- and Post-Party
PRICING
Request a quote
WEBSITE
www.superchar.co.za
ADDRESS
Valmary Park, Durbanville, Cape Town, 7500
With branches in JHB and Polokwane
CONTACT
084 430 6366 | 

[email protected]

PAYMENT
Online payment via credit card
Superchar is a professional domestic and corporate cleaner catering to clients countrywide. Whether you're moving or need a little help cleaning up after a big party, they can give you peace of mind while as their well-trained and trustworthy staff members takes care of all the cleaning or organising. You can hire honest and reliable domestic cleaners for all your housework with duties including ironing, washing and laundry services, as well as a variety of other cleaning services. And just in case the cleaner is unsuitable, they will guarantee replacement, including instances when your cleaner is absent for any reason.
5. Imperial Cleaning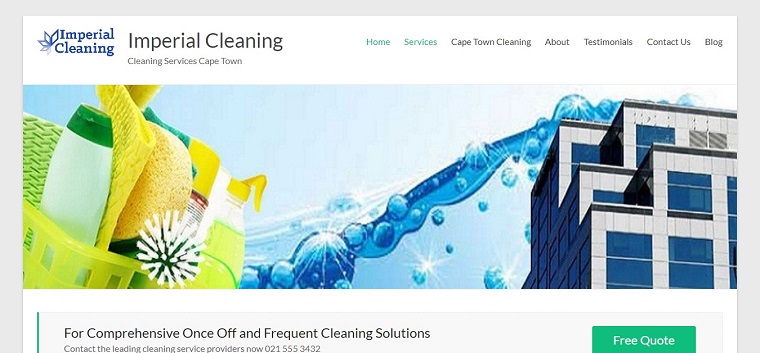 BEST FOR
Comprehensive one-off and regular cleaning services; unique Airbnb management service
SERVICES/SCOPE
Move In/Move Out Cleaning, Steam Cleaning, Deep Cleaning, Airbnb Management, Carpet Cleaning, Upholstery Cleaning, Event Cleaning, Commercial Cleaning, Contract Services, Kitchen Cleaning, Industrial Cleaning
PRICING
Get a free quote online
WEBSITE
https://imperialcleaning.co.za/
ADDRESS

Algoa Road

Milnerton, Cape Town 7441

CONTACT
+27 21-555-3432 | [email protected]
PAYMENT
Credit card payment or cheque
Imperial Cleaning is best known for their deep one-time cleaning as well as for their regular housekeeping solutions. In fact, they are one of the leading cleaning companies in Cape Town for domestic, commercial, and industrial cleaning services. This is because homeowners and businesses give them stellar reviews—they are wowed by the efficiency and the professional manner in which the cleaners delivered their services.
More than that, Imperial Cleaning offers tailored solutions for each client, as they consider the differences in space, furniture, and appliances. Therefore, they use only equipment and cleaning supplies that are the best for your floors, upholstery, and industrial implements.
Price-wise, you can be sure to get the best cleaning that you asked for. You can learn more about it by asking for a free and no-commitment quote online. Alternatively, you can give Imperial Cleaning a quick call to inquire about their services.
6. Eugenie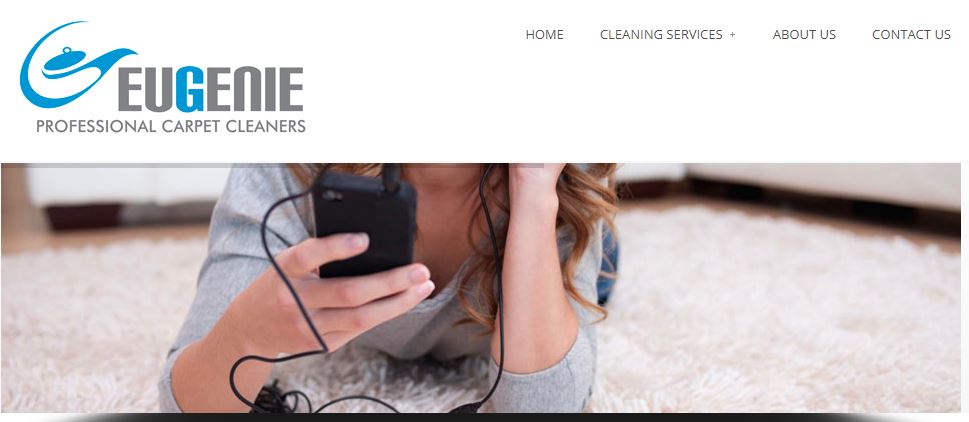 Eugenie is a Western Cape-based professional carpet cleaning service. They cater to anyone with any budget and clean everything from dirty car seats, to curtains, mattresses through to stained rugs. Contact them today to get a free quote.
7. Kempston Cleaning Service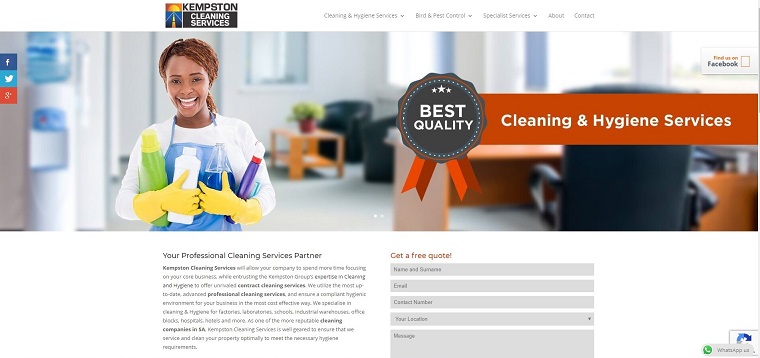 | | |
| --- | --- |
| BEST FOR | Customized cleaning services; Industrial cleaning; Thoroughly vetted & trained employees |
| SERVICES/SCOPE | Carpet Cleaning, Window Cleaning, High Level Cleaning, Deep Cleaning, Floor Cleaning and Maintenance, Project Cleaning, Motor Vehicle and Wash Bay Cleaning, Event and Stadium Cleaning |
| PRICING | Contact the company for a quote |
| WEBSITE | www.kempstoncleaning.co.za |
| ADDRESS | 15 Dacres Avenue, Epping Industrial 2, Cape Town |
| CONTACT | 086 111 1739 | [email protected] |
| PAYMENT | |
Kempston Cleaning Services is a wholly owned division of The Kempston Group which is a diverse, privately owned group of national companies, with a common theme of business with a family culture, a strong entrepreneurial spirit, a passion for professionalism, and a desire to offer you practical solutions. They offer quality cleaning services in Cape Town for both day-to-day maintenance and once off cleaning solutions to offices, warehouses and factories in and around the city.
As part of their cleaning service, they can install safe seat dispensers, sanitary bins, toilet roll dispensers, air mist dispensers, waste care paper bins and soap dispensers. They will also replenish 5L top up soap, toilet rolls in the bathrooms and ensure air mist refills are available. Since the business started, Kempston Cleaning Services has committed itself to providing both a thorough and professional service that is in line with the city's sanitary regulations. Each employee is thoroughly vetted and given rigorous training around equipment, chemical usage and environmental safety. They can also customize a package best suited for a business or client.
8. R & B Cleaning Services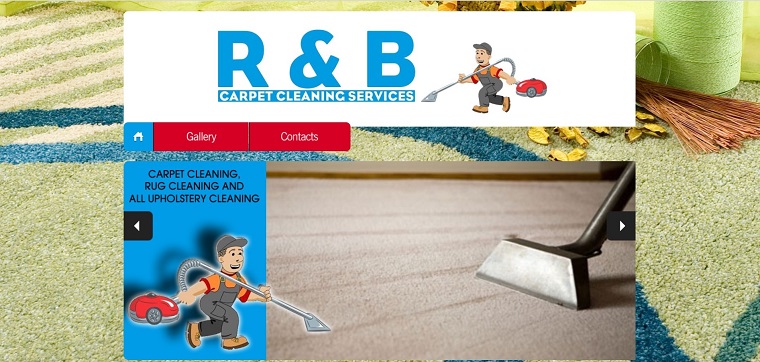 BEST FOR
Deep cleaning of carpets, rugs and upholstery; Eco-friendly stain removing chemicals; Wide range of machines for efficient cleaning
SERVICES/SCOPE
All types of Carpets and Rugs (Deep Cleaning and Sanitizing/deodorizing )
Upholstery Services (Couches, mattresses , office chairs, curtains etc.)
General Indoor Cleaning/Spring cleaning (Offices, Hospitals, homes etc.)
General Outdoor Cleaning (Offices, Hospitals, homes etc.)
PRICING
Contact the company for a quote
WEBSITE
www.rbcleaningservices.co.za
ADDRESS
South Africa
CONTACT
021 823 6993 / 083 630 9237 / 078 920 1268 | [email protected]
PAYMENT
R & B Carpet Cleaning Services has been in the cleaning industry since 2014. They offer a wide range of cleaning services in domestic and commercial areas with a team of passionate individuals committed to making sure the environment is safe for their clients. They provide their services to all areas in Cape town for flats, houses, offices, restaurants, hotels etc. They also assist with any type of situation, including flooding, end of tenancy, spring cleaning, among others.
When it comes to carpet and upholstery services, R & B Carpet Cleaning Services uses a wide range of eco-friendly chemicals supplied by certified suppliers. This includes stain remover liquids, carpet shampoo / powder, air freshener liquids and other cleaning agents. These chemicals are pet-friendly, so customers and their families do not have to worry about safety issues. They also have a wide range of industrial machines to clean in an effective and efficient manner and make sure the environment is spotless clean from dust mites, bad odour, stains and any bacteria.
9. Multi-Cleaning Solutions
| | |
| --- | --- |
| BEST FOR | One-Off and Regular Cleaning Services |
| SERVICES/SCOPE | Professional Commercial Cleaning Services For Small or Large Companies; Char Services (Daily Bookings); Regular Domestic Service (more than 4 times per month); Spring Cleaning; Clutter Clearing & Organising; Washing & Ironing Services; Pre- & Pots-Occupational Cleaning; Events Cleaning; Window Washing (reachable by squeegee or cloth); Post-Construction Cleaning; Move Assistance; Area-Specific Spring Cleaning |
| PRICING | Request a quote online |
| WEBSITE | www.multicleaningsolutions.co.za |
| ADDRESS | South Africa |
| CONTACT | 076 745 3209 | [email protected] |
| PAYMENT | |
Multi-Cleaning Solutions has been providing cleaning services since 2016. They are a professional commercial and residential cleaning company catering to your specific cleaning needs. They will gladly create a schedule for their employees to ensure they cover all your cleaning requirements. As for their team, cleaners arrive neatly dressed in uniform, following a specific dress code, not only to look professional, but also to uphold the standards of their customers. They can quickly and efficiently adapt to your cleaning needs and you can breathe easy knowing their background-checked cleaners are trustworthy. Finally, to ensure the highest quality of work, they do regular spot checks.
10. DymamiQ Cleaning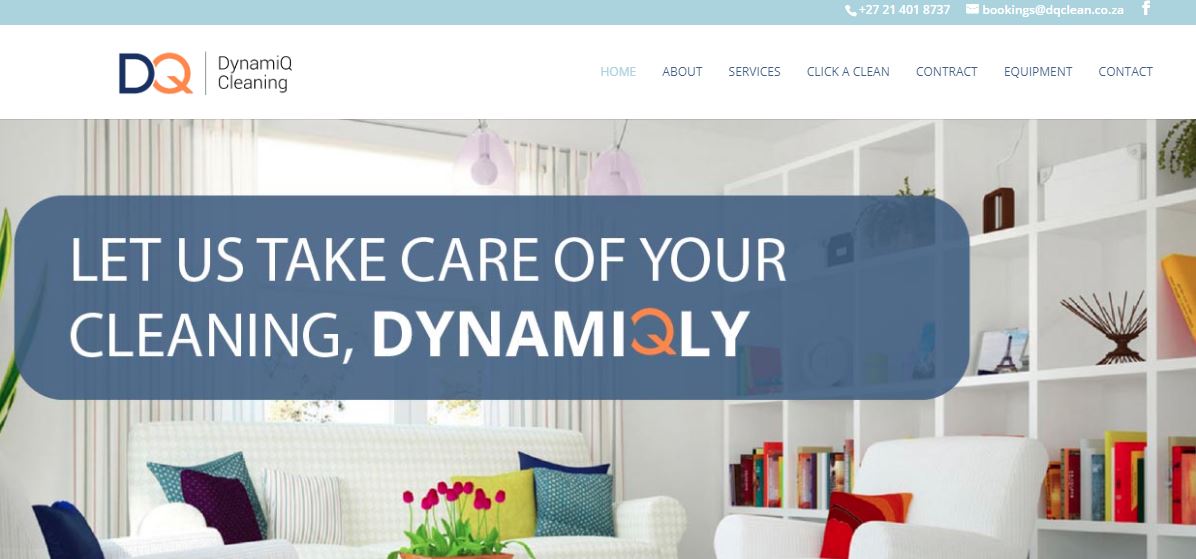 BEST FOR
Data centre cleaning services
SERVICES/SCOPE

Office cleaning
Carpet cleaning
Domestic services
Data centre cleaning
Industrial cleaning
Hygiene services

PRICING
Request a quote online
WEBSITE
https://dqclean.co.za/
ADDRESS
South Arm Road,
Duncan Dock, "D" Berth,
Cape Town Harbour,
Cape Town, South Africa.
CONTACT
+27 21 401 8737 | [email protected]
PAYMENT
Contact for payment options
DQ Cleaning's staff upholds highest standard of cleaning and sanitation to their clients. Their cleaners undergo skills transfer and development and are equipped with the best cleaning equipment to get the job done ahead of time. They even provide a specialty cleaning service: data centre cleaning services that include server room, subfloor and raised floor surface cleaning.
11. Group1 Cleaning Services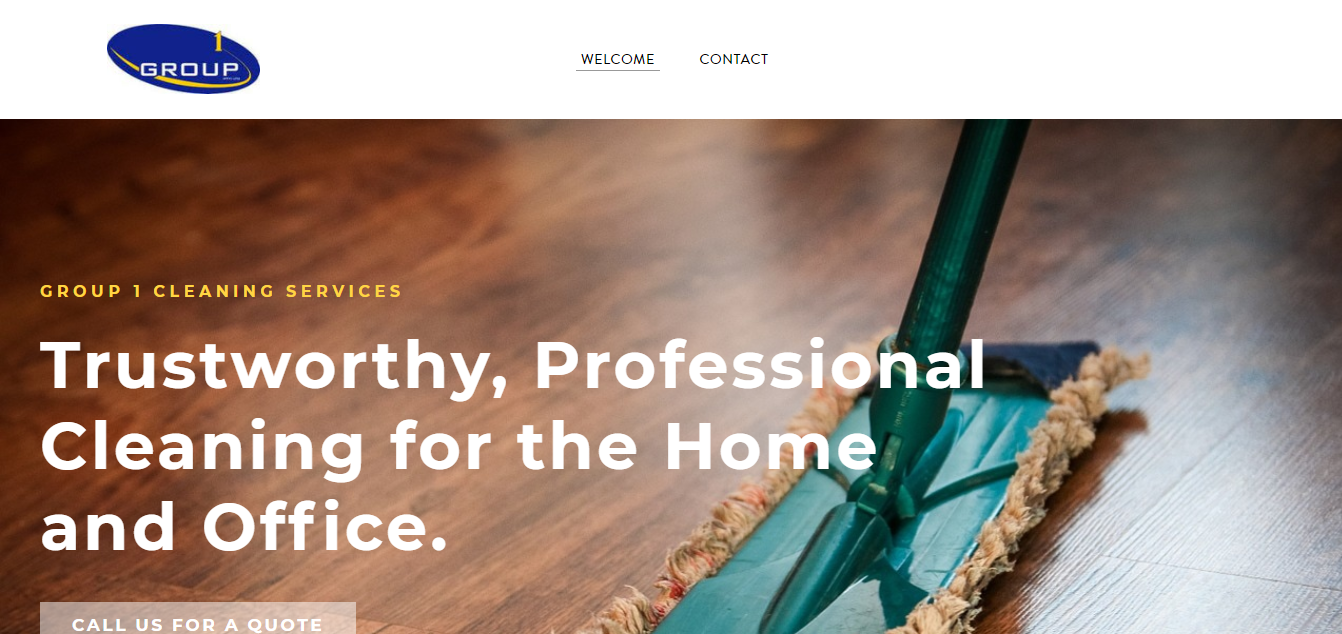 BEST FOR
Residential and Office Cleaning
SERVICES/SCOPE

Home and Office cleaning
Once offspring cleaning
After party cleaning
Contract cleaning

PRICING
Contact for details
WEBSITE
https://dqclean.co.za/
ADDRESS
39 Roeland, Street, Cape Town, 8001
CONTACT
072 577 6623
PAYMENT
Contact for their payment options
Over the years, Group1 Cleaning Services has built a reputation as one of the cleaning companies that offer the best cleaning methods and use only the safest products in the market. Unlike other companies, their cleaners are trained to tackle anything, from home to an after-party cleaning, they got your back.
We recommend them because they constantly monitor their work and areas where they fall short. This is for them to correct it and make improvements as the cleaning goes on.
Their attention to detail is great because even their owner, Ntswaki, is very passionate about hygiene and hygienic solutions. If you want your area to be shining and spotless, they may be the best company that can do it for you.
Unfortunately their rates are unavailable on their website so make sure to contact them about this.
12. Chefs and Butlers Services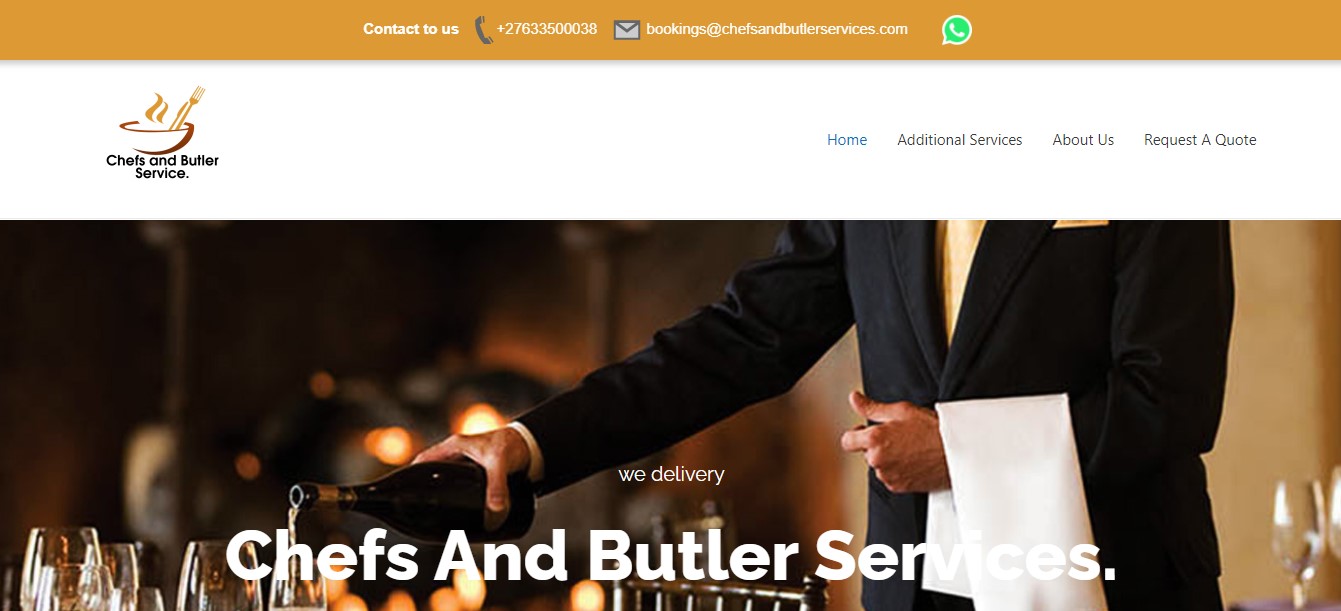 BEST FOR
Professional Butlers and Chefs
SERVICES/SCOPE

Chef and Butler Services
Personal Shopping
Villa stock up prior to arrival
Waiters
Housekeepers
Event coordination
Flowers decor
Bar supply and Bar Staff
Airport transfers
Scenic and adventure tours
Children's birthday parties and events

PRICING
Contact for details
WEBSITE
https://chefsandbutlerservices.com/
ADDRESS
Palmsprings Complex,
Wemyss street, Brooklyn, Cape Town. 7405
South Africa.
CONTACT
PAYMENT
Contact for details
Chefs and Butlers Services is actually a company that allows clients to hire professional chefs and butlers for events.
However, they still offer cleaning as one of their additional hospitality services. What's great about them is that they can be easily contacted when it comes to emergency services.
Aside from these, their team is well trained, disciplined, and always presentable. you will definitely not regret availing of their services!
Unfortunately, the prices of their services are not available on their website. You need to request a quote here by filling it out with the important information of your event.
13. SM Cleaning Services
SM Cleaning Services is a business that specializes in basic to advance level professional cleaning services. Founded in 2019, they cater to both residential and commercial cleaning jobs and strive to deliver through multi modal features and excellent management services.
They have various offices in Cape Town and is managed by professionals in the field and is driven to provide equally outstanding cleaning services and customer accommodations.
We recommend this company due to their strong commitment to deliver a clean environment to every client whilst equipped with ethical work values such as trust and accountability.
The company is also a proud contributor of the B-BBEE Level 1 and is certified by SABS ISO 9001. Furthermore, the company is driven to be labeled one of South Africa's reliable cleaning solutions and to be a go-to company to work with and to work for.
14. Anneline's Cleaning Service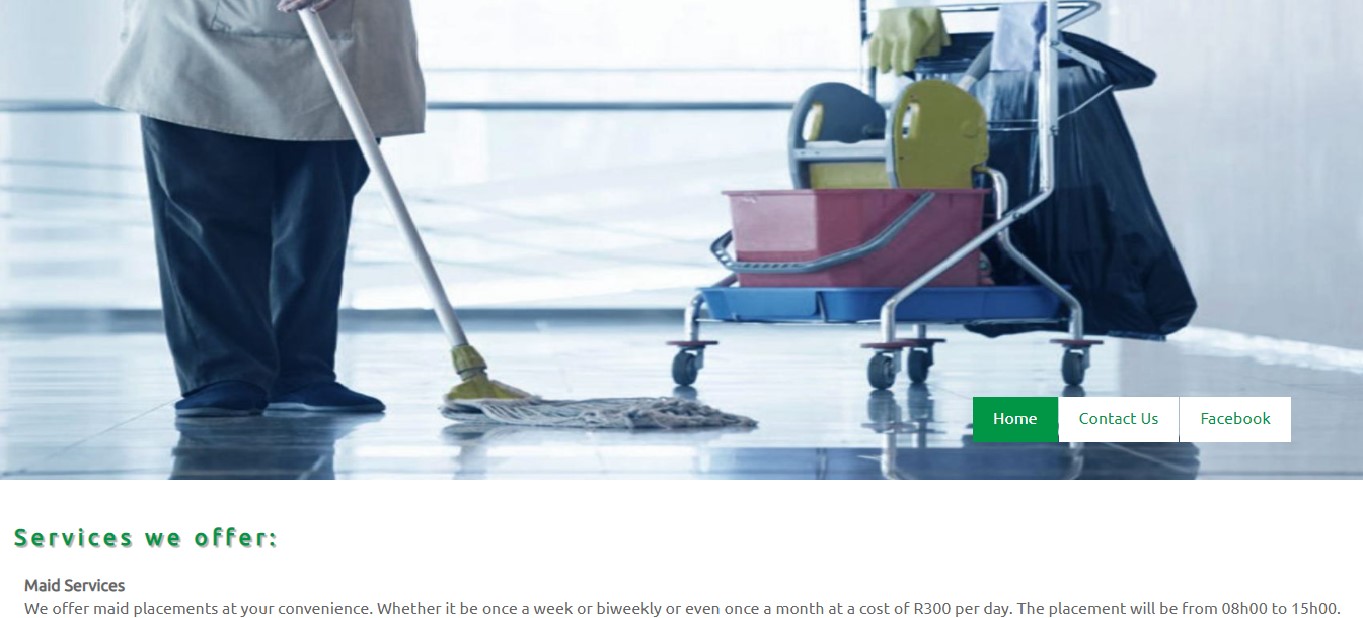 The professional maid behind Anneline's Cleaning Service is Anneline Carelse. In talking about carpet cleaning, she offers this service with an extractor machine.
Its process is that water is sprayed onto the carpet. Afterward, dirt and water are extracted from the carpet for a quick-dry solution.
They make sure to only use natural, safe, and environmentally safe cleaning chemicals.
Aside from carpet cleaning, they also offer maid services, office cleaning, once off cleaning, and waterless mobile carwash.
15. Prestige Home Cleaning Service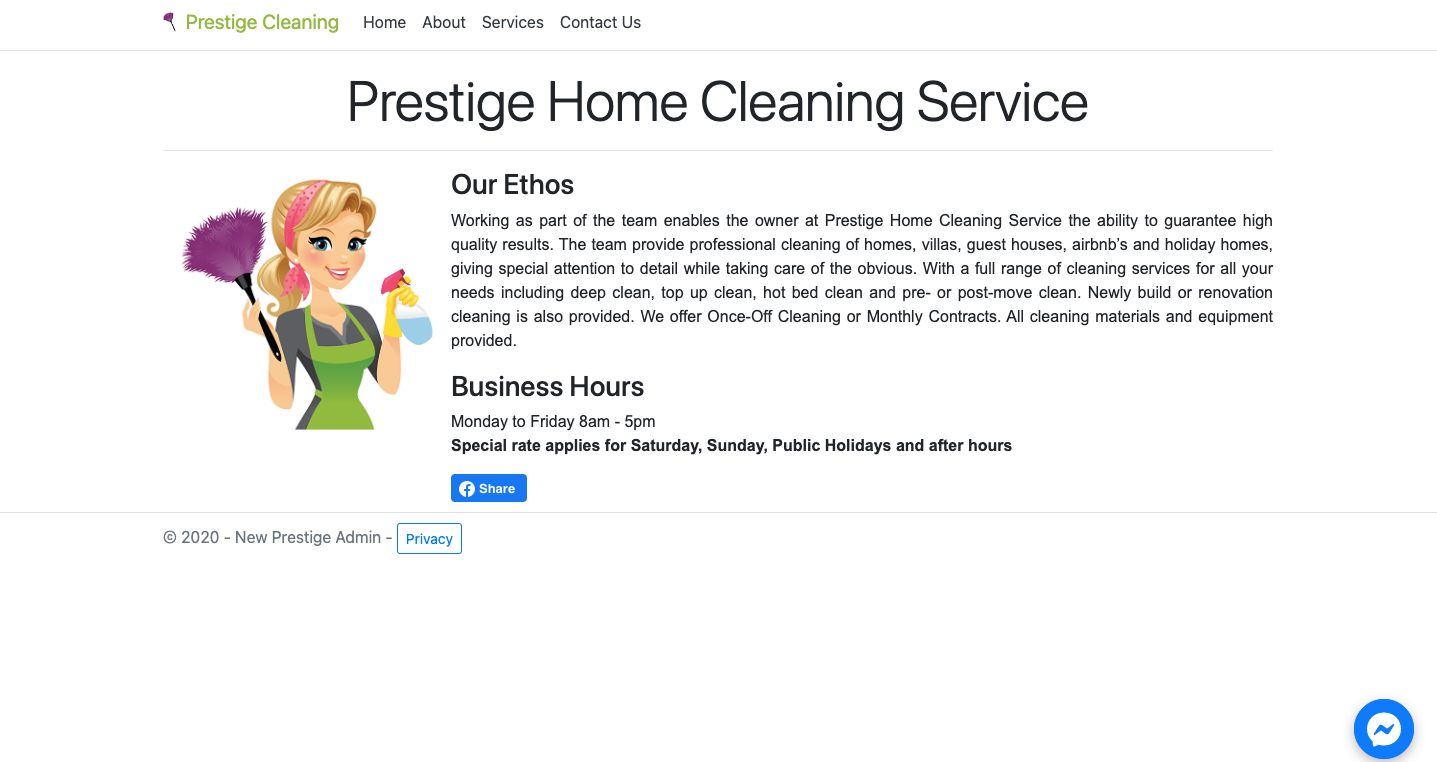 BEST FOR
High-quality cleaning
SERVICES/SCOPE

Deep Clean

Top Up Clean

Hot Bed Clean

Post Move Clean

PRICING
Contact them for more information
WEBSITE
https://prestigehomecleaning.co.za/
ADDRESS
6 Sandstone Rd, Kommetjie, Cape Town, 7975, South Africa
CONTACT
+27-84-210-7324
PAYMENT
Contact them for more information
Prestige Home Cleaning Service is a cleaning service that you can trust may it be your house, before and after moving to a place you now call your home, office, or even your Airbnb.
It is impressive to hear from their customers that they are able to assist even with short notice. They would still provide the best cleaning service there is, they will be swift and will have keen attention to detail.
You won't worry about a thing once you hire them for they will bring all materials needed to ensure that the place that they will be cleaning would be sparkly clean and in tip-top shape.